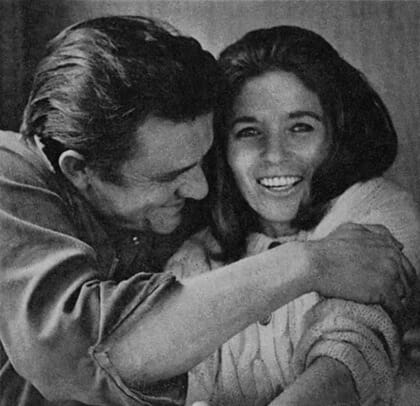 Sufjan Stevens' pastor Vito Aiuto just made an album with his wife Monique under the moniker The Welcome Wagon. It's sweet, brimming with faith and the kind of chemistry that at least seems like it could only come from a husband and wife. So we thought we'd look at the best collaborations between married couples over the years. We're only judging music made together (sorry, Tim and Faith) while married (sorry Jack and Meg). Here are Paste's Top 10 Musical Husband and Wife Duos:
10. Kori Gardner and Jason Hammel (Mates of State)
Ever since Jack and Meg became "brother and sister," Gardner and Hammel have been the best married duo that included half of the couple on drums. The band formed in 1997 in Kansas with Gardner on keyboards, and they married four years later. If their marriage is like their music, things are fun on tour and back home in East Haven Connecticut.
9. Deb Talen and Steve Tannen (The Weepies)
The Weepies' music even sounds like it was made by a married couple, only one that never fights and still holds hands and does weekly date nights. I'm sure at least two of those aren't true, but there's so much lovely harmony on their three albums that discordance would just be out of place.
8. Victoria Williams and Marc Olson (The Original Harmony Ridge Creek Dippers)
Founding Jayhawk Marc Olson left The Jayhawks after Tomorrow The Green Grass to play music with his new bride, Victoria Williams. It was a move to the folkier side of his former folk-rock band and great music to listen to while barefoot in a summer meadow (making them the cover subjects of our very first issue of Paste). After their divorce in 2006, Olson has since returned to play music with Jayhawk Gary Louris.
7. Sam Phillips and T Bone Burnett
Although they've also since divorced, Phillips experienced something of a career renaissance in 1987 as Leslie Phillips when Burnett produced her album The Turning. She changed her name to Sam, married Burnett and her husband produced a series of amazing LPs in the 1990s, including her zenith, 1994's Martinis and Bikinis.
6. Buddy and Julie Miller
Mostly content to keep their recordings separate, the first couple of Americana finally joined forces on an album (simply titled Buddy & Julie Miller) in 2001, 20 years after they married. It's a musical marriage that couldn't be more perfect.
5. Tina and Ike Turner
The music was phenomenal. The marriage—not so much. Their turbulent domestic life (Tina accused Ike of being an abusive husband) has overshadowed their legacy, but there's no denying the electricity the two had on stage.
4. Win Butler and Regine Chassagne (Arcade Fire)
A boy from Texas married a girl from Quebec and had a little band called Arcade Fire. Only two albums in, and they're already one of the most remarkable husband and wife duos of all time.
3. Karin Bergquist and Linford Detweiller (Over the Rhine)
Quietly crafting one of the best oeuvres in all of American music, the Ohioans at the heart of Over the Rhine have been together as a band since 1989 and as husband and wife since 1996. If you've never heard OtR, stop what you're doing and listen to these two songs, the first because it's timely, the second because it's amazing.

2. Tom Waits and Kathleen Brennan
OK, so she doesn't take the stage with Waits' band, but their 1980 marriage and subsequent songwriting collaboration helped sew a patchwork of musical flotsam and jetsam onto the lounge crooner, transforming him into the carnival ringleader of Swordfishtrombone in 1983. If the piano had been drinking before, it's been downright delirious ever since.
1. Johnny and June Carter Cash
A match so musically and romantically glorious they made it into a movie. Johnny toured with The Carter Family in the early '60s, right around the time he became addicted to barbiturates and amphetamines. But it was June who helped overcome that addiction, and he proposed in February of 1968 and married a week later. Though their biggest musical triumphs were solo, their collaborations were legend. June wrote "Ring of Fire" for Johnny and there is no better husband/wife musical moment than "Jackson."