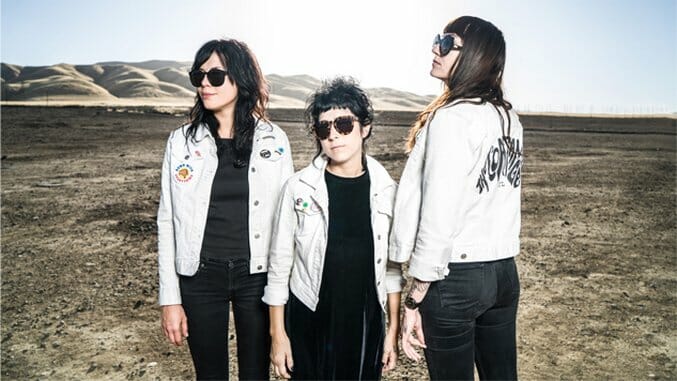 For many new bands, choosing a proper name can be more challenging than making good music. To finally arrive at that revelatory moment and settle on the perfect moniker, many groups go for a boring but memorable one-word brand (Nirvana), others choose a downright ridiculous title (Limp Bizkit, Diarrhea Planet) and some, who strive for shock value, get mired in controversy right away. Case in point—the band formerly known as Viet Cong, who today announced it will henceforth be called Preoccupations. Here are five bands that should take Viet Cong's cue and change their controversial names.
1. The Queers
Pissing people off is a major part of being a good punk rocker, but there's a way to do it constructively. The Queers don't really understand this. The longtime New Jersey punk rock band, led by Joe King (aka Joe Queer), has made it a point to publicly provoke certain sects of the punk subculture they should be harmoniously rocking out with. Obviously, certain songs irk people. "Ursula Finally Has Tits" is about wanting to have sex with an underage girl. "My Cunt's a Cunt" off last year's Beyond the Valley Revisited needs no explanation. But King's comments supporting Darren Wilson, the cop who shot and killed Michael Brown in Ferguson, Mo., have basically exiled him and his band from the punk rock community. It's about time for some heartfelt apologies and a name change, eh Joe?
2. Black Pussy
Why would an all-white, all-male band call itself "Black Pussy?" Let's just say it's not because the band loves black cats. Rather, its hybrid of psychedelia and stoner rock is so boring, it requires a wild name just to spark interest (or outrage, for that matter). Last March, feminist activists, especially African-American ones, lashed out at the Portland, Ore. quintet for its rude name, saying they were racist and sexist. A petition was even started to force the group to change its moniker or face a boycott. It got just under 2,500 signatures. Black Pussy defended itself with a video of stand-up comedian Doug Stanhope, of all things. In it, the comic basically tells anyone who is offended by words (or distasteful band names) that they're idiots. Nice comeback, Black Pussy.
3. Fuck Buttons
Fuck Buttons are a badass British electronica duo, but its name isn't as cool as its music. The name sounds like a phrase some randy middle school boy might utter to his friends during their sex education class for a cheap laugh. Like other artists who drop the f-bomb in their name (like Holy Fuck and Fucked Up), Fuck Buttons has to deal with a lot of censorship. On Facebook, for example, Andrew Hung and Benjamin John Power actually have to list themselves as "F Buttons." Changing the name after 12 years would surely be a hassle for the band, but they can always think about what could have been—a moniker that doesn't push so many buttons.
4.The Coathangers
This all-female garage rock band from Atlanta was originally going to be called "Abortion Rules" or "Levitating, that's so David Blaine," and frankly, they should have stuck with either of those titles. According to the darkest chapters of history, many women attempted self-induced abortions using wire coat hangers. Now, though, the closet accessories have become a symbol for making abortion legal, albeit a really messed up one. No matter how passionate pro-lifers or pro-choice people are about their cause, they might be too disgusted to debate when such a word is uttered. Hearing it is similar to witnessing Morrissey's "Meat is Murder" video: You want to argue for or against it afterward, but only after the wave of nausea passes.
5. Jon Cougar Concentration Camp
This San Diego punk outfit desecrated one of America's living musical legends, John Cougar Mellencamp, while simultaneously bringing up the Holocaust. Nearly 17 million people, including six million Jews, were killed by the Nazis between 1933 and 1945, with most sent to horrific concentration camps. So, to respectfully disagree with this previous list, Jon Cougar Concentration Camp is not one of The 100 Best Band Names of All Time; it's actually one of the worst.
Dishonorable Mentions
1. Force Publique
This is the name of an awesome Portland, Ore. darkwave band. It's also the alias of a Dutch military group that hacked off the hands of rubber slaves in the Congo.
2. Cephalic Carnage
These Denver metal heads should get an award for having one gnarly title. It either refers to head trauma or a really messed up childbirth.
3. Leftöver Crack
It seems like this New York City punk outfit doesn't care about how many African-American communities were destroyed by the 1980s crack epidemic, as long as it has a cool name.
4. The Brian Jonestown Massacre
These zany psychedelic rockers figured out how to bring up a dead rock star and a cult's gut-wrenching mass suicide all within one name.
5. Bosnian Rainbows
This El Paso, Texas experimental group (fronted by Omar Rodríguez-López from At the Drive-In and the Mars Volta) should know there are no rainbows in Bosnia. From 1992-1995, the country was ravaged by a war that brought mass rape and genocide. It's been recovering ever since.