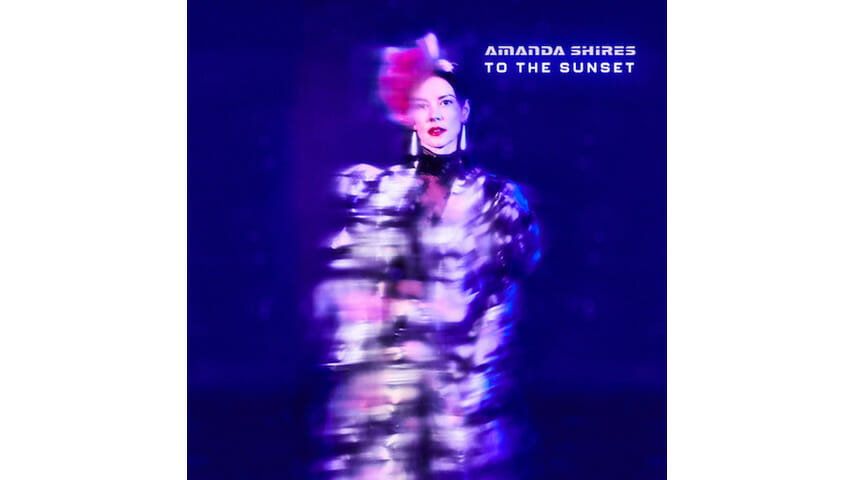 Along with nine new songs on Amanda Shires' latest album lurks an older gem. "Swimmer" is a reworked version of a tune she first recorded on her 2010 album Carrying Lightning. It's also the throughline that belies all the buzz about how To the Sunset represents a radical departure for Shires. Really, her new album is the expansive next step she's been working toward all along.
It is true that Shires has broadened her sonic palette here. There's much more electric guitar, courtesy of husband Jason Isbell, along with a greater emphasis on organ and keyboards throughout. Shires and producer Dave Cobb take some other uncharacteristic turns, too, such as running Shires' violin through guitar effects pedals for an eerie, unrecognizable sound, and sometimes wrapping her feathery voice in deep blankets of reverb. There's an electronic murmur at the start of album opener "Parking Lot Pirouette," a subtle synthesizer part flitting behind bright cascades of guitar and double-tracked vocal harmonies on the quietly catchy infatuation anthem "Leave It Alone" and a red-line vocal part accompanied by blustery, overdriven electric guitars on "Eve's Daughter."
Beneath the musical flash, however, Shires has changed only to the extent that she's more confident in her abilities as a writer and performer. She remains a meticulous lyricist with an unconventional perspective. She is deeply focused on the power of language, even when language doesn't quite serve: on "Leave It Alone," the buzz of new love becomes "words we can't find like bees inside us swarming." She muses on "Charms" about the discomfiting middle ground that can come with being the child of a parent who fell short and also a parent trying to overcome that deficit to do right by your own kid. "I'm daring to do what she couldn't bring herself to do / Isn't it just like a daughter to make a fool of you? / And the fear that I feel when I see my features reversed in my own daughter's face," she sings.
Shires switches places with a scarecrow on "White Feather," "to be the one doing the frightening / It's freeing, I suppose"—a table-turning allegory for a culture where women are too often frightened because they are too often unsafe. Shires' mordant sense of humor is on display on "Break Out the Champagne" as she raises a toast to various potentially fatal scenarios based on actual events. The tone is darker on another song she has said is based on a true story: over terse guitar on album closer "Wasn't I Paying Attention," she narrates with excruciating restraint the events of a morning that ended in a suicide, from the perspective of someone wondering afterward how he missed the signs.
It's possible that she couldn't have written many of these songs before now, for the simple reason that she just wasn't ready. In that regard, she could have yodeled these tunes, or set them all to death-metal riffs, and they'd be about as resonant as they are in their present form. Put another way, it's not that To the Sunset finds Shires wandering further—it's that she's digging deeper, with the same diligence and abundance of talent she's been drawing from all along.
Watch Amanda Shires' 2018 Paste studio session below: