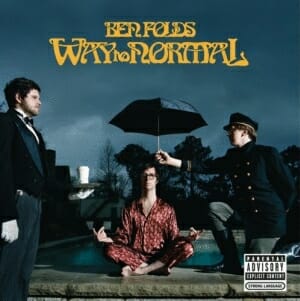 Ben Folds aims at normal, cracks open head in Japan

Ben Folds may have named his third solo LP Way To Normal, but the North Carolina native doesn't have any such destination in mind. If you listen closely, you can see he's on the highway to hell, or at least to "Effington," his own version of The Truman Show. More movie set than true home, that song—and the entire album—reaffirms the long-suspected idea that Folds is more comfortable on the margins of art, respectability and society, a perpetual outsider reveling in his own eccentricities, from naming his former trio Ben Folds Five to mounting a project with Ben Lee and Ben Kweller and dubbing it "The Bens" to producing an album for William Shatner to palling around with "Weird Al" Yankovic.
Instead, these 12 songs are more of an anthropological study of aberrant human behavior, idiosyncratic news stories and bizarre chapters of the musician's own autobiography, all observed with the same unstinting absurdist eye as J.D. Salinger when he penned Nine Stories more than 50 years ago. Folds' "Kylie From Connecticut" suffers from the same thwarted dreams, disillusionment and frozen acceptance as the highball-drinking heroines in Salinger's "Uncle Wiggily In Connecticut," and the song conveys that same sense of being the prisoner of your own wrong choices.
But this doesn't seem to be the case for Folds. Married four times, he seems obsessed with dissecting gender relations on this album, and understanding the physics of love in the bombastic and comically misogynistic "Bitch Went Nuts" and "You Don't Know Me," his fragile, fractured duet with Regina Spektor. The latter, Way To Normal's standout track, delves into a couple's intimacy problems using a he said/she said dynamic, but with a twist. Like those frothy Doris Day and Rock Hudson movies of yore, the song shows how a little bit of mystery works for a relationship. Almost high-concept musical theater, it's both lighthearted and profound, a blast of cold water on your expectations.
Folds returns to the theme on two-song suite "Before Cologne" and "Cologne," but with much different results. It's a travelogue of a relationship in the last stages of decay, and it exquisitely captures imaginary conversations with an absent lover, and the small claustrophobic details that stay with you as watch your own heart break. Woven into the middle of the song—like a movie within a movie—is the story of NASA astronaut Lisa Marie Nowak, who drove from Houston to Orlando to murder a romantic rival. Folds takes poetic license with some of the details, but still conveys the idea of romantic obsession and addiction.
After spending so much time on heavy subject matter, Folds changes things up and fixates on a runaway dog. While doing nothing to coax back his lover in "Cologne," he's desperate to find his pooch in "Errant Dog," which is clearly a stand-in for his lost love. "He's my everything, he means the world to me," he sings. "He's my hopes and dreams / Fungible property / Sometimes I wonder why I put up with his shit / If I could I would become a lesbian." Frantic, hysterical and a little unhinged, this seems like a return to some of the comic antics of his albums with Ben Folds Five, capturing the best of what he often does in his shows, but rarely on record.
The same is true of "Hiroshima (BBB Benny Hit His Head)" the story of Folds falling into the orchestra pit during a concert in Japan. What should be a punch line became an excursion into his psyche, almost like Being John Malkovich, except Folds invites you in, going through each excruciating detail of his mishap, from the sheer embarrassment to the blood on his keyboards as he continued the show, to his X-rays. "You wanna see what's in my head / Check it out 'cause / Got pictures of what's in my head." An homage to Elton John's "Bennie and the Jets," the song humanizes the often acerbic, cerebral musician, but more than that, it ends up as an unexpected anthem, complete with the rousing football-chant chorus.
Maybe the tumble in Japan jarred something loose in Folds' fecund brain. This is the first album where his artistry seems fully realized, both in terms of subject matter and performance. Witty, balanced and highly charged.

Listen to Ben Folds' "Hiroshima (B-B-B-Benny Hit His Head)" from Way To Normal: