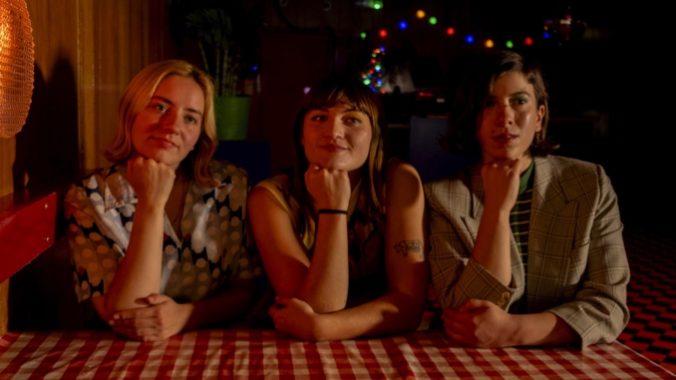 With April in the rearview mirror, it's time to look back at the best songs she brought us. Ranging from Nigerian electro-pop to Chicago rap to California power-pop, these are the 10 tracks that stuck with us. Listen to the full Best Songs of April 2023 playlists on Spotify.
Beach Fossils: "Dare Me"
The second single from Beach Fossils' first album in six years, "Dare Me," is a glowy, sleek indie rock track that taps into the sound that made the band a household name in the genre 10 years ago. "I'll be your contender / If we can live forever / Caught in this landslide / Are we gonna be running till the end of our lives?" frontman Dustin Payseur sings. The song chronicles romance, partying and friendship, all while the band plays up their effortlessly cool chemistry. "Dare Me" is something of a wonder, especially for how it doesn't try to figure everything out. Beach Fossils are, refreshingly, comfortable with being young, vulnerable and unafraid of fucking up. As long as there's a spark of newfound joy lingering, it'll all be fine. The band has never been stronger, and "Dare Me" is a tactile slice of perfect, jangled-out dream pop architecture. —Matt Mitchell
Charlotte Cornfield: "Cut and Dry"
Cornfield's fifth album, Could Have Done Anything, arrives in May. It's her clearest-eyed assemblage of songs yet, and second single "Cut and Dry" is such a perfect example of why she is one of our best living songwriters. She paints a beautiful portrait around the melancholy of leaving. The story she tells, it's emotional and poised and alive. "Sometimes we think that we know everything but / Then get surprised when the whole world comes crashing down / It's hard to picture the city without you around," she sings atop a combination of breezy guitars, vocalizations and horns. "Cut and Dry" is akin to many of Cornfield's songs: Her taking the smallest moments and finding everlasting beauty within the margins. "I think I'm scared of you but that's all in my head / Your messy hair, your day-old clothes, your unmade bed / I see myself in you and that's the source of my dread," she laments. "Cut and Dry" is a perfect coming-of-age folk song. —Matt Mitchell
Ekiti Sound: "Chairman"
The video for "Chairman," the lead single from Nigerian electro-pop artist Ekiti Sound's new album Drum Money, feels like liberation. It was filmed in the first skyscraper to be built in Lagos and is primarily set in a boardroom where the artist (born Leke Awoyinka) is joined by a cadre of female executives. And just as the song's juju-inspired rhythms are picking up momentum, Awoyinka cedes the spotlight to Aunty Rayzor to add her Yoruban flow to the mix. According to the artist, the song is all about imposter syndrome, or as he puts it "affirmations and brainwashing bravado." While I appreciate the sentiment, this clip and this song puts these African artists right where they belong: at the head of the table and commanding the attention of all in their sphere. —Robert Ham
Girl Ray: "Hold Tight"
London trio Girl Ray's newest single off of their forthcoming LP Prestige is a blanket of good vibes and tasty bass runs. Taking inspiration from HAIM's Women In Music Pt. III, members Poppy Hankin, Iris McConnell and Sophie Moss have put together a triumph that re-invents R&B and baroque pop into a plucky, disco anthem. The track—and album—was produced by Ben H. Allen (Gnarls Barkley, Belle & Sebastian, MIA, Animal Collective) and oozes joy through crystalline arrangements and Hankin's endearing vocals. —Matt Mitchell
King Krule: "Seaforth"
Few artists have had a more ambitious last 10 years than King Krule, the stage name of English singer/songwriter Archy Marshall. Since releasing his debut LP 6 Feet Beneath the Moon in 2013, Marshall has been on an incredible trajectory, making some of the best jazz-infused post-punk of the 21st century. Just a few weeks after selling some flexi-discs of new material at shows, Marshall has announced his first record since 2020's Man Alive!, the forthcoming Space Heavy. Lead single "Seaforth" is a slow-burning, woozy, mathematical slice of slacker avant-garde. On the track, Marshall is contemplating the disintegration of the planet while in the company of someone else. "I see you, the same eyes / Reflect the world that falls apart / There's a fire in my heart / 'Cause this faith is far, I heard," he sings, while the backing vocals echo "Baby, this faith is all I have" right back at him. "Seaforth" signals a new chapter for King Krule, through one of his most-compelling tracks in recent memory. —Matt Mitchell
McKinley Dixon: "Beloved! Paradise! Jazz!?"
The title track from Chicago rapper McKinley Dixon's new album is a reference to three novels by Nobel laureate Toni Morrison. Rather lofty company for any streetwise artist to keep, but it's clear that he's done a deep study of the author's work to the point of calling Morrison "the greatest rapper alive." Dixon works references to and quotes from the titular trilogy of books into the song and they prove flexible enough to withstand being put through the wringer of his conscious rhymes and bouts of brashness. They even hold firm amid the jazzy whirlwind of the production. The execution and presentation are pure magic and, like the work of a talented illusionist, should be approached with a curious wonder. —Robert Ham
Palehound: "The Clutch"
Palehound's first new album in four years, Eye On The Bat, arrives in July, and lead single "The Clutch" is a heavy, electrifying guitar track that puts El Kempner's vocals at the center. They skate atop mystifying riffs and solos in seismic fashion, chronicling a relationship on the brink of crumbling apart. "You didn't need my help," they sing over and over, as the arrangement swells and then fades. It's a roaring return to a beloved project, and, if "The Clutch" is any signal to the sonic ethos of Eye On The Bat in its entirety, then a triumphant, unforgettable album is set to befall upon us all this summer. —Matt Mitchell
Salami Rose Joe Louis: "Dimcola Reprise"
Lindsey Olsen, the artist known as Salami Rose Joe Louis, describes herself in the press notes for her new album Akousmatikous as an "introverted producer," happy to work in solitary as she claims to be "shy to work with others in person." So far, that's worked wonderfully, as proven by the strong work she's released to date, but taking advantage of our broadband world to connect with collaborators like Brijean and Miguel Atwood-Ferguson has expanded her sonic world appreciably. There's something cinematic in the breadth of a track like "Dimcola Reprise" in spite of Olsen's hushed vocal turn and the minimalism of the electronic pop backdrop. It feels like a droplet hitting still water, causing ripples of energy to grow wider and wider as the song playfully skitters forward. —Robert Ham
superviolet: "Locket"
"Locket" is a warm blanket of guitar pop with a melody you'll be humming all week and beyond. It's got a similar sonic architecture as the final Sidekicks album, Happiness Hours, which taps into a bubbly, hook-heavy blueprint that allows the focus to be on Steven Ciolek's vocals. But, instead of employing a coming-of-age narrative, he's ruminating on his own self-doubt, attempting to put the pieces of his own presentation together. "Well then how come all my candor / Just comes across as grandeur / And I'm a locket with my own face in the frame / I didn't mean to keep you waiting / I was laying in bed with Satan / Now all my nightmares are in highchairs / And laughing / They're laughing with me," he sings before melting into a euphoric vocal run. —Matt Mitchell
The Lemon Twigs: "Every Day is the Worst Day of My Life"
The Lemon Twigs' best album, Everything Harmony, arrives early next month, so brothers Brian and Michael D'Addario are rolling out one final single in anticipation. "Every Day is the Worst Day of My Life" is their Big Star-esque acoustic ballad that highlights a perfect harmony atop a minimal arrangement. The brothers have made it to a place where they don't have to doll up their songs with extravagant instrumentals or lyricism that overworks the melodies. "Every Day is the Worst Day of My Life" is a moment of growth even in brevity, as the band strays from the operatic cuts off of Go to School or the Jim Steinman-influenced theatricality of Songs For the General Public. Here, the Twigs are confident, poised and unafraid of letting their technical talents carry a song that's only two lines long. —Matt Mitchell
Listen to the full Best Songs of April 2023 playlists on Spotify.