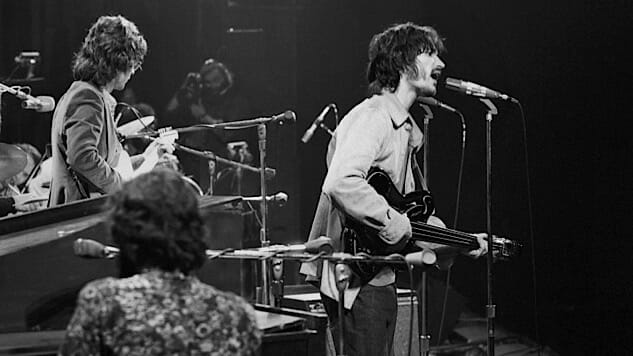 Robbie Robertson and The Band have always been collaborators at heart, so it did not surprise us to see him bring in an all-star lineup of guests for his fifth studio album, How To Become Clairvoyant, including Eric Clapton, Robert Randolph, Tom Morello and Trent Reznor. After all, this is a member of a group that put together one of the most famous musical celebrations of all time with The Last Waltz. But today, rather than focusing on who's been working with Robertson lately, we take a look back at the some of the greatest songs he made with The Band.
10. "Yazoo Street Scandal"
One of the few originals written by The Band on Bob Dylan's The Basement Tapes.
---
9. "Ophelia"
"Ophelia" is one of two songs on this list from The Last Waltz. The live version speaks for itself.
---
8. "King Harvest (Has Surely Come)"
This working-man's ballad easily stands as The Band's most underrated track in their catalog.
---
7. "Tears of Rage"
Richard Manuel's despondent voice defines the opening track from Music From Big Pink.
---
6. "Across the Great Divide"
Another fantastic opener from The Band, this time from their eponymous second album.
---
5. "Up On Cripple Creek"
"Up On Cripple Creek" shines as an example of '70s Americana at its finest.
---
4. "Chest Fever"
Listen to the Garth Hudson's intro for "Chest Fever." That will explain everything.
---
3. "The Night They Drove Old Dixie Down"
Drummer Levon Helm's distinct voice narrates here as the Canadian rockers take on the American Civil War in this song of defeat.
---
2. "The Weight"
"The Weight" remains The Band's most well-known song to date, and who can complain with that?
---
1. "It Makes No Difference"
It may not be the band's most popular song, but "It Makes No Difference" is a defining moment for The Band—one that The Last Waltz captured so gloriously. This near seven-minute performance embodies everything that The Band does right.