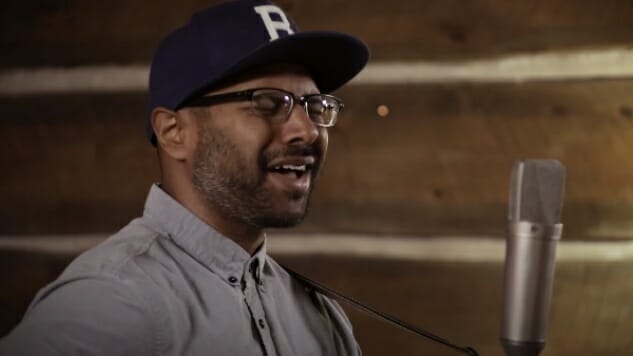 Daily Dose is your daily source for the song you absolutely, positively need to hear every day. Curated by the Paste Music Team.
Premiering here at Paste, singer-songwriter Bhi Bhiman's track "Beyond the Border" and accompanying video convey the nightmares many immigrants face while trying to achieve a better life. Paste called Bhiman the Best of What's Next in 2012 after the release of his second album, BHIMAN, and this stripped-back track, originally recorded at the Paste Studio and since remixed/remastered, features the same strong narrative we lauded back then.
What started as an up-tempo, electronic rock piece morphed into this stark and poignant ballad, whose story is allowed to flourish within its sparse, yet emotionally resonant sound. Bhiman said that the song is about "an undocumented Latino immigrant who has twice been displaced," the first time from Central America and the second when they were torn from their loved ones in the U.S. The video takes inspiration from documentary filmmaker Ken Burns, whose stylistic trademark includes zooming in on and panning across still photos to give life to the frozen figures. In a similar manner, this video makes real the plight of refugees looking for asylum through the visual and chronological movement of the images, which relates past struggles to those currently prevalent. The video also addresses the dissonance of prejudice against people immigrating now when many Americans are related to the early wave of European immigrants who were also searching for refuge. Above all, in its lyrics and in its visuals, "Beyond the Border" encourages empathy.
"If I can open people up to a better understanding of other people and cultures, and see them not as an issue, or a statistic, but as human beings who want to live in peace, work hard and raise their children, then I will have done a good job," Bhiman said.
The release of the record is timely, with the Fourth of July having just occurred—after a celebration of the good things the U.S. has done and represents, it's time to reflect on the glaring problems that need to be corrected.
All of the song's proceeds will benefit the International Rescue Committee to help refugees around the world and FWD.us, who focus on U.S. immigration and criminal justice reform.
Watch the video for "Beyond the Border" below and find Bhiman's full Paste Studio session further down.