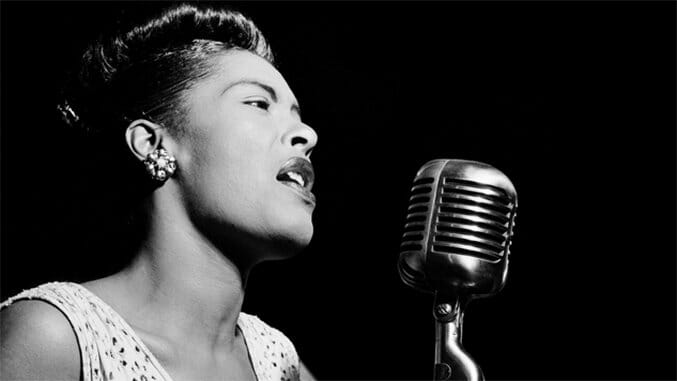 Arguably the most recognizable voice in vocal jazz history, Billie Holiday is the epitome of style. Born in the poor part of Baltimore to two teenage parents, Billie turned to music as a way to support herself. At 15 years old, after moving to New York City with her mother, she started singing in Harlem nightclubs for tips. At 18 years old, record producer John Hammond discovered her at a club and took her under his wing. She quickly became of the most coveted singers around, performing with the Duke Ellington orchestra and then eventually Count Basie and Artie Shaw. Frequent musical collaborator and dear friend, tenor saxophonist Lester Young, gave her the nickname "Lady Day."
Though her musical career seems a success story, Holiday's personal life was tumultuous. She was heavy into alcohol and heroin, which, along with her tempestuous love life, often got in the way of her career. She died in 1959 at the young age of 44, but her interpretations of blues and jazz standards are the quintessential versions to this day, and her unique voice has inspired countless singers from Ray Charles to Amy Winehouse. Here are the 10 best songs by Billie Holiday.
10. "I'll Be Seeing You"
Though Holiday recorded many versions of this classic song over her careers, perhaps her most heartfelt recording of it is the one she did live at Carnegie Hall in 1956. Just three years before she died, her voice is audibly weaker and rougher than previous recordings she'd done of the song in the late-1940s. Though the song bore special cultural significance for soldiers going off to World War II, this late version comes off much more personal to Holiday, as if she knew her health were rapidly deteriorating. As she sings "I'll be seeing you / In all the familiar places," it's almost as if she knew she was going to have an indelible impact, and that her contributions would be revisited again and again after her death.
9. "Billie's Blues (I Love My Man)"
Written by Holiday herself, "Billie's Blues" (also just known as "I Love My Man") had to make this list. With lyrics like, "I've been your slave / ever since I've been your babe / but before I'll be your dog / I'll see you in your grave," listeners finally get to hear a little of what's on Lady Day's mind. She's no longer the star-struck lover or the lonely girl, but finally, the strong, defiant woman who's done putting up with the men who've done her wrong. "Billie's Blues" highlights Holiday's spunk, making it such a memorable listen. The best recording of it is the slower, more sorrowful version she did with Eddie Heywood & His Orchestra in 1944.
8. "The Very Thought of You"
Billie Holiday released her version this popular Ray Noble song in 1938. Even early in her career, Holiday's youthful voice shows range and flexibility on this track. Her delivery of the naively romantic lyrics feels especially authentic and you can tell she believes the lyrics she's singing because the song doesn't quite have the tinge of sadness of the love songs of her later years.
7. "Them There Eyes"
In contrast to all of her slow, lonely ballads—which she's undoubtedly the master of—Holiday's version of "Them There Eyes" is cheery and flirtatious. Her playful delivery of, "I'm fallin' / No stallin' / In a great big way for you," surely left plenty of gentlemen in the audience weak in the knees. The 1949 recording of the song with Sy Oliver & His Orchestra is the notable version: her voice weaves in and out of surprising, punctuated trumpets, eventually building to an all-out call and response between her and the band. Also, this is perhaps Billie's most danceable recording, so get your swing dancing shoes and pop this one on the record player.
6. "You're My Thrill"
There's something magical about Holiday's voice in conjunction with the orchestra on this track. Conducted by Gordon Jenkins, the orchestra balances out her subtle singing with dramatic string crescendos and woodwind lines. This 1946 version of "You're My Thrill" sticks out as one of the most unique recordings that the singer ever did—a definite diversion from fronting jazz bands of the day, or crooning in intimate quartets. The slight change of sound (some have called it more "commercial") can be attributed to her recording on Decca Records from 1944 to 1950, and their desire to market Holiday beyond jazz.
5. "Lover Man"
This track has the pained echoes of Billie Holiday's troubled love life. In 1941, Holiday married James Monroe, a violent playboy who abused her and was said to have only married her to ride on her lucrative coattails. It was Monroe that introduced Holiday to opium. Later, after her marriage tanked, another no-good musician she was seeing, Joe Guy, got her hooked on heroin. Thus, this song seems to parallel her own struggle to find a true "lover man" who treats her right. Though she recorded the song several times over her career, it's this live version from 1958, only a year before her death, is particularly haunting.
4. "Easy Livin'"
This is an earlier recording of Holiday's from 1937, when she was not the star out front, but part of the band. In fact, Holiday was tapped to sing vocals in front of Teddy Wilson and his Orchestra for this session, which included Buck Clayton on trumpet, Buster Bailey on clarinet, Lester Young on tenor sax, Freddie Green on guitar, Walter Page on bass, Jo Jones on drums, and Wilson himself piano. Wilson's strident lines drive this track, along with the guitar playing of Green (who later became a permanent member of the Count Basie Orchestra). Holiday's spacious vocals, however, float over the top of their playing, creating a mood straight out of a 1920s speakeasy.
3. "Blue Moon"
One of the most important tracks off Billie Holiday Sings is this 1952 version of "Blue Moon." This song is usually associated with Audrey Hepburn in Breakfast at Tiffany's, but actually, the song was around decades before the film, being passed between vocalists of the day. "Blue Moon" is from the famous songwriting pair Rodgers and Hart, and Holiday does justice to the levity that seems pervasive in their musicals. She also takes some tasty liberties with the melody that work especially well when paired with her coquettish delivery.
2. "Solitude"
Holiday recorded this track several times over her career, for Columbia, Commodore, and Decca Records. Later it also appeared on a 1952 Clef Records reissue that was named after the song. A Duke Ellington original, Holiday's version is recorded with heavy-weight jazzers—pianist Oscar Petersen and bassist Ray Brown, with an intro the great guitarist Barney Kessel. Many other singers have recorded this track, from Ella Fitzgerald to Etta James, but this song seems inextricably connected with Billie, whose minimalist phrasing and moody vocal timbre seemed to do it justice.
1. "Strange Fruit"
This track has to be at the top of the list; it's that influential. One of the first racism protest songs to be recorded in popular music, 1939's "Strange Fruit" is based off a poem written by Abel Meeropol. Holiday sang the song for the first time at Café Society in Greenwich Village, which was the first integrated nightclub in New York City. With the song's blatant indictment of racism in the American South, it's said that Holiday was afraid of retaliation every time she sang the song. Not to mention, no record label would touch it. Eventually, Milt Gabler put the track out on Commodore records after Holiday's a cappella performance of it brought him to tears. Despite being aware of the danger of singing a song like this as black woman, Holiday sings "Strange Fruit" with unwavering bravery and intention, her emotive voice bolstering its timeless meaning.