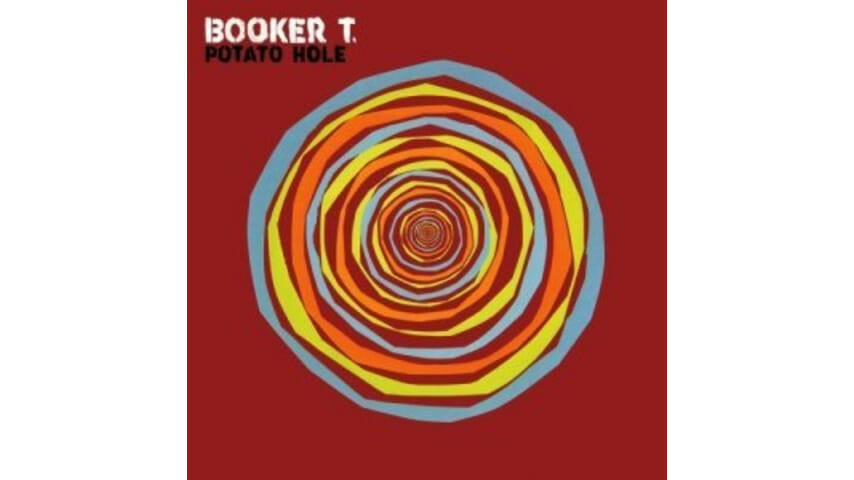 Booker T. returns with his first album in 20 years
Everybody has heard Booker T. & the MGs' loping, twisting instrumental hit "Green Onions," even if they don't know it by name. According to Rob Bowman's exhaustive Stax history Soulsville U.S.A., the group's original bass player Lewie Steinberg came up with the song's title: "To him," guitarist Steve Cropper says, "[onions] were funky because they were stinky." That's a useful criterion of funkiness, defining it as a know-it-when-you-smell-it quality. Potatoes aren't especially stinky in that regard; they won't make you cry and don't caramelize especially well, but Booker T. Jones' new solo album, Potato Hole, is nevertheless pungently funky, though iin a different odiferous way than his early work with the MGs.
During Stax's heyday in the 1960s, Booker T. & the MGs (with Donald "Duck" Dunn eventually replacing Steinberg) served as the label's house band, backing the likes of Otis Redding, Sam & Dave, Albert King and Eddie Floyd. The group was supernaturally tight, moving as a single entity rather than four unique musicians. When the band split and Stax's fortunes went south, Booker T. released a string of solo albums and as a producer lent a streamlined precision to albums by Willie Nelson, Bill Withers, Levon Helm and Neil Young. (We'll overlook Bruce Willis' Return of Bruno.)
For his first solo album in 20 years, Booker T. has corralled Young and the Drive-By Truckers to back him on the all-instrumental tracks, so you know it's going to be loose, loud, raw and crunchy. Young fits nicely amidst the Truckers (he recorded his parts separately, after Booker T. and the Truckers laid the foundation), transforming Patterson Hood and Mike Cooley's two-guitar assault into a three-guitar scribble contest—apparently, that's how many excellent guitar players it takes to equal one Cropper. The MGs were exacting, but the Truckers are a larger vehicle altogether, looming and formidable if not especially agile, and they give Potato Hole the casual, off-the-cuff vibe of a spirited jam session. The three guitarists show off on "Warped Sister," sending riffs skyward like campfire sparks, and they blaze through the title track and "Native New Yorker" with giddy energy. They lurch and lumber through Tom Waits' "Get Behind the Mule," percolate persuasively on "She Breaks" and turn gentle on "Nan," a valentine to Booker T.'s wife.
Booker T. is more a frontman than a bandleader here, which makes Potato Hole sound less like a solo album and more like a band project. Shonna Tucker's nimble bass puts some spring into the songs, and drummer Brad Morgan—an unsung time-keeper and rhythm master—keeps everyone in check with his trusty cowbell. The legend may be outnumbered, but he's never outgunned. He bends notes fluidly on "Warped Sister," wrist-flicks licks on the sunny "Reunion Time" and ruminates tenderly on the Truckers' "Space City." And he gets more texture and character—real, expressive, excitable personality—out of his Hammond-B3 than eight seasons of American Idol contestants combined.
Neither a lyricist nor a singer, Booker T. still has a way with an evocative title. Opener "Pound It Out" does just that, as if banging out sheet metal. "Warped Sister" sounds truly warped, and in this funky context, "She Breaks" doesn't suggest damage so much as it implies dancing. And then there's "Hey Ya" which isn't Booker T.'s composition—though it may as well be now. He and the band distill the OutKast staple to its most basic stuttering melody, fill it with some warm organ chords, unfurl a killer guitar riff and have a blast. Stinky? Maybe. Funky? Hell yeah.