Caroline Polachek, Formerly of Chairlift, Releases First Proper Solo Track, "Door"
Photo by Nedda Afsari
Music
News
Caroline Polachek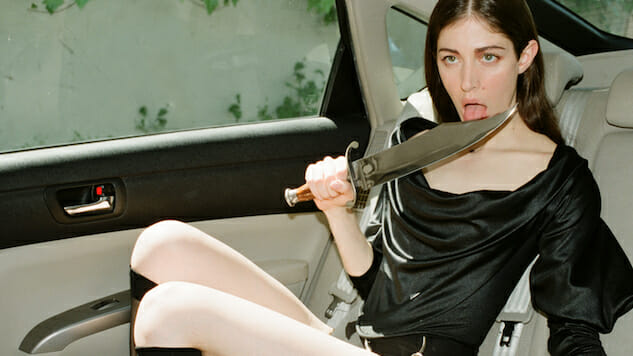 Former Chairlift vocalist Caroline Polachek has unveiled the first glimpse into her new solo work in the form of a brand new single titled "Door." The song is "the first taste of a forthcoming, larger solo project from Caroline to be released later this year," a press release reveals.
"Door" is not a clear departure from Chairlift's springy, esoteric electronic sound (the single's warm, cinematic intro recalls pluckier ballads from Moth), but it is a glossier and more hyper-real take on the pop landscape. "Door" finds Polachek stepping into lovesick shoes to lilt over glittering synths and weighty bass lines.
"Sometimes I don't know who I'm singing to / Who is the you who I sing to / When the house is empty?" she croons, leading into the flickering, pop-leaden chorus.
"I feel totally out of control of most things in the world, but can at least build landscapes for the mind," Polachek said in a statement.
If anything is hyper-real, it's the accompanying video for the single, co-directed by Polachek and London-based artist Matt Copson. The video travels through a series of portals, finding Polachek lit by moonlight on the roof of a suburban home, leading greyhounds through a nuclear landscape of power lines and barren trees, and sitting in front of a warped portal leading to … the ether, maybe?
To make a lazy comparison, the video is the personification of whatever wayward dream you would cook up while listening to Joanna Newsom or Kate Bush as you lie sedated in a dentist's chair.
Polachek has kept busy since Chairlift amicably disbanded in 2016, collaborating with cult performance-art duo Fischerspooner on their 2018 comeback record, lending vocals to Charli XCX's "Tears" in 2017 and releasing an electronic record under the name of CEP that same year.
Before the group's breakup, Polachek released music under the moniker Ramona Lisa, and wrote and produced Beyonce's 2013 track "No Angel."
Check out the new video and single artwork below, revisit a 2010 Chairlift performance at the Paste office further down and stay tuned for further updates on Polachek's forthcoming project.