Surprise! Here Are Four New Chance The Rapper Songs to Brighten Your Day
Images via Christopher Polk/Getty, Tommaso Boddi/Getty
Music
News
Chance the Rapper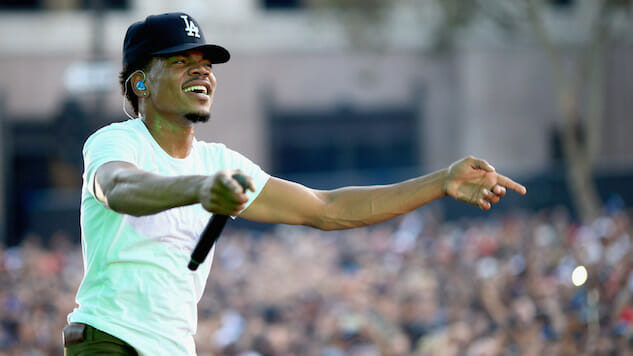 At the end of June, Chance the Rapper announced that he was in the studio with Kanye West, and despite the recent Kanye craziness, we all got excited. Then, he announced that he would be releasing a new album before Saturday, when he performs at the Special Olympics concert in his hometown of Chicago, and we got really excited. And then, with a simple five words, the acid rapper broke all of our collective hearts by rescinding that statement via tweet.
Sorry no album this week, def been in the stu tho.

— Chance The Rapper (@chancetherapper) July 17, 2018
Well, (doing our best Chano impression) "ah, ah, ah, ah, for my real fans." Instead of an album, late Wednesday, he surprise-released about an EP's worth of new songs—hallelujah. You can listen to "Wala Cam," "Work Out," "65th and Ingleside" and "I Might Need Security" below.
Aside from his skyrocketing rap career, Chance is also known for his socio-political activism, namely in the city that he calls home. "I'm a sign to my city like the bat signal," he raps on "Security," which is definitely the most politically charged of the four new songs. He calls out Chicago Mayor Rahm Emanuel, rapping, "and Rahm you done / I'm expecting a resignation / and open investigation on all these paid vacations for murderers," over the catchiest F-bomb we've ever heard—shout out to Jamie Foxx for that one.
But the biggest revelation on the song is this moment: "I bought the Chicagoist just to run you racist bitches outta business." Gothamist confirmed the huge news that Chance's Social Media LLC actually purchased the Chicago news website from WNYC. You go, Chano.
On "Work Out," he raps about maintaining stability in his personal life over a super-groovy bass line. In the song "Angels," which appeared on 2016's Coloring Book, he says "y'all 'gone make me turn my BM [baby mama] to my housewife," and now he's doing just that after he proposed to his longtime girlfriend on July 4. "Work Out" is all about being happy in life and standing on stable ground.
"65th and Ingleside" opens with church organs and auto-tuned vocals telling us that "everything's gonna be okay." Chance continues the hopeful romantic vibes on this song, but not everything is as certain as he made it sound in "Work Out." It's a love song for his fiancé and he knows making it work is going to take some work. He also references friend and collaborator Childish Gambino with, "Then one day Donald took me on tour / Young broke Chano ain't broke no more."
Finally, he brings in fellow Chicago rapper Supa Bwe for "Wala Cam." It's a bouncy track and the most suited for the summer season out of the four.
The four tracks are Chance's most recent releases since collaborating with The Social Experiment member Peter Cottontale for "Forever Always." You can revisit that track here.