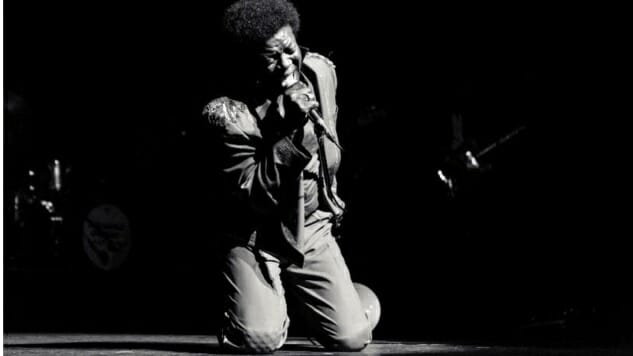 At Essence, a bar in the historical Brooklyn neighborhood of Weeksville, a predominantly black part of Crown Heights, they don't call him Charles Bradley. There, where a group of soul musicians including LaRose Jackson and Jimmy Hill and the Allstarz Band gather each Sunday for a collaborative open mic, he's known by many nicknames, most notably Black Velvet. It's where he got his start in the late '90s and early 2000's as a James Brown impersonator, performing for hire and moonlighting as a tribute act throughout the ensuing decade.
But in 2011, about ten years after he gave his "Black Velvit [sic]" business card to Daptone Records founder Gabe Roth when they first met, the Brooklyn soul singer released his debut full length, No Time for Dreaming under his birth name, Charles Bradley. At the request of Roth and frequent collaborator and producer Tommy Brenneck, Charles, at age 62, shed his Black Velvet—and "James Brown Jr."—identity in order to create a new and more personal one under his own name in order to create his own career not at the behest of the legendary soul singer.
Despite all of his subsequent success over the next six or so years, which saw him play the world's biggest festivals, perform at America's most beautiful concert halls, hit the Billboard charts, and soundtrack some of TV's most critically &nbsp acclaimed &nbsp shows, he was still Black Velvet in the eyes of his community in Brooklyn, always returning to Essence each Sunday night that he could until to his tragic death in September 2017 following a battle with stomach cancer.
Though millions around the world know him as Charles Bradley, Roth, Brenneck, and those at Daptone Records are finally ready to give Black Velvet back to Bradley on a posthumous album, released this week, November 9th, just days after what would have been his 70th birthday.
"I thought that what was really beautiful this record in calling it Black Velvet was that it's the full circle and fully encompassing of his journey as an artist," Brenneck says. "Black Velvet was where he started in New York City and led him to Daptone Records and led him to meeting myself and all of the musicians that he worked with and played with. To me, Black Velvet—even though he had shed it—it was still a part of him and there's something beautiful about it because he broke out of it. I guess in a way it's putting the whole thing to rest, but to me it's all encompassing of everything."
Daptone wasn't fighting against Black Velvet as a name, but more as a musical idea. Black Velvet was a tribute act, owing much more to James Brown than to Charles Bradley himself, even once performing on The Late Show with David Letterman in 2008 in a week filled with cover artists. Brenneck and Roth simply wanted him to create his own legacy rather than rehash James Brown's.
"We were trying to help him find his own voice and stand out and not have people look at him and say, 'Isn't this a novelty that this guy is doing James Brown stuff?' Roth explains. "It was a big thing just to try to help him find his voice and try to peel the James Brown away and see the guy that was left. Towards the end of his career, I don't think anyone was thinking of James Brown when they went to see Charles Bradley—they were thinking of Charles Bradley."
In titling this collection of 10 songs Black Velvet, Daptone Records isn't just giving Charles Bradley his initial moniker back, they're introducing a different side of Bradley's back catalogue than most people knew, including three completely unreleased songs, rare B-sides and a few interesting cover choices, ranging from Neil Young to Nirvana, the latter of which Bradley had never heard of until covering the grunge band for a 2011 Spin Magazine compilation. The box set also comes with a painting of the singer riding a horse into the sky and a transcribed story from Bradley that inspired it, a copy of the original business card he gave to Roth, a large photo book with pictures that span his entire life, and an MP3 download card made of rose seeds that can be planted in his honor.
To find the handful of unreleased tracks, Brenneck, after needing months to getting the courage to go back through old tapes, uncovered one unused and forgotten finished song in the sessions for each album, including "Can't Fight the Feeling," which was recorded in his apartment on Menahan Street in Bushwick. He added horns and organs to Victim of Love-era "I Feel a Change," but outside of further mixing, nothing else was added to any of the final songs, leaving them largely as he found them.
Uncovering the tracks, however, was an incredibly difficult process for both Tommy Brenneck and Gabe Roth, who, while they had undergone a similar process with Sharon Jones' posthumous album Soul of a Woman in 2017, didn't find Black Velvet any easier.
"It's just agonizing going through those tapes," Roth remembers. "What I found, which is the same with Charles and Sharon, is that it's very hard, but you get working on the music and you get distracted from the personal side of it and you get past it. But there are little moments, especially before and after a take, where there's some banter and you hear Charles or Sharon saying something, just bullshitting and not singing, but talking to you or somebody in the room. It's almost like having to listen to an answering machine message from a dead loved one over and over again. It can be kind of crushing; Tommy struggled through some of it too. At the end of it, it's pretty clear that Charles would have wanted us to do that work. That makes it easier to get through, you feel like you're on the right side of it."
Of all of the new songs, the title track is the most heartbreaking cut, ironically the only instrumental offering on Black Velvet. The song, a slow and beautiful horn-led soulful march sandwiched between the Rodriguez and Nirvana covers, is devoid of all vocals for a simple painful reason—it was written to be on Bradley's next record, but he was never healthy enough to sing on it.
"Usually, I put instrumentals on Charles' records to break up his screaming and showcase the band, but on this record, I was putting a lot more thought into it with this "Black Velvet" instrumental and it was really a song tailor made for Charles to sing on—he loved it," Brenneck says. "I think if people really get into the record and check out that instrumental and the placement of it halfway through the record, it's just like, 'wait a second.' It's so heavy because it's the absence of Charles that gives it so much weight. Not only is it a sad and beautiful song—which is my favorite—but if you're a fan of Charles, you can imagine him crushing shit over that instrumental."
Even with a handful of unreleased songs and rarities, Roth and Brenneck were well aware of the long and complicated history of labels releasing records after a beloved artist's death. But they knew they could do it right, giving Bradley a great birthday present on what would have been his 70th birthday.
"We were very, very conscious of not doing 'Let's scrape the bottom of the barrel and squeeze one more release out of some guy that's not here anymore,'" Roth emphasizes. "We were intense at the beginning that if we didn't have a great album's worth of stuff, we weren't going to do it at all. By the end of it, we realized that we had so much stuff that we had to fight about what made the final cut. It came out great."
The final product is a gorgeous tribute to a beautiful man, a testament to someone who never gave up on their dreams and inspiring millions to not give up on their own. After a long and incredibly troubled road, he found success late in life, able to grace the stages he long fantasized about to adoring crowds he loved from the bottom of his heart.
It's no coincidence that Black Velvet sounds like a superhero's name. The moniker first gave Charles Bradley an escape from his astoundingly tough daily life in the projects of Brooklyn, allowing him to embody someone else on a stage that felt thousands of miles away from all of his problems. In a way, Daptone took that costume away from him, pushing him to explore the depths of his own life to create a new inspirational hero for a cadre of fans that exponentially grew into the millions. But Black Velvet allows him to reclaim that name one final time even though he may not be with us anymore.
"Black Velvet was real dear to him and it was something kind of personal and close because it wasn't really the way he got famous to the world, even though that's how he got his start," Roth says. "[Titling this release Black Velvet] was a way to give back to Charles, the title he created for himself. There's just a certain justice in giving it back to him. Let him sail off into the sunset as Black Velvet, a superhero."
All of the videos in this story are from Charles Bradley's performance at the Paste Party at Brooklyn Bowl on Nov. 17, 2015.