Charli XCX's "2099 (feat. Troye Sivan)" Video Is Strangely Literal
Images via Atlantic Records
Music
News
Charli XCX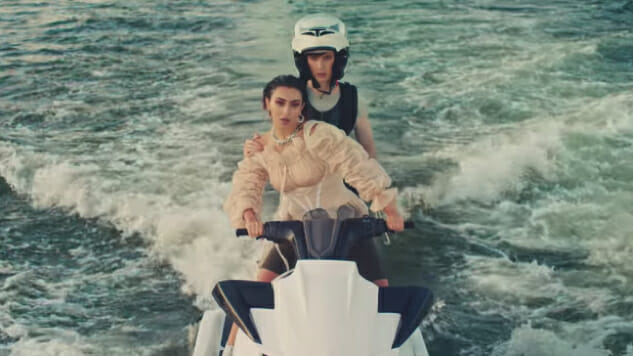 Charli XCX released the excellent Charli last Friday, Sept. 13. Her pop masterpiece features the likes of Sky Ferreira, Lizzo and HAIM. Today (Sept. 17), she's dropped a new video for the standout "2099 (feat. Troye Sivan)," a futuristic, far less accessible follow-up to their previous collaboration, the runaway hit "1999." But while "1999" had one of the best videos of the year, overflowing with references to Titanic, The Matrix and Justin Timberlake's ramen noodle hair, to name just a few, the visual for "2099" is bizarrely … basic.
The braggadocious "2099" has Charli and Sivan feeling "fast like a Nascar" and "zooming like a jet ski." The Bradley & Pablo-directed video, with a concept by Charli and Sam Pringle, takes this one-off mention of personal watercraft and runs with it. There are a few impressive flips, but "2099" deserved better than three humorless minutes of Charli and a seemingly uncomfortable Sivan riding around on jet skis. "Only Charli knows what will happen next," a press release teases, suggesting this isn't the last we'll see of Charli and her jet ski gang.
Check out the "2099" video below, along with Charli's 2012 Daytrotter session.