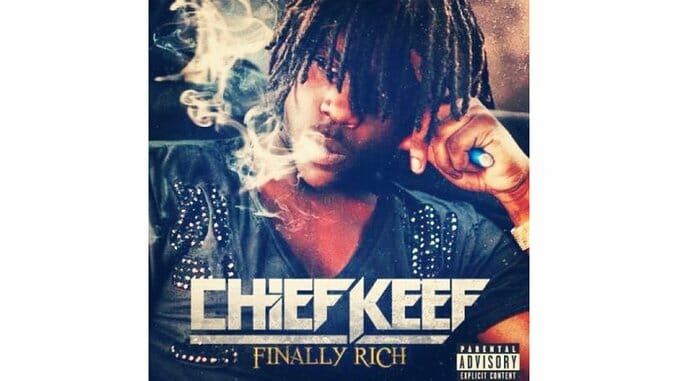 In his still-infantile rap career, Chief Keef's backstory has been as crucial (if not more crucial) to his high-profile status than his actual, you know, music. This 17-year-old Chicago native's rise from YouTube phenom to Interscope-backed sensation has been well-documented; still, it's worth reviewing: Keef (Keith Cozart), a high-school drop-out, suddenly exploded on Chicago's underground hip-hop radar with the dizzying diss-anthem "I Don't Like," all the while serving house arrest at his grandma's for an unlawful weapons charge. He's still being investigated for a possible connection to the death of fellow Chicago rapper Lil JoJo—but that hasn't stopped a hoard of rap music's elite (including Kanye West, who remixed "I Don't Like" earlier this year) from crowning Keef the unlikely new figurehead of gritty, hardcore hip-hop.
That context is thought-provoking, given that Keef's boasts about guns and weed and hos clearly come from real-life experience (It's also devastatingly sad—let's not forget this is a 17-year-old kid, one who became a father at age 16). But ultimately, context is only context: After all the assorted mixtapes and YouTube landmines and blog-boosted beefs, it's time for Chief Keef to actually deliver on the hype. Sadly, Finally Rich largely falls flat: Keef's persona feels genuine, but his sentiments feel hollow, his flow robotic and stale.
The album is front-loaded with a handful of arresting moments, mostly thanks to producer Young Chop, whose explosive, massively catchy beats drill into your skull. "Hallelujah" is a high-octane assault of purring organs, drizzled strings, sub-bass and ping-ponging hi-hats; "I Don't Like" (despite Keef's dead-end lyrical repetition) remains hypnotic, thanks to Chop's haunting horror-film production. When Finally Rich works (and it often does), it's thanks to everyone other than Chief Keef: When 50 Cent mercifully boosts the nauseating "Hate Bein' Sober," it feels like storm clouds parting.
In terms of pure rhythmic ability, Keef rarely breaks out of his nursery rhyme schemes—but when he challenges himself to push back against Chop's beats (like on deliriously catchy "Hallelujah"), the effect is spine-tingling. A handful of tracks (the opening chant of "Love Sosa," the endlessly repetitive "No Tomorrow") sound like grade-A choruses in search of a verse or two; when Keef actually bothers rapping, the results sound like first-take place-holders, almost inadvertent: "I got a bad bitch, yeah that bitch right," he boasts on "I Don't Like," "We smoke dope all day, all night"; when he attempts to loosen up on the breezier "Kay Kay," his less-threatening side feels just as hollow: "I'm ballin' like I'm Jordan," he rhymes on the chorus, but he sounds like a fucking zombie.
Keef has plenty of raw talent and compelling real-life drama to draw from, and with Young Chop, he's found one of hip-hop's most exciting new production talents. Let's hope he stays clean long enough to actually bank on that promise.