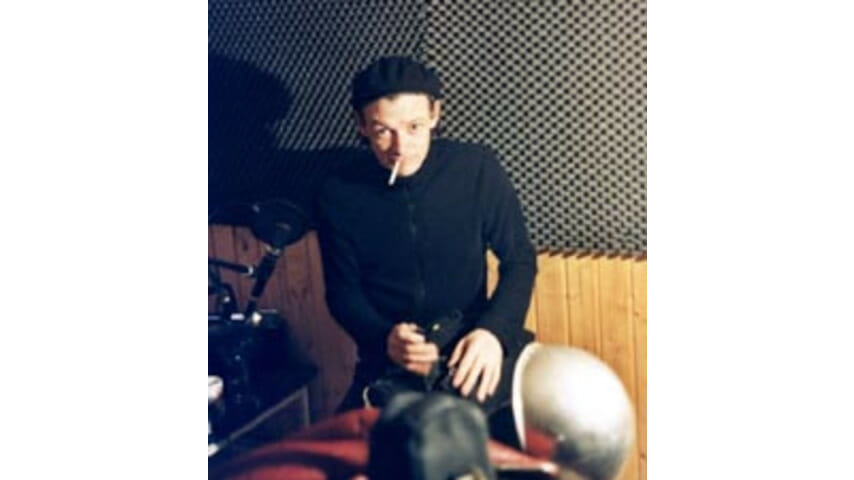 Chicago, IL May 15, 2003
Self-consciously peeling off the Rolling Rock label, I thought about what a friend had said about seeing tonight's distinguished guest in the tattooed flesh: "If I were to recommend his live show to anyone, it would probably be a heavy metal fan." I confess to be a little short on head-banging compadres, but experience has convinced me of one thing about Chris Whitley: He's probably one of the last truly dangerous guitarists on the planet.
Chicago's storefront nightclub, Martyrs', is now legendary to fans who saw Whitley record Live at Martyrs' over three unforgettable nights in August of 1999. I remember them well, nearly every moment of raw, punishing beauty. I walked out sweat-stained, hoarse, feeling borderline arthritic. With any luck, tonight would inflict similar damage. But with Whitley, there's always damage of one kind or another. It could be one of those nights he's squeezing every last ounce of falsetto out of his worn larynx or negotiating with the sound technician on the fly. "A little thinner on the vocals," he'll slip in mid-verse and then resume pounding away at the fret board.
Following a blistering set by Messenger Record label mates Johnny Society, Whitley unceremoniously takes the stage. He's got the cigarette perched on his lip, and an arsenal of Nationals leaning against the rear amp. Clearly, Whitley's a sucker for loud, ill-mannered instruments. It's a throwback to his busking days on the streets of New York, where volume and viscera take precedence, but it's also about his ongoing fascination with overturning rock conventions.
Rocket House, in many ways regarded as the most polished pop record in his catalogue, gets the raw power trio treatment tonight. "To Joy," the second of the 17-song set, already takes a casualty, obligating the guitar tech to restring the dobro's flailing G while Whitley skips his cover of The Doors' "Crystal Ship" in favor of "Breaking Your Fall." But such hiccups are no surprise, considering Whitley's playing, which has become in some ways sparser but more violent over time. Since his brush with sampling a few years back, he's added string-scratching to his staccato-blues style to mimic an abused turntable, an effect he uses powerfully in "Velocity Girl," a new song that could sit comfortably beside much of Rocket House.
Whitley's power as a one-man wrecking band is undeniable, and he demonstrates as much in his solo encore, "Home is Where You Get Across," a funky road anthem he originally recorded with Les Claypool and Rob Wasserman and dedicates to daughter Trixie. But the majority of the evening features his "fearless Vast Combo," the remainder of the Hotel Vast Horizon trio. Matthias Macht cues up "Shadowlands" with a thundering kick-drum, while Heiko Schramm crouches down and carefully plucks a few thick bass notes in Zen-like fashion. Here, Whitley's role is first to complicate the recognizable rhythm with a mess of seemingly arbitrary notes before sculpting a discernible melody out of the chaos.
If there exists something like the art of musical ellipsis, Whitley is undoubtedly a master. To close out his main set, he drags out the most recognizable instrument in his collection, the National steel dobro featured on the cover of his 1991 debut, Living with the Law. It looks like it was unearthed somewhere in Cambodia or dragged behind a Volkswagen over the Rockies, but when you see him play it, you have that much more respect for the instrument's survival.
The crowd knows what's coming. For several years, Whitley has flirted with performing "Big Sky Country" a capella, which seems appropriate for what is probably the closest attempt at a gospel song in his repertoire. But tonight, he's not quite there. I for one am glad he doesn't lay the guitar down completely, instead opting to punctuate choice images in the song by bending notes and firing them out like bullets. I'm thinking something has to break, has to, but nothing. There's just the dozen or so signature notes stripped from everything else, the ones turning each corner and maintaining the song's integrity. In this way, Whitley demands a lot from an audience that could be uninterested in straining its ear to recognize strange renditions of already obscure songs. It's a typical Whitley risk, but he knows he's playing to an anything-but-typical crowd. These people seldom come out to see him on a whim, and tonight they are finding plenty of reward.