5 Black Rock 'n' Rollers on the Influence of Chuck Berry
Photo by Getty Images' Roger Kisby
Music
Lists
Chuck Berry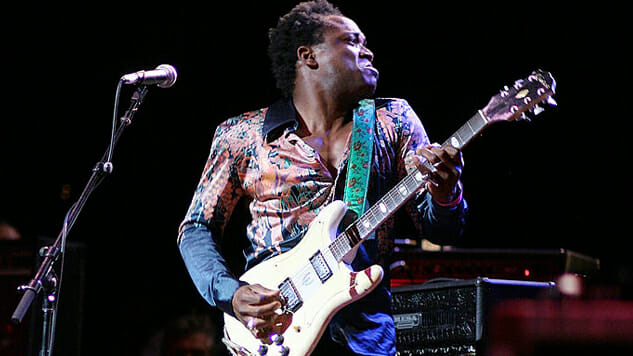 Chuck Berry duck-walked on from this world at the age of 90, yet he and his music were already rendered immortal. Charles Edward Anderson Berry the Afrofuturist alighted on Earth in the year 1926 amongst a cohort of musical mavericks including Miles Davis, Big Mama Thornton, John Coltrane and Oscar Brown Jr., and he went on to reconfigure the sound of America as The Father of Rock 'n' Roll.
Often dismissed as "jungle music" in its seismic early heyday, rock 'n' roll actually represented a cultural movement from the Jim Crow era. As a result, there's still a racial divide as to how the genre is perceived, and thus, just who is considered The King tends to break along color lines.
In fact, it hadn't been for racism afflicting the record business, Berry would likely be counted as one of the greatest country singers in history, too. His love of hillbilly music helped Berry construct the very vocabulary of rock 'n' roll, while his emphasis on making his diction harder and "whiter" led to him being booked by country/western promoters. But while they loved his repurposing the standard "Ida Red" as "Maybellene," these show producers refused to have his black body perform for their audiences.
As rock 'n' roll grew in popularity, so too did Berry's prominence. On the country and western side, everyone from Texas Troubadour Ernest Tubb to Emmylou Harris covered his work and of the bands we now call classic rock, The Beatles to The Rolling Stones were among his greatest fans. Especially for subsequent generations of black rockers, however, Chuck Berry is the Alpha and the Omega. Here then are five black rock and twang artists who spoke with Paste on the lasting influence Chuck Berry.
1. Osei Essed, The Woes
When I was a kid—a black punk with only music to keep me—Chuck Berry was no longer new to the world. Still, he was new to me, and as I heard those early recordings, each was timeless and each a symbol of something that would always be true. His music and the fact of his being was a confirmation that not only could people who looked like us rock—we could make the world rock with us. And so it remains.
2. Greg Tate, Burnt Sugar Arkestra
I nominate ''Brown-Eyed Handsome Man'' as my favorite for flaunting Chuck's wanton defiance of the courts, lynching, and the nation's miscegenation statutes, legal and extra-legal. And then there's proto-Conscious Rap template, ''Too Much Monkey Business," [illustrating] Berry's pointed, lyrical critiques of predatory capitalism, social conformity and the American military way before the Black Power/anti-Vietnam era. Throw in his open polyamory and Chuck was the first "Bippie," per Fred Sanford.
Tate also references a section in his book, Flyboy 2: "The poet Amiri Baraka likes to asks this relevant rhetorical question: If Elvis Presley is king, who is James Brown—God? In this same vein, Little Richard once held the Grammys hostage by declaring himself the "Architect of Rock 'n' Roll." Now, while I do believe the Godfather of Soul to have been an African deity on loan to the world, the flesh, and the devil, I must confess to finding Brother Penniman's statement as arguably askew. Because Brer King Richard is certainly the Great Emancipator of androgyny, abstract expressionism, and glam in postwar American music—as well as the man who begat the ecstasy of agony one hears in James Brown, Otis Redding, Gene Simmons and Ziggy Stardust. Yet, for all of that, the Real Architect of Rock 'n' Roll, we would counter, the Master Builder, as it were, is Mr. Charles Edward Anderson Berry."
3. Dina Rudeen
Chuck was a genuine genius, a total original, a complete anomaly and an utter iconoclast. He didn't so much rewrite the book as he ripped it up and penned a completely new one. He shattered the whole stereotype of what people thought a black man playing a guitar should look and sound like. Simply put, he wrote the language and spoke it better than anyone. No one ever looked or moved better with that thing strapped across them than he did. He was a visionary and a vision, himself. Leading man handsome, smooth and eloquent, a Wordsworth quoting badass with an oddly genteel air. I like to think of him as Nat King Cole's evil twin—someone who people also thought was white sight unseen. Berry's stories grabbed you by the hand like someone pulling you unto a moving train. All the details were so vivid and immortal. He was the first to ring the warning about stepping on his blue suede shoes ("Roll Over Beethoven"), which left such a strong impression on Carl Perkins that we may not have known Carl if he hadn't written a song about it. When someone defies description you have to make up new words to categorize them and this was certainly the case with Chuck. He was and will always be the perfect personification of rock 'n' roll, its face in the dictionary, its image on a stamp, its song on the moon, its inventor and greatest poet.
The first and only time I saw Chuck Berry was in 1992. I was deep in the spell of my first of many full-blown obsessions with him, when I opened up the Village Voice one day and saw that The King was coming to town. I just couldn't believe that life could be so divine. I ended up in the front row dying of boredom during the opening act. Not a moment too soon, Chuck Berry eventually emerged. He looked great but his fire was replaced with an unfocused feistiness. But he was in a good mood and that was more than enough. The hodge podge pick up band was lackluster at best. And though it was far from earth moving, every now and then a flash of timelessness would burst out causing me to shake my head in disbelief overflowing with gratitude. Although my heart is broken, I can't help but be grateful for the long run he had here on this earth. The odds of a black man born in 1927 living for 90 years are pretty incredible. The odds of any man doing what he did are virtually impossible. Bravo Maestro! Thank you, thank you, thank you for everything, Chuck Berry.
4. Henrique Prince, Ebony Hillbillies
Everybody knows "Johnny B. Goode," but why? It's the tale of Orpheus here in America; he made the sunrise his name in lights. He is the God who rises from the dust. Chuck Berry was bad to the bone.
5. Kirk Douglas, The Roots
As a rock 'n' roll guitar player, Chuck Berry is in my DNA. There is no way for me to escape his influence when playing, even if I'm trying to. My favorite song of his is "No Particular Place To Go." It wasn't just his playing. His words and melodies had motion, rhythm and swagger.