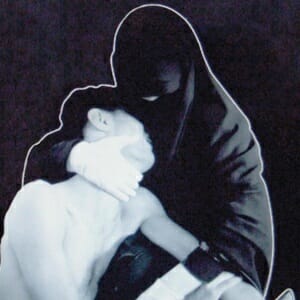 Every new album Crystal Castles releases is lacking one thing: a name. Each self-titled entry is instead branded with a number—a good choice, considering each feels like a chapter in the same book, rather than a new novel itself.
The experimental electronica Canadian duo returns with (III), a 12-track album packed with impossibly catchy beats. In an effort to create a new sound, the band has traded in instruments used in previous albums, opting for new keyboards and pedals. Alice Glass has spoken previously about undergoing many personal difficulties between this album and the last, and it shows in her loaded lyrics.
Like most of Crystal Castles' songs, the vocals are difficult to understand. In a way, that's part of the appeal; Glass's words slip into the song itself. On tracks like "Kerosene," where they really surface, Glass's troubles are more obvious. "I can clean impurity, wash away with kerosene," sings Glass, later adding "I'll protect you from all the things I've seen."
Not to be held down by introspective lyrics, (III) is fantastically full of energy, jumping from gentle shoegaze or rave-worthy, coked-out beats like with no trouble. "Pale Flesh," is a chip-tune dream. Complimented with vocals not unlike someone shouting in a bathroom, it just works. It's electric in its haggard sound.
But like all of Crystal Castles' past albums, there exists a song or too that falls too far to the left. "Insulin" fills that niche with headache-inducing static and scratchy, shrieky vocals. There's something interesting in the dizzying effect its pulsing sound creates, but it's ultimately not a tune that's pleasing to the ear. "Telepath" uses this same effect, but with better results; it's a jumpy, strobe light reminiscent, ravey track with no love lost.
For all its efforts to be different, (III) feels like more of what fans have come to expect from Crystal Castles. The album is undoubtedly a jump from their first, with a gentle climb after the second. But there's something to be said of their "if it ain't broke" methods, and this latest entry is a testament to their skill. Make no mistake: (III) is a great album. "Sad Eyes," "Plague," "Telepath"; there's no shortage of superb tracks to choose from. But for those familiar with Crystal Castles, chances are that you already know how you'll feel about it.