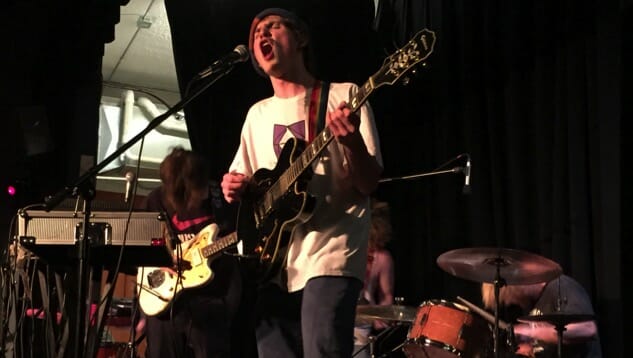 Daytrotter Downs closed out with a bang Saturday, February 20. Here's the final take: Daytrotter founder Sean Moeller is a curatorial genius. This is one of the best festival lineups I've ever seen, packed with the next big artists for every musical palette, and completely lacking any filler acts. I left the festival with a fistful of new favorites. Check out the highlights of Day Three below.
Margaret Glaspy
Margaret Glaspy is a Brooklyn-based singer-songwriter. This folk princess could've stepped right off of the prairie in her floor-length floral dress, and the fact that she so clearly was humbly excited to be there had us in her corner even before her killer cover of Lauryn Hill's "Ex-Factor". Wielding an electric cream guitar like it was an acoustic, she let loose with a voice that really is an instrument in itself. With a voice like that, the guitar became almost unnecessary – how nice that she nailed both.
Christian Lee Hutson
Christian Lee Hutson just caught us on our blindside, a dreamy quiet crooner turning melancholy into lyrics that are pure poetry. You don't always get a performer who brings out a hush over the entire room at a music festival. But this man knows how to write a melody, knows how to talk to an audience, and knows how to make us shut up and listen. And be really, really glad we did.
Poema
Sister singers Elle Puckett and Shealeen Louise Puckett have voices fit for chart-topping pop queens, but mix it with a much more rock and roll sensibility, underscored by their full live band. That kind of so-in-sync vocal harmony could only come from shared blood. This is definitely a pop band, but Poema somehow finds a way to rock harder than some of their straight up rock peers.
Luke Bell
For a sound that's all classic country, Daytrotter treated us to Luke Bell, a Nashville based modern day cowboy complete with harmonica, trucker hat, and sideburns that could carpet your living room. I'd believe it if you said he was a hologram of one of the country heroes of the past. Then again, no hologram could've gotten a whole room honky-tonking like every single one of us had been raised in cowboy boots. In a word? Authentic.
Said Bell of the festival, "You mean the festival with free PBR, Chinese food and great crowds? We're hot to trot for Daytrotter." So there you go.
Sun Club
If you get to a Sun Club show and don't leave drenched in sweat with a sore neck, you're doing it wrong. They're such an original sounding band, blending pop together with countless genres in the most innovative ways, and – most importantly – turning the volume all the way up. I've only ever gotten a live experience with an energy like this out of a Diarrhea Planet show. Just the perfect way to close down the festival, leaving everyone exhausted, exhilarated, and completely stoked on the experience. Side note: It needs to be acknowledged that this entire band collectively has the best hair of all time.