Daytrotter Session - Apr 14, 2011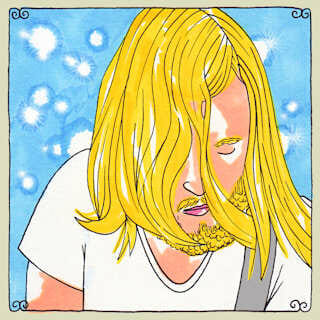 Welcome to Daytrotter
Come On Up To The House
Innocent When You Dream
San Diego Serenade
Tango Til They're Sore
Let's start here with a short list of the things that we lose along the way. It seems that the men of Long Beach, Calif., who make up Delta Spirit and who have written and recorded the 11 songs that comprise "History From Below," would like this little process. It would make sense to them, this brief focus on what's gone missing, on what's been loved and remembered. It's not about dwelling on the losses, but recognizing how the losses make all that remains so much more meaningful. It shapes us more than we know – rounding off and enhancing the joys that are still around, that are yet to be made. But we do lose, sometimes without gain — just pain and heartache. So, we lose, in no particular order – chronologically or as importance goes – the following, in varying degrees: our youth, our safety, our comfort, our spirit, our innocence, our grandmothers, our grandfathers, our curiosity, our love, another of our loves, still another of our loves, our wives, our mothers, our fathers, our sight, our hearing, our husbands, our daughters, our drive, our sons, our pets, our time, our hair, our reflexes, our spryness, our brightness, our shine, our guts and here we're just getting started.
 
We lose nearly everything before we're done, before we've been finished off or written to a stop. We're wrecked to the point that we need saints and saviors because there's no doing it on our own. There's no human being that can get us through these ruts. It must be out of body. It must be something other, something that breathes new breath and something that runs interference with the losses, something that softens them.
 
Our old friends in Delta Spirit make music that softens our losses, sure, but it's a band that makes music to soften their own losses, whatever those may be (see above for a good start). It finds a pleasing heat in a fever and it finds a comfort in a chill, knowing that one will become the other with a long enough wait. They find "churches" wherever they travel and they find those willing to embrace with them in a pageant of the losses, making them feel as if they were three parts sweetness and one part regret. The losses make them realize that so much of our histories come from our hardships, whether we like it or not, and it's decisive. We can't help but feel absolutely included and vulnerable when, on "Bushwick Blues," lead singer Matt Vazquez sings, "My love is strong, but my heart is weak," with a drawn-out pause, before finishing with the words, "after all." It's destined – the strength of our hearts and the losses that they will be forced to endure. We're meant to find the endurance. If we don't find it, who knows what's going to become of us. Heaven help us at that point, for we've not given up so much as we've refused to participate in the ceremony.
 
Vasquez offers one of many lines from Tom Waits on this, the group's fourth session, singing, "It's such a sad, old feeling," from the "Beautiful Maladies" cut, "Innocent When You Dream," giving us a chance to add to the sentiment that it's such a familiar feeling that it doesn't necessarily feel bad. We cozy to these feelings and we bring them back to life when we don't have to, resuscitating them from the brink. These are the losses that we hold. We choose to love them and strangely enough they give us life – these sad, old feelings.