Demi Lovato Gives Their Hits the Rock Treatment on Revamped
The pop star's catalog-spanning collection revels in a newfound boldness while maintaining all of the original fanfare
Music
Reviews
Demi Lovato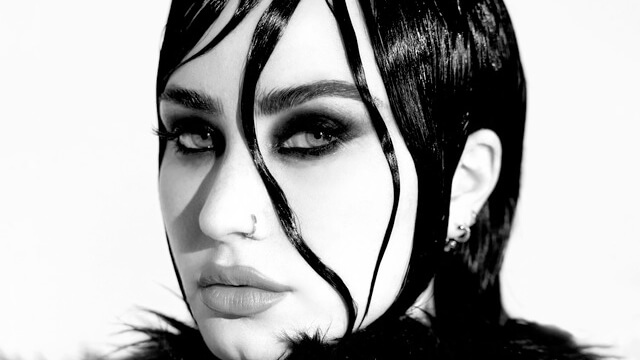 Demi Lovato has long been a phoenix in their art and in their life. The pop-turned-rock singer grew up on Barney & Friends in Texas before becoming a Disney Channel star and a renowned vocalist. Lovato was in a unique position in terms of their Disney stardom era. They had watched Hilary Duff work her way from Lizzie McGuire to Hollywood Records; Miley Cyrus had already experienced monumental success by the late 2000s; Selena Gomez was ahead of Lovato with the Disney sitcom step but wouldn't release an album until 2009, after Lovato. There was a long road ahead for these three post-Duff breakout stars, especially Demi Lovato.
They have since publicly reflected on a near-fatal 2018 overdose and have created new music: 2021's Dancing with the Devil and 2022's Holy Fvck. The artist's new album, Revamped, is comprised of 10 older Lovato songs now revised as rock versions. They worked with production team Warren "Oak" Felder and The Orphanage, the same group that produced Holy Fvck last year.
The album is a result of Lovato's Holy Fvck Tour, where they performed several older songs with a rock twist in order to better fit the sound of their new music and image. Revamped retains guitarist Nita Strauss, who toured with Lovato in 2022, for "La La Land." This song could be considered a Disney Channel deep-cut, released in 2008 and co-written by Lovato and the Jonas Brothers—and the music video even included Lovato's Sonny with a Chance co-stars. The show was about Sonny becoming a Hollywood star, so it's all very meta when Lovato sings about "the La La Land machine." On the update, their vocal riffs balance against Strauss' soloing electric guitar part, which beautifully carries Lovato from a quieter moment into a warm new variation on the chorus. Their passion shines through, especially on this line they astutely wrote over 15 years ago: "I won't change anything in my life, I'm staying myself tonight."
"Confident"—written by Lovato, Max Martin, Savan Kotecha and Ilya Salmanzadeh—packed a punch in 2015 with its music video, which was shot like an action film and featured Lovato as the fierce protagonist. The 2023 rendition doesn't lose the introductory fanfare that prepares listeners for a showdown. The statement "I used to hold my freak back, but I'm letting go" has perhaps never been truer for Lovato. Holy Fvck's "Freak" (featuring Yungblud) last year deliciously played with Julius Fučík's "Entry of the Gladiators" (aka the circus song) on the pre-chorus: "Get your tickets to the freak show, baby / Step right up to watch the freak go crazy." I loved Holy Fvck and couldn't resist making that connection when listening. "Confident" delivered on its title in 2015, and Lovato's freshly minted belt at the end of the Revamped track will remind fans of the singer's vocal energy and consistency, and their ability to stretch the limits as they ask, "What's wrong with being confident?"
Lovato told Billboard that they actually found a higher range in their voice to work with for this album. "To be honest, I think we added an extra high note on every track. I think that's actually part of the exciting thing with this album; getting to hear the higher notes that I'm doing in my songs and like taking it to another level," the singer said. "I'd even say they were easier to record, just because I've been singing them for so many years."
When asked about any challenges in translating their past music to rock, Lovato cited "Tell Me You Love Me" because of its "soulful" nature. A cover by songwriter Kirby Lauryen might change your entire understanding of the piece. This one and "Sorry Not Sorry" even got the gospel treatment in 2017 when Lovato performed them both with choir and band for Vevo. It's hard to beat the gospel organ sound behind the chorus "Oh tell me you love me / I need someone / On days like this I do / On days like this." By the bridge, Lovato is practically giving a sermon—one I am happy to be seated for, as I watch their fervor in the old video. However, the rock version of "Tell Me You Love Me" captures a new layer of earnestness in Lovato's singing—backed by creative production choices that take advantage of the notes built into the chorus (the "oh" sections that follow "Can you hear my heart say?"). Lovato takes flight by going up the octave with skill and years of vocal prowess—and it's exciting to witness. The vocoder outro is a nice touch, and the track functions well as a calmer moment between the harder, louder rock numbers on Revamped.
"In 'Cool for the Summer,'" the lyrics I changed from 'Don't tell your mother' to 'Go tell your mother,'" Lovato told Zach Sang. With just one word altered, their sexuality and identity is not treated as a taboo secret. "… it's proud, and I wanted that to be reflective," they added. Lovato possesses a new confidence in the lyric change, and their voice sounds perfectly punky—even leaning into "r" consonants at the ends of words more than before. This song is one of my favorites on the album, at least instrumentally. The opening hook was introduced in 2015 as a dancey piano motif under producers Max Martin and Ali Payami (who wrote the song with Lovato, Alexander Kronlund and Savan Kotecha). It now begins with the sounds of synth and static, building into clearer audio as a bold drumbeat kicks in. An interlude between pre-chorus and chorus heats up this summer song—a metal yell, electric guitar shredding and faint but well-placed echoes of the chorus notes. The production style and Lovato's incredible, amped-up belting transform "Cool for the Summer" into a rock song while building on the structural strengths of the pop number, like the rich guitar presence in those interlude spots.
Lovato is joined by Slash for "Sorry Not Sorry," and I really like this sped-up rock version. Robert Joffred aptly wrote about the original in 2017 that "this song makes a ton of cool harmonic choices." The F# to A# to B transition is my favorite part of the chord progression, where the guitars hit as Lovato sings "Baby I'm sorry (I'm not sorry)." I was initially surprised to hear a metal scream on the formerly spoken "Wait a minute!" (Lovato confirmed that they did not perform the scream, so as not to damage their voice.) The bridge is an exhilarating race to Slash's masterful solo, which should have gone on for many more measures. Still, he and Lovato are a dynamic duo to the finish. Slash told Yahoo! Entertainment that Lovato sings on his upcoming bluesy album, so it will be fun to hear them work together again when the time comes.
"Heart Attack" also clips along at a fast pace, but the shift in tempo between sections feels more pronounced and gives the effect of a racing heart. The production's fast trap beats sound almost like someone rapidly shuffling a deck of cards. Verse two, perhaps, takes on another meaning in light of Lovato's life over the years: "And every time I try to be myself / It comes out wrong, like a cry for help / It's just not fair / Pain's more trouble than love is worth." Years later, their famous high notes come through loud and clear. The original recording, with its symphonic moments, is forever a classic in Lovato's catalogue—but I think this song was always meant to have a rock recording. Lovato sang a more rock-leaning edition in Brazil in 2015, ending with a sweet riff from the electric guitarist. Now, the song ends with the band calmly playing a repeated pattern until they fade into silence.
"Give Your Heart a Break" is a powerful antithesis to "Heart Attack." Instead of Lovato avoiding falling in love, it's the love interest of the song who is hesitant. Bert McCracken of The Used matches the emotional, candid tenor of Lovato's voice in his own way. The chorus is a tender message for someone who fears vulnerability: "Don't wanna break your heart / Wanna give your heart a break / I know you're scared it's wrong / Like you might make a mistake / There's just one life to live / And there's no time to wait / So let me give your heart a break." Per Billboard, the late Jon Lind (who was senior VP of A&R at Hollywood Records) saw "the arc and the intensity" Lovato would appreciate in Josh Alexander and Billy Steinberg's song back in 2010. He made the right call!
I like that Lovato plays with styles on this album. In the world of Revamped, "Neon Lights" is a dance song and a rock song. Lovato's original take—which they wrote with Ryan Tedder, Noel Zancanella, Mario Marchetti and Tiffany Vartanyan—was certainly the former, but the new version balances both genres and shows off the singer's increased comfort with their lower register. Lyrically, this song complements "Heart Attack," as both verses open with "Be still my heart 'cause I'm freaking out / right now." Emo band The Maine's melodic twists on the second verse are refreshing, and they come in with subtle fragments of techno/emo countermelodies that I could listen to for hours.
Another hallmark of early-2010s Lovato, "Skyscraper," has a coveted spot on Revamped. The reimagined song opens with the intrigue of suspended organ chords, whisking the listener away into a promise of survival on that first chorus: "You can take everything I have / You can break everything I am / Like I'm made of glass / Like I'm made of paper / Go on and try to tear me down / I will be rising from the ground / Like a skyscraper." The Revamped version feels so natural, carrying a softness felt within an aura of strength. The original is meaningful to me and to many other fans. I wonder how many of us have sat down and accompanied ourselves on the keyboard to sing this one.
"Don't Forget" is one of the first Demi Lovato songs I remember listening to as a teen, and it's another collaboration they did with the Jonas Brothers. On this new outing, Lovato takes everything we loved about that first version and pours it into a mosaic with their years of personal, spiritual, and vocal growth. The high notes are pristine, something I think their younger self would be proud of. Every burst of the full-voice, full-guitar chorus is energized and gripping; yet in the quieter moments with the band's sustained harmonies or the graceful piano notes skipping an octave above Lovato's voice, the singer finds the perfect lilt. The final lines may break your heart, though only in the gentlest way: "But somewhere we went wrong / Our love is like a song / But you won't sing along / You've forgotten about us."
Revamped might be easy to mentally compartmentalize as a nostalgia project in a time when trips down memory lane abound for Millennials and Zoomers (see also: Taylor Swift's re-recordings and Eras Tour, the Jonas Brothers' The Tour, Miley Cyrus' "Used To Be Young" and the still-unfolding *NSYNC reunion). But this album is also an experiment—a glorious one where we get to hear Demi Lovato's virtuosic vocal technique and belting. Each song is a work of art; not all of them sound radically different from their roots. Lovato indicated to Rolling Stone that it was important to keep the "familiarity" of each one intact. Maybe this is a project that could be continued in the near future. Lovato told Sang that a couple tracks were cut: "Get Back" and "Really Don't Care." Perhaps they'll wind up on a deluxe edition someday.
"Breathing new life into the songs that played such a huge role in my career has allowed me to feel so much closer to my music than ever before," Lovato wrote on Twitter ahead of Revamped. Fans are lucky to fall in love with these songs all over again, and to remember what we loved about Lovato's music in the first place.