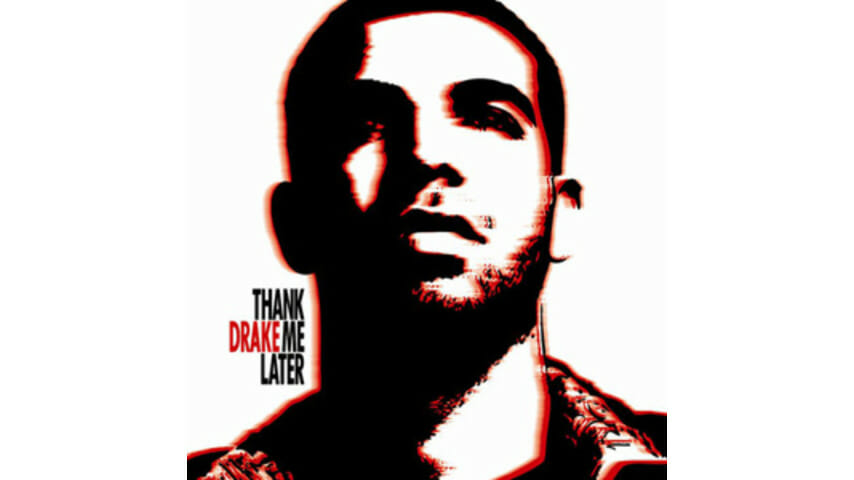 It's difficult to manage expectations when you've been called the Next Big Thing in the hip-hop game for a year running. So it goes for actor-turned-rapper Drake with Thank Me Later, the debut studio album from Lil Wayne's brightest and most visible Young Money protégé. And it's a problem Drake created for himself, or certainly didn't try to solve—this is the same guy who once bragged about "buzz so big I could probably sell a blank disc."
As an artist who can sing and rap with equal zeal, he's been aggressively courting R&B lovers and hip-hop heads with three years' worth of high-profile mixtape releases. This, in turn, makes Thank Me Later an even more complex balancing act: pleasing his massive fanbase while trying to live up to the considerable critical hype that's already made him just as visible as every other rap superstar of the moment.
The front end of Thank Me Later sees Drake addressing his fame head-on with a trio of barebones, confessional songs about lost love, money, women and fame—the usual notes he's been hitting for three years now. "Fireworks" is the most interesting of these—a minimalist duet with Alicia Keys that sounds like an 808s & Heartbreak b-side. Then, with the opening strings of now-ubiquitous first single "Over," he kicks off the album proper with a string of star-studded club bangers and sticky-sweet Autotune-fueled sex jams.
The gloriously self-indulgent "Up All Night" sees him waxing rhapsodic about his nightlife over a menacing beat while trading verses with Nicki Minaj, who ends up out-swaggering Drake: "If Drizzy say get it I'ma get it / I got the kinda money make a broke bitch bitter / I got the kinda, wait, wait, fixate / which bitch you know made a million off a mixtape?" Young Jeezy joins Drake for "Unforgettable," smoothing out his trap-rap rasp for one of the album's surprise highlights, and Lil Wayne drops some of his trademark stream-of-consciousness wordplay on the wistful ballad "Miss Me."
"Light Up" is unquestionably the album's centerpiece—Drake lays out all of his insecurities over thunderous synth drums and plaintive piano stings: "And I'm a motherfuckin' missed target / but a target nonetheless, and I just started." Then, Jay-Z steps in to lift Drake up by his shirt collar and play elder statesman and mentor to his charge: "Drake, here's how they gonna come at you / with silly rap feuds, trying to distract you."
Thank Me Later flirts with tedium thanks to Drake's unceasing lamentations over money and fame, and the overuse of Autotune threatens to make his confessions sound plasticine and insincere. And past criticisms of his lyrical ability still ring true: he just can't string verses together like some of his older and more experienced contemporaries, which is especially clear on an album that's so feature-heavy. But as a crossover artist working in a medium that's infamous for having set-in-stone genre demarcations, Drake does an admirable job of dancing across those lines and crafting an album that's equal parts hip-hop and R&B; one that has a broad and enduring appeal.
Drake may not have been able to meet the dizzyingly high expectations for his debut, but then again, no one could have. So he did the next best thing—release a solid and consistent album that showcases his prodigious talent. Thank Me Later may not have been the game-changing release everyone was hoping for, but we now have every reason to believe that the hype will ring true on his next album.