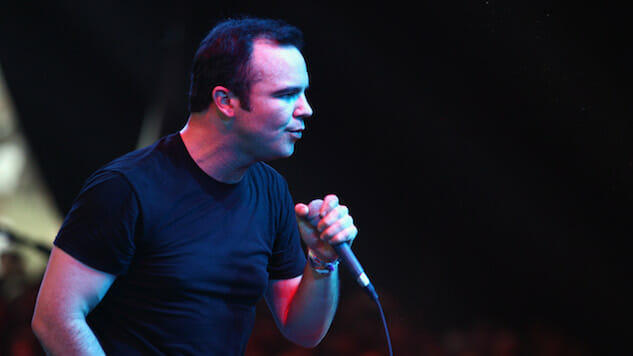 The self-described post-wave of Future Islands has garnered praise from critics and fans alike since their formation in the mid '00s. The Baltimore trio has released five albums to date (most recently 2017's The Far Field), and they've built a solid live reputation, relentlessly touring and playing some of the world's biggest music festivals.
On this day in 2011, the band stopped by the Daytrotter Studios in Davenport, Iowa, to perform tracks from their third album On The Water and their back catalogue. The band performed four tracks—"On The Water," "The Inkwell," "Walking Through That Door" and "In The Fall." Future Islands' expansive sound reverberates through all four live tracks—"On The Water" is a brooding slice of wonky post-punk, "The Inkwell" is a twinkling synth-pop gem, "Walking Through That Door" is an eerie dose of New Wave and "In The Fall" is full of gloomy dream pop.
In our full review of their 2011 album On The Water, Paste writer Carey Hodges complimented the album as "not only the most accessible Future Islands release to date—it's their best." Hodges continued, "Gorgeous and personal, the band has delivered a record that is not only the product of years of trial and error, but also the rarity of a truly talented storyteller."
Listen to Future Islands' Daytrotter session below.