Gong Gong Gong Channel Their Inner Cowboy on "Ride Your Horse"
Images via Richard Perez, Wharf Cat Records
Music
News
Gong Gong Gong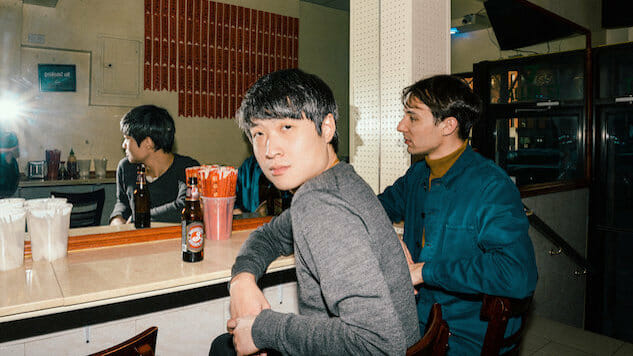 Guitar-bass duo Gong Gong Gong may be based in Beijing, but their stories started elsewhere: Bassist Joshua Frank was born in Montreal, and vocalist and guitarist Tom Ng hails from Hong Kong and sings in his native Cantonese. The fruits of their collaborative efforts are no less unconventional and cross-continental, blending desert blues, punk, Cantonese opera and rock 'n' roll. Today (Sept. 24), Gong Gong Gong have shared the especially border-crossing single and video "Ride Your Horse" ahead of their full-length debut, Phantom Rhythm, out Oct. 4.
Nearly two thirds of the track are made up of its gallivanting intro, which extends for two minutes before Ng's urgent vocals enter the mix. "Ride Your Horse" mimics the sound of hooves and conjures up the scores of classic Westerns, with a twist. Ng explains that the song is equally indebted to the Wild West and Chinese tradition. "Playing this song, I feel like I'm the last Cantonese cowboy in the galaxy," he says in a statement. "The different sections of 'Ride Your Horse' were inspired a bit by the structure of classical Chinese writing [meaning] 'introduction, elucidation of the theme, transition to another viewpoint and conclusion.'"
The track's video, which features Beijing neighborhoods familiar to the band, was directed by Frank and Liu Yi, a fellow filmmaker based in the Chinese capital. In a statement, Frank explains the choice to pursue a martial arts concept for "Ride Your Horse," which stars Richard Tse practicing kung-fu across Beijing:
I've been wanting to make a video that paired kung fu movements with our music, emphasizing the dance-like qualities of both. The shiny metal sword and wooden staff mirror the materials of our guitars, and I think the martial arts and music balance a sense of being brutal and graceful at the same time.
The video also contains a rare horse sighting on the city streets, which Frank captured by chance. "I … wanted to reflect a vision of Beijing as a quite harsh, unrelenting city," he explains, "that nonetheless contains an undeniable sense of absurdity and humor."
Watch "Ride Your Horse" below.