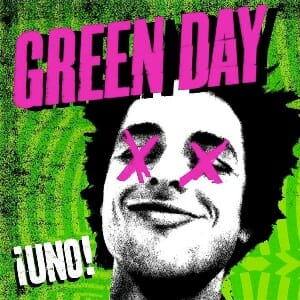 When Green Day first announced they'd be releasing three new studio albums in a six-month surge, the timing seemed appropriate. After the back-to-back rock-operas American Idiot and 21st Century Breakdown, a quasi-triple-album seemed like a weirdly logical next step—and also a surefire recipe for bloated concept-album indulgence.
But as the militant opening power-chord blasts of "Nuclear Family" make clear, Green Day are in no mood for thumb-twiddling. "Drinking angels' piss, gonna crush and burn," sneers Billie Joe Armstrong over Tré Cool's tom-tom blasts, "I just want some action, so gimme my turn."
It's been fun watching the band's sonic ambitions swell over their past few albums—it's made for some truly arresting songs. But ultimately, these guys work best when the stakes are lowered, when the pretensions and grandeur are set aside in favor of snot-nosed, nihilistic punk-pop clatter: If you were to distill the band's greatness into a single image, it'd be Armstrong knifing his living room couch, stuffing strewn across the floor, in the buzz-worthy music video for '94's "Longview." ¡Uno!, the first installment of this surprise trilogy, is a whiplash return to the band's reckless, hook-a-minute roots—with power-pop studio sheen polishing up the Dookie stains.
"I ain't got much time, so I'll get to the point," Armstrong sings over gleeful guitar crunch on "Stay the Night." No kidding: Only three tracks on ¡Uno! break the four-minute barrier, and even the lengthiest ones (like the excellent lead single "Oh Love") say what they need to say with only the simplest rock band tools: two guitars, a bass, a drum kit and the occasional hint of keyboard. Even the thinnest moments (the unrelenting "Angel Blue," the hilariously profane "Let Yourself Go") are frill-less blasts of dumb, breakneck fun, and the cream of the crop are Green Day classics: The Cheap Trick-styled sugar rush of "Stay the Night" features one of Armstrong's most effortless hooks and a victorious guitar-bass breakdown. The venomous "Kill the DJ" channels political disillusionment through a white-hot dance-rock pulse, a slick falsetto, and a funky guitar strut: "Someone kill the DJ / Shoot the fuckin' DJ," Armstrong snarles on the chorus, "Hold him underwater 'till the motherfucker drowns."
Not many bands would open one of their most blatant love songs with a lyric as juvenile as "I woke up in a pool of sweat / At first, I thought that I pissed the bed" (the otherwise sweet "Fell For You"). But that lyric isn't awkward in a Green Day love song; it's actually proof of their genius: twisting the juvenile into the profound.