Grimes Shares Snippets of Two New Tracks
Photos by Emma McIntyre/Getty, Mike Windle/Getty
Music
News
Grimes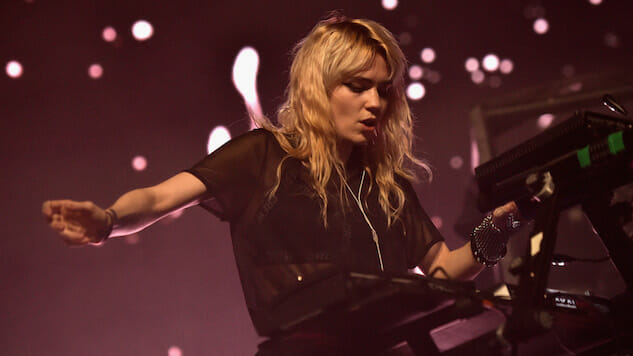 Grimes is making good on her promises of new music by giving us a sneak peek of two new tracks, presumably from the album she has been teasing for the fall.
Grimes tweeted two videos on Tuesday, each previewing a song from an iTunes playlist titled "! 13 decent tracks."
She describes the first track, labeled "Adore u," as a "cheesy love song" that she doesn't like but everyone else does.
"4am," the second track she previewed, she calls an "ethereal chav jam that's like … a cyberpunk interpretation of the bajirao mastani movie."
Aside from the clips, Grimes also responded to a fan that another track, "so heavy i fell thru the earth," is a "big heavy dark ballad" that fans of her 2010 album Halfaxa will dig. All of these titles are consistent with the working tracklist she posted on her Instagram story last month.
Check out the snippets for both songs below, along with Grimes' 2013 Daytrotter Session.
my song so heavy i fell thru the earth is in that post burial post aphex meets ethereal digital celtic vibe , used roli seaboard and top secret ai synth of which there is only 1 in the world to make it, it's big heavy dark ballad, if u dig halfaxs u will like

— Grimes (@Grimezsz) June 5, 2018
so this one is like my ethereal chav jam that's like … a cyberpunk interpretation of the bajirao mastani movie (plz watch this incredible film if u haven't) from mastanis perspective, dunno if it makes sense without the low end. these r just demos bein recorded thru my phone so pic.twitter.com/mdyXQyScj5

— Grimes (@Grimezsz) June 5, 2018
well i said i'd post some snippets of new music earlier so this prob sounds terrible thru my phone recording but it's the cheesy love song i was talking about that i don't like but everyone else likes, made the instrumental w my new mellotron! pic.twitter.com/KDZLIY8OcF

— Grimes (@Grimezsz) June 5, 2018