Recently purchased by Facebook for a whopping billion dollars, Instagram is one of the fastest-growing social networks around. Best described as a kind of Twitter for pictures, it's attracted some of our favorite musicians. But whose accounts are worthwhile to follow? Here are five of our favorite artist accounts on Instagram.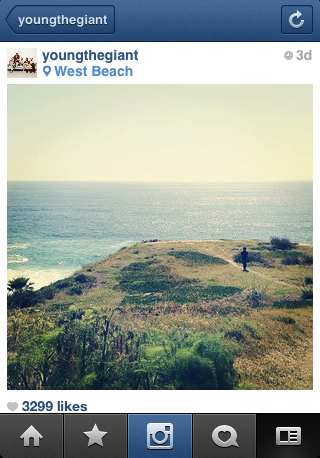 1. Young the Giant
Account Name: YoungTheGiant
Rockers Young the Giant have had quite a busy past few months, and they're documenting all of it on Instagram since joining the service back in its infancy. Posting everything from audience shots to scenic views, the pictures on the account are mostly snapped by either bassist Payam Doostzadeh or lead vocalist Sameer Gadhia, but as Doostzadeh explains: "I've been taking most of the audience shots from this tour. Jacob [Tilly, guitarist] has his own account, though, and posts really great pictures. I always give him shit about why he doesn't post to the band's Instagram." Doostzadeh says he likes Instagram more than other social networking sites: "Instead of just a status update or tweet, it allows people to share art with one another. I know it's corny but just like the saying goes, a picture is worth a thousand words. Not to discredit a thought provoking or funny tweet, but in my opinion, pictures can convey more emotion than, say, a status update."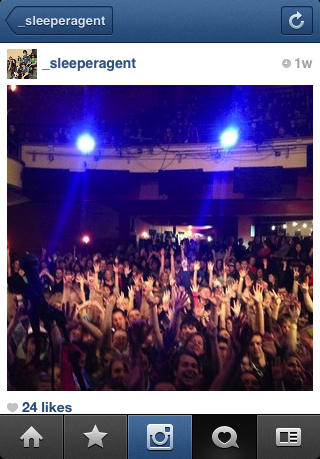 2. Sleeper Agent
Account Name: _SleeperAgent
The most prolific Instagramers on the list, Sleeper Agent have been taking pictures of everything from strange stuff they see on the road while touring (huge burritos and dinosaur statues) to the shows they play and downtime in between them. Said keyboardist Scott Gardner, who takes the pictures for the account: "I got an iPhone about six months ago and fell in love with messing around with the apps. I have a photo blog on tumblr, which is where I post all my iPhone photos, but it's nice to have Instagram just because of how immediate it is. I can just pick an easy filter and post it." Gardner also notes it's an interesting tool to have while traveling: "Once you geotag a place, you can click on the link and see all of the other photos that were taken there, whether they were snapped by fans of a set we played or the city we're visiting." You can add pranks to that list as well; the band who was recently on tour with Fun., posted a picture of an end-of-tour gag showcasing a tour van covered with pictures and balloons.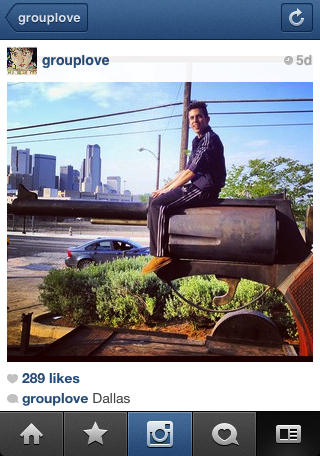 3. Grouplove
Account Name: Grouplove
Grouplove's account boasts a random assortment of shots worth taking a peak at, whether it's glimpses of shows or candid looks at the band. "I think we saw our manager using his and we got jealous," explains drummer Ryan Rabin about their initial foray into the service. "He was taking our glory shots and posting them under his account!" Keyboardist/vocalist Hannah Hooper takes the bulk of the pictures, and even set up a personal account (@LadyGroupLove) to post even more. Vocalist/guitarist Andrew Wesson sings the praises of the service: "It's great—photos have so much more behind them than just a few words." With an ever-growing fanbase and tons of adventures sure to be ahead, Grouplove's Instagram is certainly one to check out.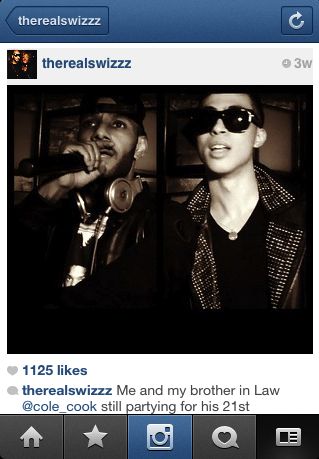 4. Swizz Beatz
Account Name: TheRealSwizzz
Hip-hop artist/producer (and Alicia Keys' main squeeze) Swizz Beatz is big on all social networks, and Instagram is no exception. But his pictures of late aren't of hustling from venue to venue or hitting up the clubs; the majority of Swizz's posts center on family life—showing off an art project of his son's, glimpses of him and his boys courtside at a recent Knicks game, or even the family on the floor playing with toy cars. Swizz's account, which also highlights shots of stuff he's interested in (comic books, vintage bicycles, etc.), shows that there's much more than meets the eye to one of the hippest multi-hyphenates in the business.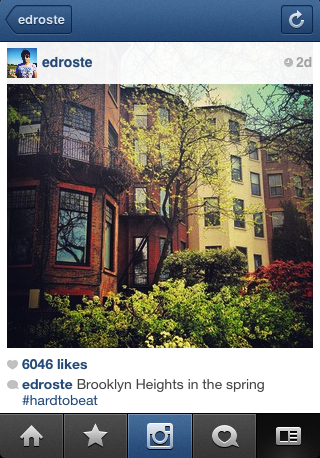 5. Ed Droste (Grizzly Bear)
Account Name: Edroste
Just because Grizzly Bear hasn't released an album since 2009's Veckatimest doesn't mean that frontman Ed Droste isn't keeping busy. Droste, who lives in Brooklyn, posts a ton of postcard-worthy shots of the borough, as well as plenty of vacation snaps (Droste recently traveled to Mexico, taking a variety of picturesque beach shots, among others). It's been reported that Grizzly's next album could come later this year, and it seems Droste is preparing in earnest; one recent post was of a Wurlitzer piano complete with the hashtag #NewAlbum.