JAY-Z's Tidal-Exclusive 4:44 Is Now Platinum, But How?
Can a streaming album with corporate restrictions sell a million units in under a week?
Photos by Jamie McCarthy/Getty
Music
News
Jay-Z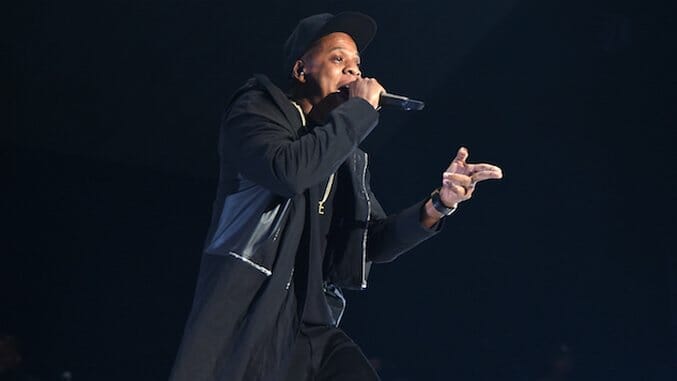 JAY-Z's 13th studio album, 4:44, came with some asterisks when it was released digitally on Friday. It's exclusive to Tidal, Jay's streaming service, and was previously only available to people who were subscribed to Tidal before midnight Friday. Then after that deadline, fans could only listen if they were Sprint customers. That restriction was subsequently lifted, so now all Tidal subscribers can listen to 4:44. But you still can't buy a physical copy.
All of which makes it a little confusing that the Recording Industry Association of America has already certified 4:44 as platinum, which complicates matters in terms of how the RIAA certifies records. The RIAA rewards artists with platinum certification if they reach one million purchases and/or streams. Although it's definitely possible Tidal subscribers streamed JAY-Z's album one million times since Friday, it seems unlikely. Even the album's official release-night listening party was a glitchy shit show.
Tidal is a very exclusive streaming network, and the fact that it was formerly unavailable to non-Sprint customers who didn't subscribe to Tidal prior to Friday lowers the chances of the record getting one million streams. So does the fact that many fans probably listened to 4:44 via illegal means.
4:44's platinum certification would be less questionable if the RIAA recognized illegal listens, but that doesn't seem to be the case. Twitter users are expressing their skepticism, as well. Take a look at the original RIAA tweet below, in addition to some of the doubtful responses, and read our review of JAY-Z's 4:44 here.
Not even Lemonade went platinum in streams. I'm not saying there's scamming involved but…

— elvis the menace (@elvis_gituku) July 5, 2017
/status/882604989511847936″>

What the fuck? It's not even on sale !? How is it possible ?

— Bridget Jones (@Foggyy_) July 5, 2017
4:44 Goes Platinum – JAY-Z's 13 Platinum (or higher) solo studio Album Awards are more than any other hip hop artist. @s_c_@RocNation #444 pic.twitter.com/oSSXrUpMUn

— RIAA (@RIAA) July 5, 2017