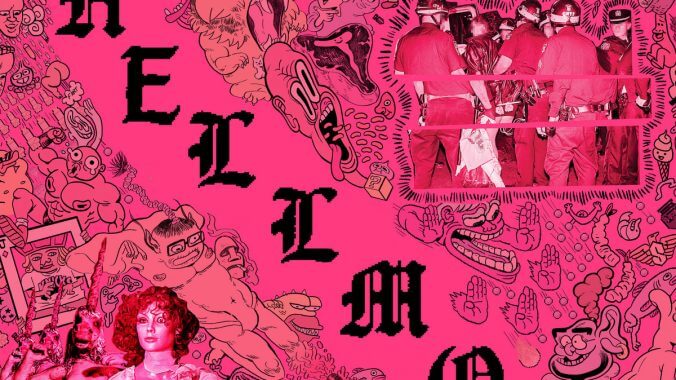 Anxiety is the defining feature of Jeff Rosenstock's discography. You can feel it in the prolific 40-year-old rocker's blistering blend of grunge and power pop; his raw, diaristic lyrics about the all-consuming mess of existence and his commanding vocals that make you want to shout and thrash along with him. You'd think talking about the same theme over and over would get old, especially when mental health has been dissected endlessly in our wellness-obsessed culture. But across four consistently great solo records, Rosenstock has become a reliably cathartic spokesperson for anyone dealing with angst and grief over the past few years. It's what makes him not only a terrific performer, but also one of the best and most important figures we have in contemporary punk music today.
His latest output, HELLMODE, continues this tradition of tackling personal and political neuroses, this time focusing on the ongoing threat of climate change, the unexpected success of being a rising artist and the general disarray of being alive in the current moment. The world is literally on fire, we still haven't fully recovered from the physical and psychological toll of the COVID-19 pandemic and every day feels like we're on the brink of societal collapse. So what other way to express the worry around these conflicts than through the feral adrenaline rush of punk rock? And who better to unspool these feelings than Rosenstock?
As expected, HELLMODE has some undeniable bangers, laced with Rosenstock's thrillingly visceral yelps and raucous yet sophisticated instrumentation. But contrary to what its awesome title may imply, it also contains some of Rosenstock's most subdued songs to date. It's nice to have an occasional quiet, lulling respite amid all the overwhelming, exhilarating noise, but, despite there being plenty of compelling evidence of Rosenstock's emotional versatility in his previous efforts, the results here are comparatively more uneven.
Whereas 2016's WORRY, 2018's POST-, and 2020's NO DREAM effectively balanced poignance and heart with an infectious, economical, freewheeling energy, Rosenstock trades his scrappy, sprawling ambition for a more polished, deliberate and occasionally monotonous sonic template. Consequently, his massive, addictive hooks are few and far between on HELLMODE. Although the highs are as high and electric as ever, the softer, slower moments take a little bit longer to come around to, sanding down instead of expanding on the album's scope.
The best parts of the album, particularly in the first half, illustrate the different kinds of dread gnawing at Rosenstock in straightforward yet colorful detail. Opener "WILL U STILL U" finds him contemplating whether or not he can be forgiven for his past mistakes by a former loved one, his voice slightly muffled and almost bashful. As the production ramps up from a steady guitar riff to a rollicking symphony of drums, percussion and vocal harmonies, Rosenstock's desire for redemption grows even more intense and desperate, culminating with a fiery, angry acceptance of his own circumstances.
He then shifts into the brief but immediately rousing "HEAD," where his shrieking warble reaches an impressively high pitch—as he delivers rapid-fire existential concerns with stunning breath control. The chorus, "'Cause there's a bomb / Inside my head / And I wish that I could disconnect the threads," lays out a clear sentiment that many of us experience on a day-to-day basis: the nausea of absorbing all the bad shit happening in the world and trying to find ways to defuse it before it consumes us and we end up harming the people closest to us. "LIKE U BETTER," one of Rosenstock's catchiest and most accessible tracks to date, also uses a bomb-wiring metaphor to explain his anguish, albeit in a much more playful manner.
Things take a bit of a turn with "DOUBT," a well-meaning but cloying tune about finding your confidence in the face of risk and potential rejection. "Speak / Even if it feels weird / Even if it feels weird to be yourself," Rosenstock utters over the low hum of an electric guitar. The song builds to a more satisfying emotional crescendo, but, as a whole, "DOUBT" and its important if not platitudinous message doesn't quite resonate as strongly as it should—coming off more like a generic PSA than the motivating call to action it suggests itself to be. "GRAVEYARD SONG" and "3 SUMMERS" are similarly drawn-out and hackneyed, more stirring than "DOUBT" but still derivative of concepts Rosenstock has explored before (and better).
In fact, it's on the more upbeat tracks that Rosenstock's ideas about coping with uncertainty are clearest, loudest, and most galvanizing. In addition to sounding like a couple of standouts from an early 2000s teen comedy soundtrack, "FUTURE IS DUMB" and "I WANNA BE WRONG" are exuberant album highlights. The former peels back the layers of disappointment behind what led us to this moment in time before launching in a roaring, defiant final verse ("The world doesn't owe you!"), while the latter makes a cautiously optimistic case that maybe things will work out—despite the unpredictable clusterfuck of reality. "HEALMODE" is an exception to HELLMODE's underwhelming batch of slow-burns, a sweet and simple ditty where Rosenstock coos about finding romance in the midst of an apocalypse. It's a lovely, wholesome moment in an otherwise fraught record—and also the calmest and most vulnerable Rosenstock has sounded in a while.
Frustrating, then, that HELLMODE ultimately ends up being less than the sum of its parts, even with its few riveting, fast-and-loose anthems. Perhaps that's due to the burnout Rosenstock frequently gestures at in his lyrics. Who can blame him when the very act of creating meaningful, original art today has become drowned out by algorithms and an overcrowded music market? Still, given the invigorating anarchy of Jeff Rosenstock's past work, it's disappointing that an album attempting to reckon with exhaustion also seemed to be exhausted itself, mostly treading familiar ground rather than tilling the soil. Then again, the Earth is already pretty scorched.
Read our recent profile on Jeff Rosenstock here.
---
Sam Rosenberg is a filmmaker and freelance entertainment writer from Los Angeles with bylines in The Daily Beast, Consequence, AltPress and Metacritic. You can find him on Twitter @samiamrosenberg.