On Time Ain't Accidental, Jess Williamson Builds Herself Anew
The singer/songwriter's joy is reborn through the margins of heartache and destiny on her vulnerable, breathtaking fourth album
Photos by Jackie Lee Young & Rocco Rivetti/Gilles O'Kane
Music
Features
Jess Williamson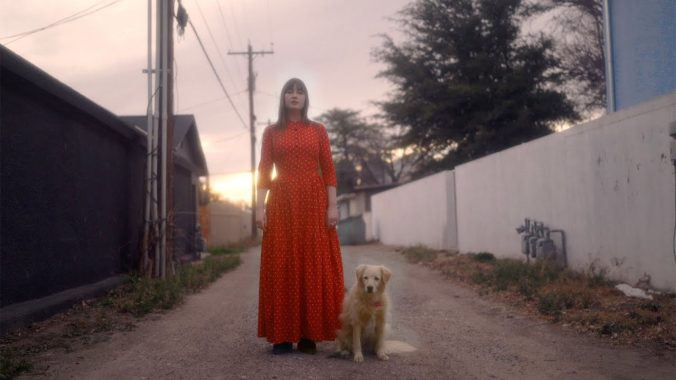 Country-folk practitioner Jess Williamson's road to her fourth album, Time Ain't Accidental, has been anything but conventional. Born in the Dallas suburbs, she hightailed to Austin after high school to study photography at the University of Texas. She'd always been a—as she puts it—"singing kid" growing up, but there wasn't a clear path to a music career set out for her in those formative years. It was when she was attending the Parsons School of Design—at the New School in New York City—for an MFA at the turn of the 2010s that things finally began to click for her: "I had a little bit of a crisis moment and I realized that, all my life, all I'd ever wanted to do was sing and write songs and have a band and put out records and go on tour and play shows," Williamson says. "I was taking out all these loans and I realized, 'If I stay here and finish out this program, I'm pretty much locked into a career that I don't think I want.' And I was 21 and I realized it was now or never. So I dropped out and I had my first band when I was living in Brooklyn. It was called Rattlesnake and it was me and a friend of mine."
Rattlesnake played their first ever gig at the now closed Death By Audio in Williamsburg and kept at it for a few months, until Williamson's friend moved away. "I realized it was all I wanted to do, 'this is my path.' I decided to move back to Austin, because I had community there and I decided to really go all in with my solo music," she says. Once she was back in the Longhorn State, Williamson found herself in an incredibly supportive community that wasn't getting many outsider eyes fixed onto them. "Any sort of Austin industry or Ausin press wasn't paying attention until the national press started paying attention," she adds. "I think, in Austin, because there are so many amazing, talented musicians, it can take a long time for the powers that be—so to speak—to take you seriously, for you to rise above being just a local band. And I needed that really safe community to help me get my bearings with performing and putting a band together and recording for the first time. I had this incredible, supportive community and amazing friends and I felt that I wasn't going to be able to become more than the first-of-three local opener for the national touring band."
Without a label or booking agent, Williamson was self-releasing her own work early on. But, after making stops in Los Angeles while on tour, she began seeing how many of her peers were thriving in California. Eventually, she'd migrate west herself: "It felt really exciting to me and there was this thing I couldn't quite put my finger on, where it just felt really fresh and supportive and exciting," she adds. "I didn't want to leave Austin, because it was—and it still in many ways feels like—my home, but I felt like I had to leave for Texas to really take me seriously. I've seen that happen a lot, where the people that have known you the longest can, sometimes, be the last ones to take what you're doing seriously." Fast-forward nearly seven years and Williamson splits her time between Los Angeles, touring and Marfa, Texas, where her partner lives. Both homes are cinematic and grounding for her in their own ways: Hollywood bustles and beats on with an always-deepening ecosystem, while Marfa—where Giant, There Will Be Blood and No Country For Old Men were all partially filmed—is a tiny, idyllic desert town in West Texas perfect for enchanting, Southwestern pastorals.
Time Ain't Accidental is Williamson's third release with Mexican Summer—as she lends her country refrains and new, iconoclast, genre-busting arrangements to a label rife with boundless art touchstones, like the baroque-pop of Cate Le Bon, or the experimentalism of L'Rain. The record clinches a three-year era for Williamson, in which she released Sorceress two months into the pandemic, made the critically revered single "Pictures of Flowers" with Hand Habits, rescued her dog Nana from a deserted New Mexico highway and joined forces with Waxahatchee's Katie Crutchfield to become the super-duo Plains. When Sorceress was upended by COVID-19, her big tour itinerary got canned and the album's cycle went unfinished.
But not all was lost for Williamsom in the wake of global change: "The truth is, I felt a secret feeling of relief, because I was really nervous about doing it all. I was nervous because I was at a point in my life where I was grasping so tightly to things working out perfectly that it was making me a really stressed-out person," she says. "I was sad, but I was a little relieved just [to have] the chance to stop striving for these goals and stop needing to be someone that was doing things a certain way."
While other artists were pushing album release dates back, starting Patreon accounts to keep in touch with their fanbases and recoup lost touring costs or charting into a bleak, uncertain industry landscape with no concrete direction ahead, Williamson used quarantine to center herself and write. "I slowed down and I wrote a ton of songs and turned inward and worked on myself and learned and grew a lot, thankfully, and started writing [Time Ain't Accidental] and songs that would become Plains songs," she says. "I think my work is better because of it. I'm grateful that I didn't have the year-and-a-half to two-year album cycle that I was staring down the barrel of. I think I really needed to stop for a minute and assess what was important to me and what kind of person I want to be. Now that I'm getting the opportunity three years later to have a re-do, I'm excited to step into this new version of myself."
And in turn, Time Ain't Accidental arrives like a rebirth for Williamson. The centerpiece narrative of the album is a breakup—which she went through during the early throes of COVID—paired with a liberated sense of self-reflection and new musical headspace. On previous albums, she flirted with a tendency to complicate things compositionally; now, with the help of her producer Brad Cook, she's falling in love over and over with the clichés of minimalism. "In country music, they talk about 'three chords and the truth,' and it's just the facts," Williamson notes. "Some of my favorite songs I've written don't even change that much, they're just repeating the same three chords but the melody changes and works around that. I used to think that was cheating, that if it was simple then it couldn't possibly be good. It doesn't need to be complicated, and that was a huge revelation for me over the last couple of years. Really, what a song is about is the melody, the voice and the lyrics. And everything else should just be in service of those things."
Williamson returned to us first with "Hunter," one of the better lead singles from the last five years. It's not your textbook, anthemic country tune, nor does it attempt to be. One of Williamson's greatest strengths is her ability to captivate a room without yelling too loud to grab everyone's attention. It's through her vocals—which are as angelic as they are familiar, alive and airy—that move the compass' needle on her albums, and they shine so deftly on "Hunter." The result? A track gilded in backroad-freedom about the fractures of a relationship getting submerged beneath the faux-safety of abundant love. "When you walk as a woman whose only known love / It's easy to miss the signs / You bowed down to me like I was sent from above / But who's in your bed tonight?" Williamson sings.
There's empowerment far and wide across Time Ain't Accidental, as if Williamson emerged on the other side of transitional grief with a new lease on autonomy, gratitude and kindness. But that didn't come without her own personal carnage, which she presents to us in some of the album's richest and most-animated vignettes. On "Chasing Spirits," she chronicles the loneliness of facing the world without a companion: "I tried to come to you / But you didn't like the way I asked / But there's nothing in LA for me / Just a lonely singer at the beach / I could start a garden with the landlord / Something good and simple / And worth staying in town for." On "Something's in the Way," she questions her own worth within the focus of breakage: "I'm not a good woman if I leave or if I stay / You give and then you take."
Williamson bookends the winding, difficult journey of Time Ain't Accidental with two fixtures of celebratory, joyous and fliratious hope. The title track details a newfound love and its enrichment of butterflies and promise: "Leaving tomorrow / I don't have to, I just should / Once in a while it's nice to be good / Odessa in an hour, Coahoma by midday / But I'm soaked in your power / Wanna turn around and stay," she sings. By the album's end, on "Roads," she's in a parallel place, in the arms of a great, magnetic romance that could go anyplace—and that's an unpredictability she's no longer afraid of: "You've given me something I can't explain / You got a face like the moon / Controlling the waves," she details.
"It was a hard couple of years. COVID was hard for everybody. I was coming out of a breakup and I was really alone and sad and I wrote a lot of songs about it," Williamsons reflects. "I worked on me and I worked on with Katie and that was such a great learning experience and I got to channel everything I was going through into the songs. And I felt that my songs were better, and that was a really cool confidence booster for me. The record is this journey from a lot of darkness into light and it's this cool portrait of these last couple of years that were hard. But, thankfully, things got better."
The choice to begin with "Time Ain't Accidental" and close with "Roads"—the last two songs she wrote for the album—was a deliberate one by Williamson, who wants her listeners to begin the record within a space that feels inviting. Given that the nine songs sandwiched between them can often go to heavy places ("Our friends could see it from a thousand miles away / And that's how far you moved from our house / We knew you couldn't stay / I was admired for my patience and my strength / I am well known for being so okay / Our life and our love slowly slipped away / We put it all into the songs / There's nothing left to save" is particularly devastating in "A Few Seasons"), having an entry and exit that are both buoyed by optimism is a bare stroke of poise and warmth that Williamson enacts with delicate brilliance.
"I love sad music, my favorite songs are sad songs. One of the things Brad and I talked about with [Time Ain't Accidental] is that some of the saddest songs, lyrically, don't sound that sad now, musically," she mentions. "I think there's something great about that, when you're bobbing your head along to a song and then listen to the lyrics and you're like, 'Oh, these are heartbreaking lyrics.' But that doesn't mean the music has to be that way. The album takes you on this journey where you're gonna go to some dark places and then come out the other side, hopefully, feeling positively about the whole journey and excited to press play again."
Williamson has been thinking about changes for a while. Alongside Crutchfield, she closed their Plains album with this moment: "I ain't your girl no more / Busted out the gates of your world / I'm clinging to my candle in this dark valley / No one watches over me." I Walked with You a Ways was a primitive piece of indie-country storytelling; an encapsulation of two of our very best songwriters finding common ground in each other's strengths. When Crutchfield paired her keen eye for instrumentation with Williamson's lyrical prowess, the result was, in my opinion, the best country record of the year.
A lot of the songs that Williamson penned for that project tread similar ground as Time Ain't Accidental, particularly the closing track "I Walked with You a Ways," which she speaks greatly of its connection to where she's at now in her solo career: "Going down the road with another person, as you walk down this path together for a while, and then your paths might deviate, that's okay. That ties in to 'Roads,' which is that there are all these roads that we may never travel with another person, and that's okay. We weren't meant to and we can trust that things are unfolding for our highest good."
There's a throughline about destiny and impenetrable fate across the Time Ain't Accidental tracklist, but this isn't a new philosophy for Williamson. Whether it was dropping out of graduate school to start a band or meeting Crutchfield through Kevin Morby on tour over five years ago and developing a lifelong creative and platonic partnership, Williamson has had her eyes on what it means to play things as they lay since as far back as 2018. "Cosmic Wink was the first record where I started to explore themes of destiny. The title is a reference to synchronicities," she says. "There is this belief that synchronicities are a sign from your unconscious mind or from your higher self that you're on the right path, that things are working out how they're meant to."
On Sorceress two years later, Williamson was learning more about the esoteric, occult practices of magic, witchcraft, crystals and tarot while navigating a companionship that was fractured and weakened outside of her music. "I was just a student and intrigued, but it also lined up with a time in my life when I was in a relationship that was failing," she adds. "I felt like I had to have an almost magical power to try and keep it together. The lyric is 'Yes, there's a little magic in my hat / But I'm no sorceress.' Ultimately, two people have to work together to make a partnership work, and not every partnership is meant to last."
A big, guiding force for Williamson has been the work of Swiss psychiatrist Carl Jung. A friend of hers passed along a quote of his, which she included in the Time Ain't Accidental liner notes: "To this day God is the name by which I designate all things which cross my willful path violently and recklessly, all things which upset my subjective views, plans, and intentions, and change the course of my life for better or worse." On the album, Williamson meditates on that idea and, on "God In Everything," she brings it into the foreground: "Well I see God in everything / From my window to the breeze / In his bedroom by the candlelight / When I'm down on my knees / When I look in the mirror / I kinda look like you / When I'm sayin' my prayers / I still bleed with the moon / Guess I'm going my own way, too," she sings.
"I know I use the word 'God,' but I don't mean 'man in the sky with a beard' at all. It's just a word that, to me, means source energy or the universe of a higher power. It's just an easy catch-all for this thing I don't really have words for, but I do believe that things happen for a reason and I don't believe that there are accidents. I do believe in God's timing, and I look back on the last few years of my life and things didn't work out the way I wanted them to. Things didn't work out according to my timelines, and I can confidently say that everything worked out for my highest good and for the highest good of those around me. And I can look back and really trust the timing of everything," Williamson says.
Sorceress was, at its core, a record about growth, in which Williamson often sang through an "older and wiser" vantage point. But, much like the humanity of our own stories never being finished, she returns to that place on Time Ain't Accidental. There are two tracks that couple together—"Tobacco Two Step" and "Topanga Two Step"—and form a married reflection on an innocence lost but a spiritual confidence gained. On the former, Williamson sings: "At the fountain of my youth / Where there is only one sun / There is only one moon / Questions, they hang like smoke in the air / But I am too drenched in lavender / I'm too cool to care." Later, "Topanga Two Step" has a line that goes: "I'm not a child no more." In the graceful expansion of a new sonic shape, Time Ain't Accidental finds Williamson transformed into her very best and most-open.
On Cosmic Wink and Sorceress, Williamson surfed between many figments of her compositional DNA: rock 'n' roll, outlaw country and chamber folk. She hasn't ditched those foundations. No, far from it. But, while in lockdown, she tinkered with drum machines because she couldn't jam with anybody. When she wrote "Pictures of Flowers" with Hand Habits, she was using an Ace Tone FR-1 Rhythm Ace, which she refers to as the "J.J. Cale drum machine." "I love that sound," she motions. "When I was continuing to write [after 'Pictures of Flowers'], I was working with a drum machine app on my iPhone, just to give me a base to work around and fill in the spaces. When I made the demos for [Time Ain't Accidental] to bring to the studio with Brad, I assumed we would absolutely replace the drum machine with a live kit, but Brad took my phone and plugged it into the desktop computer and took those beats right off the app and kept them on the record."
Multi-instrumentalist and Bon Iver drummer Matt McCaughan was brought in to do some embellishments on—and add additional textures to—Williamson's drum beats and play the live kit on a few tracks, but Time Ain't Accidental executes a true percussive balance. "That was something that blew my mind, that there could be a record where there's a live drum kit and on some of the songs it's, literally, a beat from my iPhone and that's okay," she says. "I find that a drum machine is a really valuable tool for writing. It helps me wrap my mind around how the whole song is going to sound, because, sometimes, without it it can go really easily into folk music territory, because that's my background. But as soon as you bring in a drum machine, it can go anywhere genre-wise, and that's pretty exciting to me."
Time Ain't Accidental, through country-influenced lyrical architecture, experimental backing instrumentation (which features involvement from horn-player Matt Douglas of the Mountain Goats, Cook's cover and banjo guru Phil, steel guitarist Deshawn Hickman and McCaughan) and three-chord traditions, lingers in the folktronica realm while flaunting Williamson's voice which, across every song and tonal shift, remains steadfast in the spotlight. Her approach to storytelling, a language of vulnerable, vivid reflections that she's made wholly her own, can be traced back to her obsession with cornerstone singers like Tammy Wynette, Loretta Lynn and Dolly Parton (and Trio, Parton's infamous supergroup with Emmylou Harris and Linda Ronstadt, which Plains has been rightfully compared to at times). Williamson thinks of her devotion to country music in the same way she does her lifelong spiritual connection to her birthplace:
"The way that I love Texas and I can't escape it, I keep going back and I will probably move back and have my roots there and live out my days there," she says. "There's a familiarity there, and it's in my bones. Country music is what I was raised on. My heroes, they're almost archetypal for me. They represent, on this deep soul level, a tradition that I really love. And the lyrics, the way they tell a story in this universal way that anyone can relate to, I think that's so powerful. I love how accessible country music is. It's really for everyone. It's intentionally plain-spoken. It's not pretentious, it's not heavy. You don't have to be in the cool kids club to enjoy a Dolly Parton song or a Willie Nelson song."
Since her proper debut album—Heart Song—in 2016, Williamson has flown greatly under the radar, making some of the most-compelling singer/songwriter stuff around. I'm so very glad that that is changing now, though, with the release of Time Ain't Accidental. Much like how she can't put her finger on the spiritual presentation of destiny that she so deeply mines through on this album, I can't quite articulate what it means to see everyone fawn over this treasure trove of emotional debt and romantic accountability she's fashioned for us. "Infinite Scroll" was one of the best songs of 2020, and I feel similarly about "Hunter" now, three years later.
There's a moment on Time Ain't Accidental I return to often, on "Stampede," where Williamson sings: "I can close my eyes and be back in our love / It's forever somewhere, a loop we're part of / Behind the foggy haze and mist / Is an endless prairie / I see us there as kids / I loved you beyond time / Beyond all pain." Whether it's adding a drum machine to her repertoire, finding a reconstruction through divine graduation or shaping a happenstance of great love lost into a document of promise, trust and reawakened affection, the landscape she has laid out for us on Time Ain't Accidental—the undiscovered oceans and sun-soaked pastures and never-ending highways—is orphic, plentiful and splendid on its own accord. She advocates for meaningful self-reflection that might be painful to sift through. Perhaps that's what makes me a Jess Williamson devotee: A year ago, she made a chorus out of a line like "No one watches over me," but her world-building has since become one of a requited, community-based love, accountability, higher powers and a deep and delicate curiosity for rebuilding her own art. And how lucky we are to have that.
Watch Jess Williamson's Paste Session from 2018 below.
---
Matt Mitchell is Paste's assistant music editor. He lives in Columbus, Ohio, but you can find him online @yogurtowne.