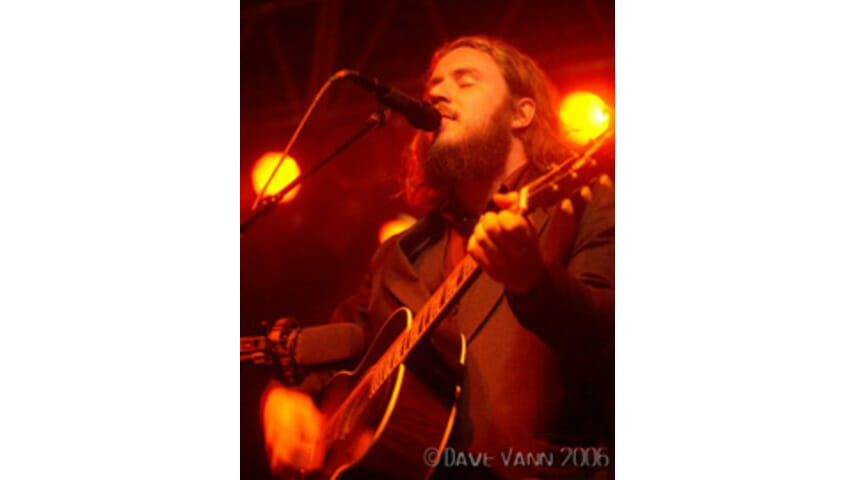 Jim James may have given his band a name, but in more ways than one, My Morning Jacket is a solo act. It's his voice which carries the quintet's loose brand of hickster-rock and his lyrics which provide the group with its vivid, three-dimensional imagery. Like Bright Eyes and Iron & Wine, My Morning Jacket personifies one man's vision, though, unlike those acts, James chooses to flesh out his compositions with a regular band. It makes sense, then, that the singer/songwriter's most recent solo tour offered listeners a peek into a bizarro universe where James had followed his peers into the world of one-man showmanship.
The final act to perform in Vegoose's tiny Cabaret Clubs Tent, James' pre-Halloween performance doubled as the closing night of his brief west coast solo tour. And, though his spot was neither solo (MMJ guitarist Carl Broemel flanked the guitarist throughout his performance), nor acoustic (James utilized an early '80s synthesizer, the Suzuki Omnichord, at various points during his set), James peppered his twenty-song performance with the type of intimate moments one might find in a more traditional solo-acoustic setting – stripped down versions of classic full-band cuts, humorous personal stories and tender ballads unfit for a rock band. Perhaps the only constant reminder of the evening's festival setting was a series of rather annoying sound bleeds, with bits and pieces of Widespread Panic's loud, southern jam-rock and The Roots' even louder, Philly hip-hop creeping into the partially-enclosed tent. James laughed off the live mash-up scenario, remarking, "The Roots sound good tonight."
Not surprisingly, the singer stacked his set list with rarely-aired cuts from My Morning Jacket's stripped-down early years, including the haunting love song "I Will Be There When You Die" (from 1999's The Tennessee Fire) and the lover's lament "Bermuda Highway" (from 2001's equally-bare-bones affair, At Dawn). Newer songs from My Morning Jacket's ATO years, such as the country-rocker "Golden" and indie-rock showstopper "Gideon," also translated well, with Broemel touching up James' songs with hints of pedal steel. In lieu of the sweeping solos synonymous with MMJ's sound, James tinkered with a variety of keyboards and guitar effects, many of which echoed his reverb-drenched voice. As the jam out of "Wordless Chorus" looped towards the ten-minute mark, James and Broemel put down their instruments and smashed a series of jack-o'-lanterns which lined the stage throughout the night, until a stagehand literally unplugged the guitarist's utterly-unique solo performance.