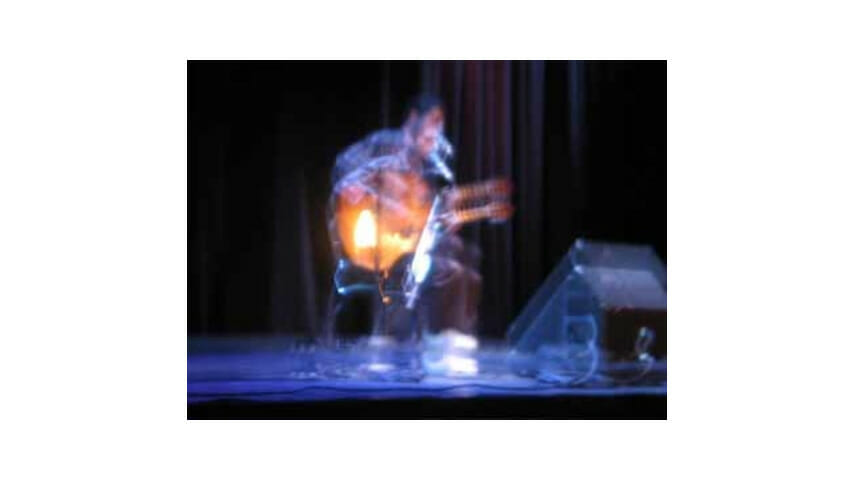 Jose Gonzalez is anything but bombastic. Those familiar with his excellent first CD might correctly suspect his concert performance would be a low-key but lovely experience. That's just what transpired in the intimate confines of Chicago's Lakeshore Theater. You'd never guess (particularly judging by modest audience size) that Gonzalez is something of a sensation in Europe.
Aside from the fact that his songs are spare, acoustic pieces, the artist himself is a reserved and quiet performer to boot. Other than the occasional 'thank you' to the crowd, Gonzalez focused on his carefully structured picking (often using one hand for rhythm and the other for melody). While some solo performers develop a stage patter almost as a defense against their vulnerable position (how would you like to face a crowd with only a guitar to protect you?), Gonzalez lets his songs do the talking. It wasn't until his encore when an audience member shouted a song request that Gonzalez let a bit of humor show, replying simply, "No." He then stated it was a custom in his native Sweden to be hard on people to keep from being soft. Considering the source, it was a moment of ultra-dry humor that hinted at a certain sly wit.
The songs themselves were particularly affecting in person, with the Spanish-flavored arpeggios of "Lovestain" and folky meditation of "Post Mortem Boredom" standing out as particular highlights. With only a single disc to draw from, it was an all too brief evening (with Gonzalez augmenting his catalog with a quirky Bronski Beat cover), but it was clear that this was a rare chance to see an important artist developing.