Kanye West's JESUS IS KING Is a Divine Failure
For the first time in his career, Kanye has released something entirely boring and forgettable
Music
Reviews
Kanye West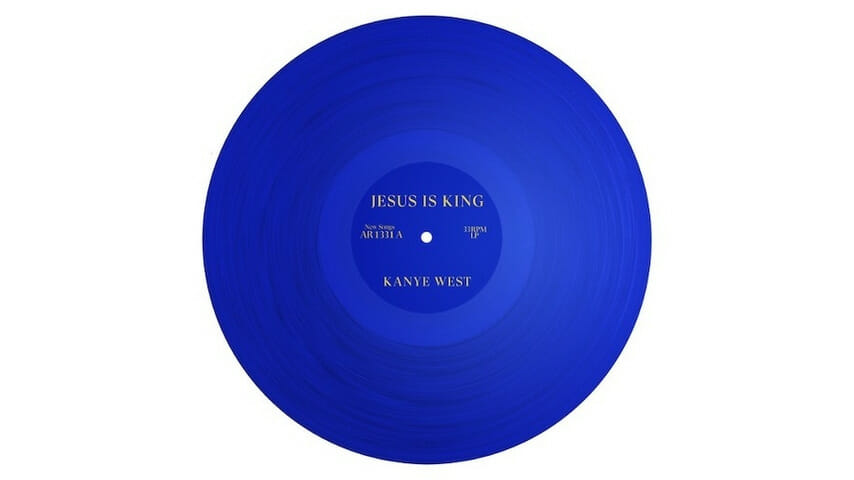 Let's play a game, shall we?
Imagine for an instant that it's actually possible to separate art from the artist.
Let's forget that Kanye West ever wore a Make America Great Again hat and became the alt-right's biggest cheerleader and buddies with Donald Trump. Block out the whole slavery "sounds like a choice" diatribe from 2018, and while we're at it, let's just forget all his bizarre, narcissistic rants where he compared himself to everyone from Steve Jobs to Michaelangelo, or most recently, when he proclaimed he is "unquestionably, undoubtedly, the greatest human artist of all time." Disregard all of his perplexing singles from the past couple years or so—the horrendous Lil Pump collaboration, "I Love It," the infamous "poopy-di scoop" verse from "Lift Yourself" and "XTCY," a song where he imagines having sex with his sisters-in-law. Hell, let's just not even acknowledge the 2009 Taylor Swift VMAs acceptance speech debacle for good measure.
Now that you've done that—as hard as it may be—let's look at Kanye's new album, JESUS IS KING, from a purely musical standpoint without all the distractions. As a stand-alone release, is this a good record?
Unquestionably no.
Is this the worst release of his career?
Far and away, yes.
For starters, there isn't a single memorable hook on JESUS IS KING except maybe Kenny G's saxophone solo on "Use This Gospel" (a sentence I truly can't believe I'm writing in 2019). But what's more shocking?: that Kanye invited the least cool musician in music history on his record, or that the artist who gave us some of the most unforgettable and catchy songs of the millennium, from "Stronger" to "Bound 2," released an album chock full of forgettable tracks? Even on the decidedly unremarkable ye, we still had "Ghost Town," an anthemic tune that at least slightly made the most-hyped of the five 2018 Wyoming records (Pusha T's DAYTONA, Kanye's ye, Kanye and Kid Cudi's KIDS SEE GHOSTS, Nas' NASIR and Teyana Taylor's K.T.S.E.) slightly worthwhile.
But JESUS IS KING is a legitimately boring record, never reaching any high higher than simply, "I guess this isn't bad." And for all of Kanye's misfires over the years, he's never sounded as uninteresting as he does here.
Take "Selah," the hardest-hitting song on this 27-minute release: An ominous organ opens the track while Kanye ruminates on spirituality and his lengthy career ("God is King, we the soldiers / Ultrabeam out the solar") before some heavy drums similar to those on KIDS SEE GHOSTS enter the mix alongside a thrilling "hallelujah" gospel choir refrain. But Kanye just can't reach past thrilling heights as the track refuses to give into a crescendo—maybe benefiting from a chaotic breakdown like that on "Blood on the Leaves"—instead electing to transition the song into a weak "I Am a God"-esque screaming match. It all fades out well before "Selah" fully realizes itself.
"Follow God" and "Water," despite their short run times, are at least allowed the space to explore a few ideas and, as such, act as JESUS IS KING's highlights. But both fade from memory by the short album's conclusion (or maybe even a song or two later). Their beats—and particularly their melodies—are simply devoid of anything interesting enough to remember. "Water," primarily sung by Sunday Service vocalist Ant Clemons, plays at best like a Chance the Rapper B-side, utilizing a bouncy bassline and guitar to create a tropical feel. But the downtempo instrumentation doesn't yield the mid-album emotional climax that "Hold My Liquor" or "Runaway" did.
And the low points on JESUS IS KING? Well, there are plenty to choose from: the acoustic "Closed on Sunday" with its horrid refrain ("Closed on Sunday, you're my Chick-fil-A"), the party-happy "On God" where Kanye attempts to defend his expensive clothing on a song that's meant to act as a spiritual anthem, or the cheesy and soulful "God Is" that somehow makes three-minutes-and-23 seconds feel like an eternity. Few of these songs are good enough to be bonus tracks even on ye, let alone on a legitimate album (especially on one that comes in the wake of two scrapped releases, Turbo Grafx 16 and Yandhi).
JESUS IS KING is sharply focused on Kanye's supposed strengthening of his spiritual bond with his Christian god, but it offers relatively few insights into what that relationship actually looks like. In fact, it's so preoccupied with the theme that it's repetitive. There are few—if any—instances of the clever wordplay that made his past material so enthralling. Rather, he decides to keep things as straightforward and simple as possible. As a result, outside of the perplexing "Closed on Sunday" opening refrain, there isn't a whole lot that's memorable here. If Kanye decides to tour this record outside of the Sunday Service format—which seems unlikely, but not out of the realm of possibility—can you really imagine anyone singing along to every word? It's more likely the point of the show where the crowd would check their phone between Graduation highlights, that is if Kanye hasn't given up rap altogether.
It's unclear who the target audience is here outside of a specific subsect of churchgoing folks, particularly those who preach the capitalistic prosperity gospel that's satirized so viciously by The Righteous Gemstones (though this tweet about Chance the Rapper's album being made for "youth pastors who sit on chairs backwards" also sounds about right). It's a gospel album built for a church at a Supreme pop-up shop. It's the sort of release that would have massively flopped before our current streaming era where Spotify rewards huge artists who are able to generate curiosity with millions of streams and high Billboard chart positions. There's little to defend from a musical or lyrical perspective here: This is easily Kanye's worst album to date, an impressive feat following last year's ye.
But music doesn't exist in a vacuum: Now that we've managed to look at Kanye's ode to Christianity without any of his controversial moments, his $70 "Trust God" Coachella shirts (or his $50 "Church Socks") and everything else in between, it's clear that JESUS IS KING is nothing short of a spectacular failure on a scale we haven't seen since Garth Brooks decided to release an album as Chris Gaines or Guns N' Roses returned with Chinese Democracy with all of the other intangibles thrown in. If Kanye started the decade with his Blue Album and Pinkerton, it's now clear he's finishing it with his Raditude—and that might be a bit generous.