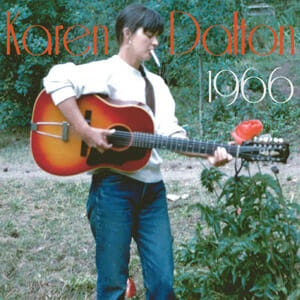 Despite being a mainstay on the New York folk scene in the early 1960s and a friend of Bob Dylan, Fred Neil and Tim Hardin, Karen Dalton didn't leave an extensive catalog of music. In her lifetime, she released only two albums, one of which she had to be virtually tricked into recording. She vastly preferred the stage to the studio and the porch to either. The fleeting nature of music—the urgency of the moment rather than the thought of posterity—fascinated her, and consequently, she likely had little concern for any legacy she might leave.
So it's fitting that her most compelling performances have been on homemade or amateur tapes, which have been recently unearthed and released by the Nashville-based label Delmore Recordings. Cotton Eyed Joe documents a 1962 attic show in Boulder, Colo., for a small audience of friends, and Green Rocky Road collects some of Dalton's home recordings from 1963. The sound quality may not be hi-fi, but both show her relaxed and loose, her languid voice making familiar tunes like Leadbelly's "Fannin Street" and Elmore James' "It Hurts Me Too" sound wholly new.
The third installment in this unofficial trilogy is 1966, a collection of recordings made in or around Dalton's cabin high up in the mountains of Colorado. She and fellow musician Richard Tucker had retreated there to escape the bustling city, although city friends often dropped by during cross-country visits from New York to Los Angeles. One of these guests was Carl Baron, who recorded Dalton as she prepared for an upcoming gig or simply played for the joy of making music.
Of these three reissues, 1966 is arguably the best, by virtue of the setting itself. Dalton was, in retrospect, a performer acutely aware of and responsive to her surroundings. "Her aversion to performing was only partially about the presence of an audience," writes Ben Edmonds in the 1966 liner notes. "It was more about the formality of the environment." She was nowhere more at home than in her own home, surrounded by friends and fellow music lovers. That lends this collection a spry spontaneity that allows Dalton's full interpretive strategies to come into focus.
Consider her short take on "God Bless the Child," a traditional gospel song most closely associated with Billie Holiday. The peculiar timbre of Dalton's voice often prompted comparisons with the late jazz singer, and while there are certainly similarities, the dissimilarities are much more revealing. Compared to the smooth urbanity of Holiday's version of the song, Dalton conveys a rural languor—less New York jazz than hillbilly folk.
Likewise, Dalton's version of the Bob Wills' hit "Cotton Eyed Joe" slows the Texas Swing chestnut down to a wistful crawl, as though she has created a new character to give life to these lyrics. "If it hadn't been for Cotton-Eyed Joe, I'd been married a long time," she sings, like a spinster worrying over old regrets and only hinting at the song's darker implications.
What distinguishes 1966 from other Dalton collections is the handful of songs by Tim Hardin, who released his debut album around the time she and Baron were committing them to tape. Along with Fred Neil, he and Dalton had played together several times in New York, and her insights into his tunes are obvious. This version of his signature song, "Reason to Believe," thoroughly reimagines the phrasings and meanings of the lyrics, such that it sounds impossibly fresh even after innumerable covers. Even better is "While You're on Your Way," a lesser Hardin number that here sounds positively weightless, a fleeting moment of bittersweet nostalgia for an old lover. It wasn't that Dalton made every song her own, but that she saw them as communal experiences. Songs belonged to no one and everyone, and she sang them accordingly.