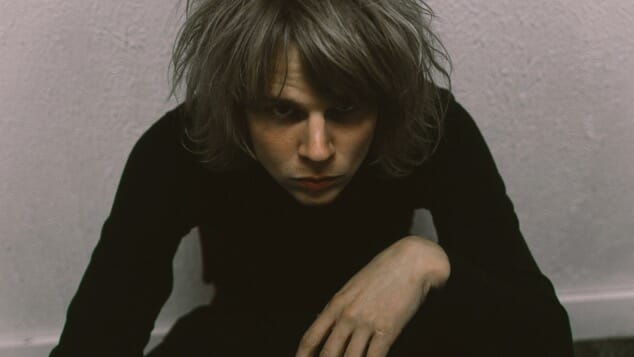 Kyle Craft says that "Eye of a Hurricane," the opening song on his debut album, mirrors the tumultuousness of his life as he ran from hometown ghosts and chased a dream he didn't know quite how to describe.
Layered and lush, swirling and chaotic, eccentric and catchy, full of both reckless drama and sweet melody, the track is a microcosm of Craft's "now what?" years, moving away from his home of Shreveport, Louisiana, in search of a music scene he could use as a springboard, first settling in Austin, Texas, then embarking for Portland, Oregon.
"That song sounds a lot like I felt at the time," says Craft, describing a period when he had little else to hang onto besides his songs. "All these songs were coming along as I was making these moves and being in this weird transient state of mind."
The travels began with a busted-up relationship and the recognition that life in Shreveport wouldn't be the same again. So he spent time in New Orleans and then Austin, making his way to Portland, where he had great friends and quickly made more. There, he lived under a pool table, spending his days and nights writing songs. His first try at recording the album didn't sound right, so Craft took off again, back home, to record where that hurricane first began.
"A lot of the lyrics sprang up out of this very strange time for me. I dedicated the album to Shreveport, because it all happened in and around there," he says. "Really, I just knew that I had to record this album. It was the only thing I had at that point in my life, period. I had these songs and this shitty recording set up to make them come to life."
The record, due April 29 on Sub Pop, is called Dolls of Highland, after a song Craft wrote and the neighborhood where he finally got the songs to sound right.
"That song in particular is an ode to one of my really good friends and his wife and my girlfriend at the time. We knew it was over in a way, this good time that we were having was coming to an end, especially with my relationship ending and me going to Portland. It was this bittersweet thing," he says.
Craft, who played nearly every instrument on the album, says he gravitated toward handling the various musical roles as well as producer when he first started recording his own songs, just a couple years after picking up the guitar.
"When I really started getting into it, I really wanted to record an album. I would record songs on this laptop and mess around. I really liked early on trying to do it all myself. I found myself enjoying recording everything. It was a challenge. I was pretty relentless with it, just trying to get the right take," he says.
In fact, Dolls of Highland was recorded on the same laptop that Craft first started toying with producing his own songs, a bit of continuity that shows just how far and how quickly he progressed as a musician and songwriter.
Craft first started playing guitar at 15, when his friend got an electric for Christmas. But he recalls being drawn to music long before that, as a small boy going to Baptist church with his parents.
"My first experience was, at the end of the service, I'd sneak back into the choir practice room and fiddle around on the piano. I didn't know what I was doing, but I liked this thing that made noise," he says. "Once I picked up the guitar, I was immediately trying to write songs. It wasn't this thing where I was trying to learn all these cover songs."
Though he didn't spend time learning cover songs as a teen, Craft says he was drawn to and strongly influenced by the likes of David Bowie and Bob Dylan, both insightful songwriters and energetic performers that show through a bit in Craft's songs.
After arriving back in Portland with from his Shreveport recording burst, Craft reconnected with Sub Pop, the label he'd been in touch with since passing along an earlier demo. To polish Dolls of Highland, Sub Pop brought in Brandon Summers and Benjamin Weikel of The Helio Sequence, fellow Portlanders who've grown to be experts at self-recording.
The final mix pops with energy – and Craft's booming vocals – and as soon as Dolls of Highland comes out, Craft hits the road with his new band.
"When you listen to the record you can kind of hear the raucous side of it, but when we play live it's very different, it's all out," Craft says. "I have this great band put together and that's my main thing now. It's like an old school rock 'n' roll outfit. I love Bob Dylan and the sound that he had with The Band feels right to me, more than anything else.
"I had a band in mind when I was recording the album. I knew what sort of a band and instrumentation I wanted to happen. I didn't have the means to record it that way, and I wish I had. But it's worked out great. I think the songs are meant to be played, live for sure."