La Roux's Supervision Is Consistent, But Misses Her Signature Spunk
Supervision trades Trouble in Paradise's sex and sunkissed sparkle for steady waves of sameness
Music
Reviews
La Roux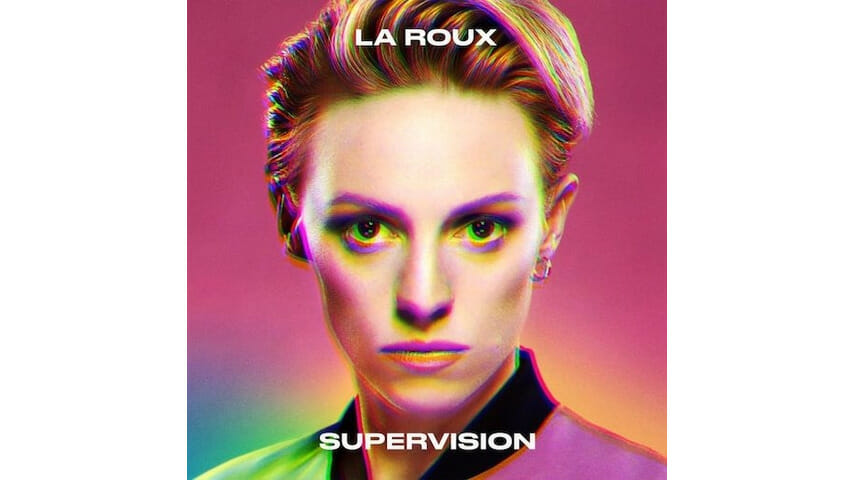 La Roux—aka Eleanor "Elly" Jackson and, formerly, her sometimes-producer Ben Langmaid—has perfected the art of singing about sex, and not just the sweet, romantic parts: Jackson has mastered the innuendo, and, often, the power dynamics at play, which certainly aren't always blissful. La Roux's 2014 album, Trouble In Paradise, effortlessly explored these very phenomenons. "Cruel Sexuality" asked "Oh, you make me happy in my everyday life / Why must you keep me in your prison at night?" With bright synth-pop spilling out from every angle, Jackson made a deliriously danceable record about a relationship that was rapidly withering, mostly due to issues of the sexual variety.
The new LP from the La Roux project follows the same synth-pop formula, but it doesn't have as much of a concept. Where Trouble In Paradise seemed constantly unable to grasp joy, Supervision seeks pleasure everywhere—and very often finds it. "Otherside" uses La Roux's signature outro style (also employed on "Cruel Sexuality") to track an internal debate on the matter of romantic pursuit. It could be the wrong move, but the narrator ultimately decides to fulfill her immediate longing, no matter the potential for messy long-term consequences. "I won't stand still and let this all go by," Jackson sings. "Don't talk / Come here and kiss me, don't think twice."
"Gullible Fool," a seven-minute retro stunner, is a fine piece of pulsing exit music. Jackson delivers the song like she's writing a memoir using only stream-of-consciousness. It's memorable mostly for the escapist swirl of synths, and not so much for the stacked verses, which tend to ramble. "Do You Feel" is much of the same, entwining Rose Royce-style disco (a sound Jackson often plays with) with a glassy dancefloor sparkle. The lyrics, which mark a classic case of uneasy devotion, are all over the place. But then there's a glimmer of the troubled sex that appeared all over Paradise, as Jackson asks, "Do you feel like a man in the morning / But you feel like a woman at night?" over and over throughout the outro.
High notes are hard to come by on Supervision, but that means it's a pretty smooth listen. "Automatic Driver" features more of the big-box pop you may find on La Roux's 2009 self-titled debut, home to her blockbuster "Bulletproof." Like that song and Paradise cuts "Sexotheque" and "Uptight Downtown," "Automatic Driver" balances needs for control and transparency in a relationship. And like "He Rides," it features another dazzling outro—one of La Roux's best talents as a songsmith.
Thankfully, despite the album's lack of big splashes, it still lands like a trip to Florida in February. And at only eight-songs-long, it's endlessly digestible. Snow, sleet and seasonal affective disorder may rage on, but Supervision is pure warmth. "And now I can feel the change in the weather," Jackson sings on "International Woman of Leisure," the record's lead single. "Where I'm going, I know it's much better." It's "Wide Open Spaces" for travel addicts. Sometimes the best remedy for the clouds in your sky is a wide-brimmed hat, a plane ticket and a citrus-y umbrella cocktail when you land. Then, like this record, it's nothing but you and the sand and waves, for days and days and days. There's not much "Trouble" in this version of Jackson's "Paradise," but that also means there's not as much action.