Lana Del Rey Is Witchy and Wistful on a Pair of New Tracks
Photos by Alexandre Schneider/Getty, Ethan Miller/Getty
Music
News
Lana Del Rey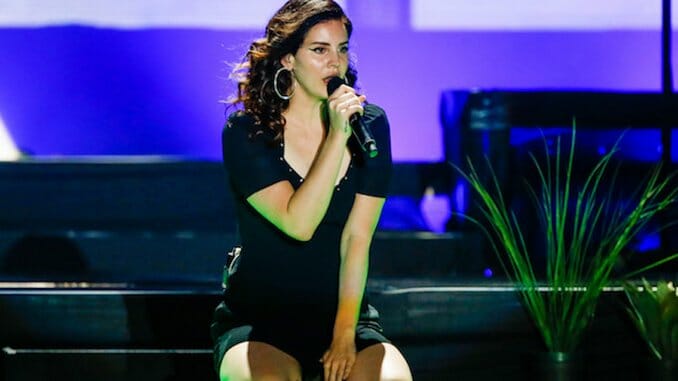 We're still deep in the dog days of summer, but the just-released "Season of the Witch" and "Looking for America" have us ready to declare 2019 the Year of Lana Del Rey.
"Season of the Witch" is a fairly straightforward cover of Donovan's 1966 classic, yet Lana's instantly recognizable sleepy vocals easily make it her own. The song appears on the soundtrack for the '60s-set (of course) horror flick, Scary Stories to Tell in the Dark, a recent trailer for which whetted our appetites with a snippet of the song. Attention, Lana superfans: "Season of the Witch" sounds like a lost pre-Born to Die cut, which is excellent news indeed.
The gorgeous and off-the-cuff guitar ballad "Looking for America" is a different beast entirely, reportedly written in response to the country's all-too-real mass shooting crisis. We find Del Rey in nostalgia mode, remembering a time when we didn't fear violence in public spaces. There are no guns in Lana's America, "no bombs in the sky." But her weary admission that's now only a dream hits hard.
"Season of the Witch" and "Looking for America" were co-written and produced by Jack Antonoff. Both are non-album singles and won't feature on the forthcoming LP, Norman Fucking Rockwell, out Aug. 30.
Del Rey plans to tour North America this fall; those dates can be found here.
Listen to "Season of the Witch" and "Looking for America" below.