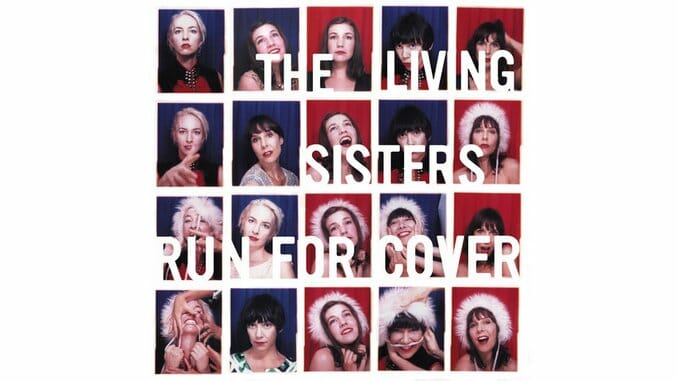 It's an inspired idea: Rather than tackle Doris Day's "Que Sera, Sera (Whatever Will Be, Will Be)" for their new Run for Cover EP, the Living Sisters decided to take on Sly & the Family Stone's cover of that 1956 smash. The difference between the two is subtle but crucial. Stone eschewed Day's postwar whitebread pep for a hippie-era, post-civil rights optimism that inflected his loose delivery and laidback interpretation. And yet, his version had some biting implications as it implied a vast generational rift between Greatest Generation fatalism and countercultural activism.
The Living Sisters—the L.A. supergroup featuring Inara George (The Bird and the Bee), Becky Stark (Lavender Diamond), Eleni Mandell and newest Sister Alex Lilly (Obi Best)—are smart enough to hear the differences and driven enough to attempt the Stone version. But they don't seem to understand that the cover they're covering has been politicized, so the song remains just beyond their reach. With its sparkling harmonies and nonthreatening folk-rock arrangement, their cover is pretty but vacant, a shoulder shrug rather than a fists-ready glimpse of the future. And it's not like we're not worried about the future in 2012.
In its song choices, if not necessarily in its treatments, Run for Cover is more ambitious than it needs to be—than it should be, in fact. Whenever they stride outside of their comfort zone, the Sisters stumble mightily. "Que Sera, Sera" might be toothless, but their take on Funkadelic's "Can You Get to That?" is just a mess: a cartoonish sing-along built around some awkward shout-singing and a half-hearted attempt at R&B rhythms. Cross-genre interpretations at the very least possess a bit of novelty value—who wouldn't want to hear the Andrews Sisters climb aboard the Mother Ship?—but this isn't even an intriguing failure.
Almost inevitably, the Living Sisters fare best when they rein in their choices to the expected. Their take on Patsy Cline's "Sweet Dreams" is perfectly fine, although it sounds like even they seem to consider it too safe. Cline's lesser-known hit "A Poor Man's Roses" gives them more to chew on. They have a little more fun with the pop standard "Make Love to Me," which can't quite muster the chipper eroticism or double entendres of "Double Knots," off their quite good 2010 debut Live to Love.
The best moment on Run for Cover turns out to be their take on "Jolene." Rather than try to duplicate the lonely desperation Dolly Parton exuded, the four of them sound like they're ganging up on the title character, who'll get a black eye sooner than she'll get their man. I'm ignoring the obvious Big Love reference and instead proceeding to state that the lack of accompaniment is the canniest decision on this entire EP. The Sisters' tight harmonies recast the tune as a centuries-old UK folk ballad that sounds more Shirley Collins than Dolly Parton. It's a startling interpretation whose appeal is much more than simply novel.