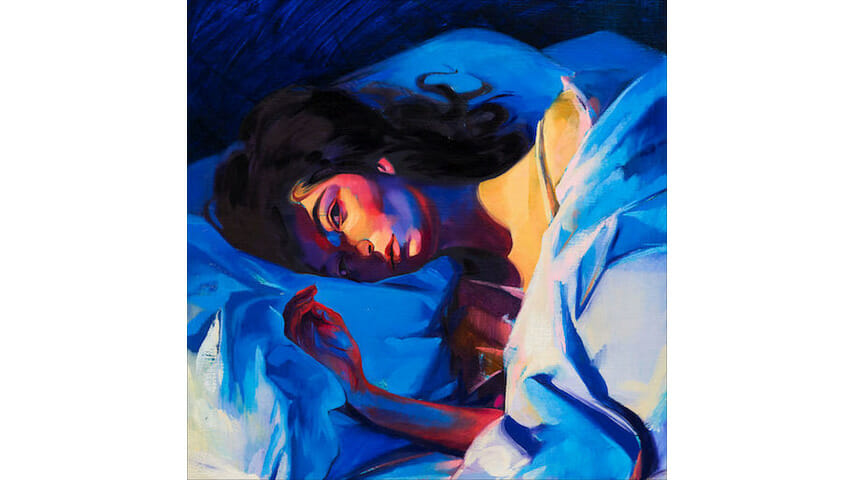 On Melodrama, Lorde's glittering electropop triumph, the New Zealand singer-songwriter finds herself immersed in exhilarating, champagne-soaked parties and soul-crushing one-night stands, and witnessing the inevitable disintegration of her youth. Her continued fascinations with the highlife, royalty and growing old that formed the core of her debut album—2013's Pure Heroine—are still present but she now possesses a deeper layer of self-identification and a startling vulnerability.
The percussive buildup and splashdown on the post-disco opener, "Green Light," sets a happy/bitter tone: her breakup has left a scar that she's happy to show off. The rapidly reverberating percussion of "Homemade Dynamite" brings an absolutely liberating chorus, but the glut of lyrics on the tamer "The Louvre" doesn't quite let the song's "broadcast the boom" anthem stand out. She continues to detail her failed relationship on the tender piano ballad "Liability" while acknowledging her shelf life as a musician is extremely perishable, and the buoyant "Supercut," with its fusion of '80s pop with an electro-house beat, echoes Pure Heroine's brazen drive.
There are plenty more hits to sink into on Melodrama. On the exquisite, trap-tinged "Sober II (Melodrama)," Lorde grapples with knee jerk decisions and painful regrets from the latest blowout while "cleaning up the champagne glasses"—a brief warning of domestication. "Perfect Places" encapsulates the non-dignified "graceless night," but still being able to dance about it seems a good enough Band-Aid for now.
Lorde's slightly chafed, breathy voice can stay measured even when she's whispering or singing full on. When she does go off course vocally, she can reveal pure bitterness and deep sorrow. Another melancholy piano ballad, "Writer In the Dark," combines Lorde's defiance with her most desperate and exposed moments, showing she'll go pretty damn far for love, but will move on when she chooses.
The sonic touches on Melodrama are as strong as the vocals. Lorde—who co-produced the album with longtime colleague Jack Antonoff (Bleachers)—was inspired by artists like Phil Collins, Joni Mitchell and Graceland-era Paul Simon. Vintage '80s effects were re-spun to create buzzy, metallic synths with hollow, digital percussion, splashy drum breakdowns and cascading keyboard lines serving to build a revamped piano pop for this still-budding solo artist.
Lorde still has the prescience to know she could become stale in a heartbeat. Her early wisdom signifies an old soul. Where Pure Heroine was her global, future-forward debut, Melodrama is the red-eyed, no-rules afterparty, where the lost and loveless go for comfort.