Jazz Icon Charles Lloyd Leads Lucinda Williams into the Marvels Beyond
A milestone encounter between a major singer/songwriter and a great jazz band
Photos by D. Darr
Music
Features
Lucinda Williams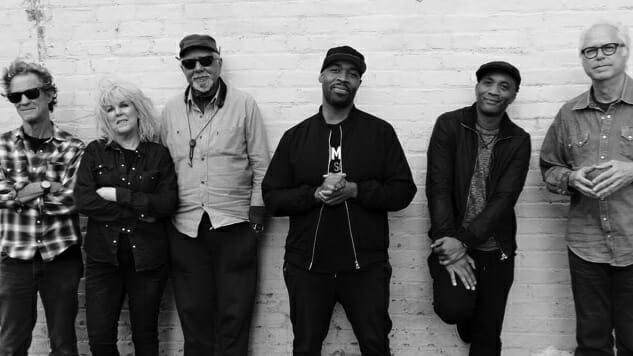 The 1960s were a time of upheaval in all corners of American culture, not the least in music. Lyricists such as Bob Dylan, Paul Simon, Curtis Mayfield and Lou Reed were revolutionizing songwriting by introducing new subject matter and literary techniques. Instrumentalists such as John Coltrane, Ornette Coleman, Bill Evans and Charles Lloyd were upending all previous notions of harmony and rhythm.
Looking back, it seems strange that these two areas of innovation never merged. Occasionally a jazz soloist would sit in with bands such as Steely Dan and Grateful Dead, and jazz bands would sometimes cover the songs of Dylan and Simon. But you never had a major lyricist recording and touring with a true jazz band on an equal basis.
Joni Mitchell did make a pair of studio records (Don Juan's Reckless Daughter and Mingus) with Weather Report's Wayne Shorter and Jaco Pastorius, and Sting made three (The Dream of the Blue Turtles, …Nothing like the Sun and The Soul Cages) with Branford Marsalis and Kenny Kirkland. But the albums were credited to Mitchell and Sting alone—and rightly so, for the jazz musicians were clearly sidemen and not full partners.
That's what makes the new album, Vanished Garden, such a milestone. Not only is it credited to "Charles Lloyd & the Marvels + Lucinda Williams," but the music within represents a true collaboration between the jazz musicians and the singer/songwriter. You can hear the saxophonist and his musicians respond to Williams' words and melodies, and you can hear the vocalist react to the ever-shifting harmonies and rhythms beneath her. The collaboration is not compartmentalized into the jazz musicians cutting loose on the solos and the Americana musicians stepping forward in the vocal sections; it's integrated from start to finish.
Williams sings three of her older songs, a new original and Jimi Hendrix's "Angel." The Marvels add five instrumentals, and the result is one of the year's best recordings, a long-delayed fulfillment of the wish to pair an important Americana songwriter with a working jazz band. This is important, because it brings two currents of innovation into the same river, to prove that challenging lyrics can be bolstered, not obscured, by challenging music—and vice versa.
"I feel there's no precedent for this new album," Lloyd declares. "People can say whatever they want, but dogs bark and the caravan moves on. I don't know why it didn't happen earlier. The '60s were a period of cross-pollination, but the gatekeepers weren't interested in it. Like minds want to share, but sometimes they're not allowed to. Sometimes it's the old bugaboo of America, racism. Sometimes it's just bad timing."
It could have happened earlier. In the late '60s, Dylan had asked Lloyd if his quartet would like to play on the songs that became John Wesley Harding. The talks didn't get very far, for the challenges were imposing and Columbia Records was resistant. But fans of both progressive rock and avant-garde jazz can only dream of what it might have sounded like to have Lloyd's tenor sax blowing on "All Along the Watchtower," Keith Jarrett's piano piling up chords underneath "I Dreamed I Saw St. Augustine" and drummer Jack DeJohnette rumbling through "I Pity the Poor Immigrant."
"Dylan was my friend in New York," Lloyd says, "and I thought he brought something very interesting to the scene with his insights. He invited me to record with him, but the timing never worked out. When I played at Shelley's Manhole in L.A., the Byrds were playing in the back alley. I thought they were very interesting, and we wanted to record something together. Billy James at Columbia took it upstairs and they said no. When I was in London, Jimi Hendrix's girlfriend at the time told me that Jimi wanted to record with me when I got back to New York, but by the time I got there, time had run out. The Grateful Dead were quite moved by what we were doing, but that didn't happen either."
The stumbling blocks were not just music-industry opposition. Adding a singer to a band is not the same as a trumpeter or conga player, because you're adding more than just a new sound; you're adding a whole new artistic element: words. Just to make the words heard require the musicians to pull back and step forward at just the right times. If the words are strong, they demand as much attention as the music—and this presents a challenge not only for the listener asked to keep track of both at the same time but also to the singer or soloist asked to cede some of the spotlight. And if the words are tethered to repeating rhythmic and melodic sections, that presents a challenge to jazz musicians who prefer more flexible forms.
It happened this time due largely to Bill Frisell, a guitarist firmly rooted in the jazz world (where he has worked with the likes of Ron Carter, Joe Lovano and Paul Motian) but also a musician who has crossed genre boundaries to work with Elvis Costello, Bonnie Raitt and Rickie Lee Jones. Frisell's frequent sidekick is steel guitarist Greg Leisz, best known for his work with such Americana artists as Dave Alvin, Emmylou Harris, Joni Mitchell and Jackson Browne.
"I was playing with Charles in Montreal," Frisell remembers, "and he was talking about growing up in Memphis with the sound of a slide guitar." Lloyd had backed up Howlin' Wolf, who used a slide guitarist, and had befriended steel guitarist Al Vescovo.
"When I played in West Memphis as a teenager," Lloyd recalls, "the group that went on before us was the Snearly Ranch Boys, a white country band. Al was their steel guitarist, but he liked Duke Ellington and 'Honeysuckle Rose.' I thought that was strange, so I talked to him and we became friends. Al and I spent so much time together, that people thought something funny was going on.
"He asked me if I knew any steel guitarists," Frisell continues, "and I mentioned Greg. 'Greg is like my brother,' I told him. I was doing a gig at UCLA with Charles, and without a rehearsal, Greg walked on and played with us. That was the beginning of the Marvels."
Lloyd had created the Marvels so he and his regular rhythm section (drummer Eric Harland and bassist Reuben Rogers) could play with Frisell and Leisz. That line-up's first album, 2016's I Long To See You (featuring vocals by Willie Nelson and Norah Jones), was released the same year as the third collaboration between Frisell, Leisz and Williams: The Ghosts of Highway 20. It was almost inevitable that Lloyd and Williams would meet via Frisell and Leisz.
Frisell had already played on two of Williams's albums (West and Down Where the Spirit Meets the Bone), but Leisz had been playing with her even longer than that. So when Williams came to see her two friends in their new band, she met Lloyd and immediately bonded with him. He came to her gig, and she asked him to sit in. "If I sit in with you," Lloyd replied, "you have to sit in with me at one of my shows."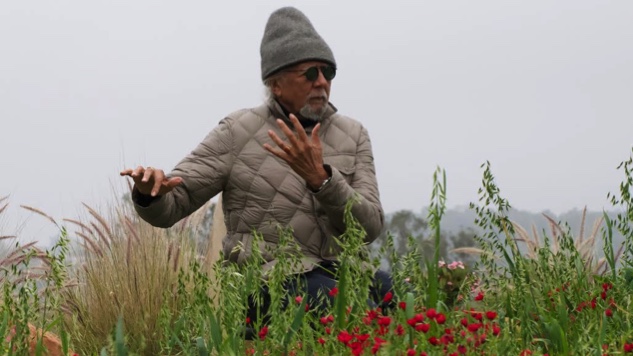 "She was a poet not unlike Dylan," Lloyd says of that first encounter. "I had heard her Car Wheels on a Gravel Road album. Her father was a poet; she was from Lake Charles, and I was from Memphis, so that Southern crossroads thing was happening. It reminded me of the old days when I played with Robbie Robertson and Levon Helm and Dylan was a neighbor. It wasn't put together by the organizers; it was musicians gravitating to one another."
"Sometimes you sit in with somebody," adds Frisell, "and you feel like what you're playing is having no impact because they're not listening. But the first time I played with Lucinda, I immediately felt there was an emotional back and forth, I'd hear something she sang and I'd respond to it; she'd hear that and respond to me. That has never stopped. Even when she's singing the same song, she doesn't do it by rote; it's like her nerves are exposed. That's the way it is with Charles too."
Though she rarely displayed it in public, Williams had a secret love for jazz that paralleled Lloyd's love for Americana. "When I was growing up," she says, "my dad listened to Hank Williams, but he also listened to Coltrane, Miles, Chet Baker and Dinah Washington. As an adult, I listened to Coltrane's Ballads, Joao Gilberto, Latin music and all that. With my band, we recorded this primal, slowed-down, scary version of a Frank Sinatra song, 'The Summer Wind,' for that TV show Ozark. Afterward I said, 'I want to do a whole album of this stuff.'"
The first recorded collaboration between Williams and Lloyd was a 2017 single, a live version of Dylan's "Masters of War." Maybe Lloyd never got a chance to record with Dylan, but here was a chance to record one of the latter's best protest songs with one of Dylan's most obvious heirs. Lloyd had already recorded an instrumental version with the Marvels on their debut album.
Taken from a show at Santa Barbara's Lobero Theatre on November 28, 2016, the single's arrangement begins with a quiet rumbling in the rhythm section before Williams addresses defense contractors and war profiteers with ascending blues phrases: "Come you masters of war, you that build all the guns, you that build the death planes, you that build all the bombs, you that hide behind walls, you that hide behind desks, I just want you to know I can see through your masks."
Lloyd's tenor saxophone starts answering each fire-and-brimstone line with a moan of affirmation, as if he were in the congregation of a Southern African-American church responding to a preacher. Unlike the Dylan version where the acoustic guitar reinforces the punchy regularity of the vocal, this version has the instruments responding to the vocal in a variety of ways, changing the harmony and phrasing from stanza to stanza, even line to line, as if the protest were arising not from one individual but from a community with many moving parts and multiple perspectives.
"I'd heard Lucinda do 'Masters of War' years and years ago," says Frisell. "I'd been playing it for years, and Charles wanted to play it. So it was an easy place for us to come together. And unfortunately, it's a song that never stops being relevant. The melody is really close to those old murder ballads, so just the melody itself is an incredible backbone that gives you the strength to play the music. And even if they're not being sung, you hear echoes of the words, and that adds a huge weight to what you're playing. It gives you a lot of ammo."
"It blew my mind that Charles did that song," says Williams, "because I've been singing 'Masters of War' since I was 16. I thought we'd just be doing jazz, but this guy is totally off the charts; he can do anything. You can hear that on his albums. Bill's the same way. He comes out of that jazz world, and he added that dimension on my albums, but he can also sound like Jimi Hendrix. Bill was sort of a halfway house for me on the way to Charles."
"When I get in there with my horn," adds Lloyd, "I want to release her from all her troubles. I'm trying to put the meaning of the words and the feeling of the music together. When you're in the zone, you just let it rip and it's going to come through. When she inspires us, we inspire her. Don Was [the president of Blue Note Records and co-producer of Vanished Gardens] told me that Dylan ran up to his office and asked for a copy of our version of 'Masters of War.'"
The single's success convinced everyone involved that they needed to make a whole album. The Hollywood sessions in April and September last year had the business-like efficiency of a jazz venture rather than the more leisurely pacing of a pop project. There was little discussion, rehearsal or arranging; the musicians would start playing and Williams would start singing.
"The jazz world doesn't have the same kind of budgets we have in the rock world," Williams points out. "They're used to going in and hammering out an album in three days. I didn't have to tell them what to do. We just ran through it a couple of times, and that was it. You don't have to labor over things with these guys, because they're so knowledgeable and so flexible. I mentioned to Charles that I wasn't happy with all of my vocals, and I wanted to recut some of them. He said, 'Oh, that's a luxury,' as if it were a rock indulgence. At the end of the day, I deferred to Don Was, who I love. It was okay in that world."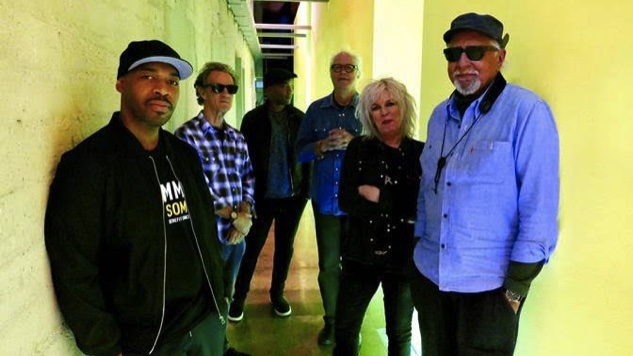 The album's opening instrumental, "Defiant," begins as a lyrical, unaccompanied duet between Lloyd and Frisell before Leisz, Rogers and Harland join in. Despite its title, Lloyd's composition is calmly meditative, evoking defiance as flinty determination rather than explosive anger; the saxophone, guitar and steel guitar solos extend the patient melody around and through all obstacles.
Next up is Williams' "Dust," an adaptation of her father's poem into a song. Miller Williams was a well-respected Southern poet who had a huge impact on his daughter's approach to language. The trick in adapting a poem into song, she says, is pulling out several lines and treating them as a refrain or repeating chorus. You come up with one melody for that section and another melody for the other lines. For "Dust," she identified the lines, "You couldn't cry if you wanted to/ Even your thoughts are dust," as the refrain that she could chant over and over again. While she did that, Lloyd dug into the tension until it erupted in a spiraling tenor-sax solo.
"One of my favorite sounds in the world was hearing my dad on the typewriter," Williams says. "He taught creative writing; sometimes he'd have classes at the house when I was living there. He was very into the craft of writing, of working on the poem after you get the idea—to not just throw a lot of words out there, but to refine it. He always talked about the economics of writing, of using as few words as possible."
Lloyd has also had a lot of experience with literary poets. After his '60s days of fame, he fell prey to drugs, which he refers to as "tragic magic," and retreated to the mountains of Big Sur to recuperate. He slowly returned to music by accompanying some of California's finest poets— Lawrence Ferlinghetti, Charles Bukowski, Gary Snyder, Diane diPrima, Bob Kaufman—improvising music behind their spoken recitations. On the new album, Lloyd dedicates an instrumental composition, "Blues for Langston and LaRue," to two Harlem Renaissance figures: the poet Langston Hughes and the musical dramatist Evelyn La Rue Pittman.
As recently as 2008, Lloyd invited the current U.S. poet laureate Charles Simic to open Lloyd's show at the New York Society for Ethical Culture. Simic responded by reading four poems, and on the final one, "Two for Charles Lloyd," the quartet came in quietly behind him, Lloyd murmuring in agreement on the tenor sax, pianist Jason Moran playing whole-note chords, each in a different, stranger voicing, Rogers dropping in strategic upright bass notes, and Harland adding rattling hand percussion. "Late night talk on a tenor," the poet in the gray thatched hair and rimless glasses read, "with the dead and the shadows they cast." Simic's poem was subsequently reprinted in the liner notes for that year's album, Rabo de Nube.
"Charles Simic was just another instrument in the band," Lloyd recalls. "He comes from the day; he was around me in the Village when Thelonious Monk was at the Five Spot. He's a deep lover of the music, so it wasn't anything other than a natural sharing. He was finishing up, and we came up under him. The words mean different things to different people, but the music is direct. I'm blessed to have people who can make that journey with me."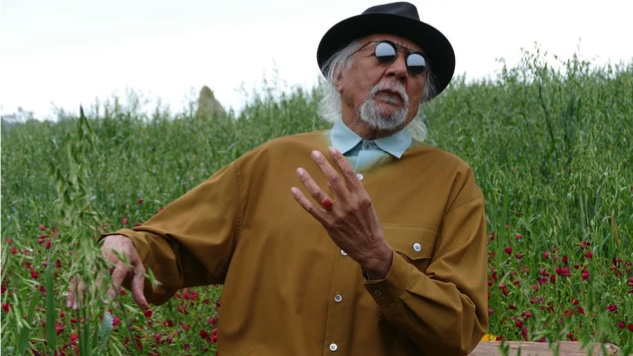 That experience with poetry pays off on the new album. "Dust" is followed by the nine-minute instrumental title track, which begins with a jittery, stabbing guitar part from Frisell, reinforced by Harland but eventually countered by Lloyd's reassuring tenor sax, deep and full, and Leisz's sustaining steel lines. That's followed by Williams' 2003 song "Ventura," whose wistful yearning to break out of the daily routine, is at first reflected by Frisell and Lloyd but then thrust by their inventions into a tremendous feeling of release. So it goes, back and forth between instrumentals and vocal numbers.
"That sound that we get is special," insists Lloyd. "Why did I put Lucinda in the middle of that? Because of her poetry; she's fearless and wild. People like her and Dylan aren't just writing, 'My baby left me last night.' They're writing about the human condition, their own notion of right living. I bet if you sat Bob Dylan down and asked him, he couldn't tell you where it came from. It's out there in the air, it's available to anyone, but certain people can pull it out. Lucinda can do that, and I can tell that it hasn't been easy. I don't bother her about that."
Not every jazz musician has the versatility to accompany a songwriter such as Dylan or Williams. They have to be comfortable with the hillbilly and rock'n'roll vocabulary that underlies so much of that writing; they have to know when to leave room for the vocals and when to push against the words. They can't be snobbish about other kinds of music, as if pop genres were beneath them. Lloyd was well prepared for this encounter, and not just from years of playing with his jazz quartet on rock bills at the Fillmore West and the Fillmore East.
He had an extended entanglement with the Beach Boys, a collaboration that grew out of their shared interest in transcendental meditation. He toured with them for a short while and played on their 1971 album Surf's Up; they sang on his 1972 album Waves. Years later, he recorded instrumental versions of Brian Wilson's "God Only Knows" and "Caroline No" on his own albums.
"When I was still living in the Village," Lloyd recalls, "the Beach Boys sought me out, but I didn't know their work, to be honest. I thought they'd just put surfboards on Chuck Berry and that was it. But finally I listened to the records and realized that Brian Wilson was a genius with this beatific vision. Brian had these big ears; he could hear those beautiful harmonies that Clare Fisher had orchestrated for the Four Freshmen and mix them into Chuck Berry. 'Pet Sounds' was so beautiful it inspired the Beatles to stretch out some more."
Frisell too had the necessary preparation. Though he began as a die-hard disciple of jazz guitarists Wes Montgomery and Jim Hall, Frisell's curiosity got the best of him and he was soon collaborating with bluegrass musicians such as Jerry Douglas and Viktor Krauss and Americana guitarists such as Leisz and Ry Cooder. Frisell devoted an album to the songs of Elvis Costello & Burt Bacharach, another to early-'70s rock instrumentals and yet another to the compositions of John Lennon. So he was ready for Williams when he met her.
"When I'm in it," Frisell reports, "the music of the Beatles and Beach Boys doesn't feel any different than a jazz standard. The way I'm interacting with the other musicians, the way I'm processing the music, the way it feels on stage, feels the same whether it's a Wes Montgomery song, 'Stella by Starlight,' a country and western song or a Beatles song. By the time I met Greg, I was realizing that a lot of music I was listening to was coming from Hank Williams and the Carter Family, the world that he'd been in. We've been playing together so long, we just play the song. There's not much talk about arrangement."
"Bill is one of the sweetest guys you'll ever want to meet in your life," says Williams. "His playing just adds this whole new dimension to what we're doing, like he's adding brush strokes of brilliant color to your painting. He's so quiet, and then he starts playing, and he's on the level of a Jimi Hendrix. He's not your average rock guitar player, but neither is he stuck in that formal jazz way of playing. That's the beauty of this whole band; none of them are stuck that way. Sometimes you invite classically trained musicians to sit on a blues song, and they say, 'Wait a minute; we need to rehearse.' These guys, you say, 'Let's play a blues,' and they jump right in.
"On the last song of the last night of the sessions," Williams continues, "everyone had gone home except for Charles, Bill and me. We had talked about doing Jimi Hendrix's 'Angel,' and I was showing Bill the chords. Charles said, 'What the hell, why don't we go in and cut a take.' And it turned out great, maybe because we were so tired. I love the melody of that song; I have to connect with the melody as much as the lyrics. It's such a sad song. The word 'angel' always feels so good to sing."
Williams tried to add a vocal to the new album's jazz standard, "Ballad of the Sad Young Men," but they didn't get an acceptable take, so the instrumental version is on the record. But she is determined to master the American Songbook repertoire.
"Charles loves one of my songs called, 'A Place in My Heart,'" says Williams, "because it has a more traditional jazz melody. If you listen to my songs since the Blessed album, a lot of them have been influenced by standards; the melodies and phrasing reflect that. When you look at the path that Bob Dylan took, from Woody Guthrie to Bing Crosby, I've taken a similar route. It was just a natural progression, giving myself permission to not fill up every space with words. I saw Bob Dylan doing that when he put out Time Out of Mind just before I put out Essence. That influenced me a lot."
Williams is joining Lloyd and the Marvels whenever her schedule permits, but she hasn't abandoned her regular band. Recently they've been crisscrossing the continent as part of the L/S/D Tour, the acronym standing for Lucinda Williams, Steve Earle and Dwight Yoakam. When the tour came to Baltimore's Pier Six Pavilion in mid-June, Williams first appeared during Earle's set sporting shaggy blonde hair and bangs and a black blouse with the sleeves rolled up.
She sang a duet with Earle on his song "You're Still Standing There," and he returned the favor during her set by adding a harmonica solo to "Drunken Angel" and a guitar part to "Joy." At the end of the night, Williams and Earle reappeared to sing on Yoakam's encore version of Joe & Rose Lee Maphis's 1953 country single, "Dim Lights, Thick Smoke (And Loud, Loud Music)."
In her own set, joined by her regular band of guitarist Stuart Mathis, bassist David Sutton and drummer Butch Norton, Williams revived tunes from all phases of her career, using the country-folk-rock push that has been her signature sound for decades. It provided a revealing contrast to her sound with the Marvels, who are as likely to tug her sideways as to push her forward. The old approach has been proven effective, but the jazzier arrangements are unprecedented and thus more surprising.
"With her band," comments Lloyd, "they're leaning forwards, but Eric and Reuben are leaning back; they have this beautiful synchronicity. Eric has that smile in his playing that Billy Higgins had," Lloyd says of his late friend and former drummer. "When I hired Eric, he couldn't play what he can play now, but I could hear the potential. He has that Baptist joyfulness in him. I like that organic feeling. I like it loose but I also like it brilliant; that's a beautiful thing. Jason has that."
"I'm still singing the same way," claims Williams; "the songs are the same. I don't want to compare Charles's guys with my guys, because I love them all. His guys swing more; they're more versed in jazz and soul. Those guys are laid back, but they know when to push. We're not doing rock songs like 'Change the Lock,' but we did 'Joy' and it worked really well. Stuart Mathis has been filling in when Bill or Greg can't make the gig, so I have one of my guys some nights."
Frisell is missing some dates to keep his own career going. He has a new album, Music Is, his first unaccompanied solo album in 18 years. Featuring 15 original compositions, it reflects the wide range of Frisell's music—from elegant, pastoral melodies to roaring guitar noise, from sci-fi experimentation to the counterpointed harmonies made possible by sampling and looping. It's one of the year's most pleasurable jazz records.
"Playing solo is such a different frame of mind," says Frisell. "Even if you're just with one other person, you're constantly getting feedback from another person. It's a conversation, and it's much easier for me to have a conversation than to do public speaking. To make it work, you have to start thinking of the audience as another musician—or even the silence that follows when you stop playing. When I got comfortable with letting the air and the space be there; you play with it, you can push against it or let it hang there. The solo format clarifies what you're doing, because there's no one else there; it gives you a chance to check your own self out. This is me."
Meanwhile, Lloyd will be the artist-in-residence at this year's Newport Jazz Festival in Rhode Island. He will perform with three different bands: Sangam, a trio featuring Harland and Indian percussionist Zakir Hussain; the New Quartet, a foursome featuring Moran, Harland and Rogers; and Charles Lloyd & Friends, a version of the Marvels featuring Williams, Mathis, Moran, Rogers, Harland and guitarist Marvin Sewell.
It's not big news that Lloyd and Frisell continue to create brilliant jazz music, nor that Williams does the same in Americana. What is big news is how the three performers have come together to invent something unparalleled, a merger of two paths of musical innovation into one—call it "Americana-jazz-poetry." Most music, whether vocal or instrumental, works by keeping the background steady and the foreground unpredictable. Here's a music that tries to keep both the singer and the accompaniment unguessable. That might give some listeners vertigo, but dizziness is often the symptom or romantic love, spiritual inspiration or intellectual transcendence.
"It's a different thing," Williams agrees, "but once you adjust to it, it starts to come naturally. Bill and I once recorded a Mississippi Fred McDowell song with some reggae guys, and it worked because I wasn't going to be the white girl trying to sound Jamaican. I was going to sound like myself and have a conversation with those guys. It's the same with Charles; I'm not going to be the rock girl trying to be a jazz singer; I'm going to be myself."
"It was kind of extraordinary the way the band didn't change when Lucinda joined," Frisell adds. "We didn't hold back. Whoever's there, I'm going to play the same language I've developed within the band. Because she carries the melody, it frees Charles and me to push against it and go outside it. You're listening not just to the words, but also the musical stuff, the ups and downs, but also the story going on with the words. It's not just the notes she's singing, not just how loud or soft she's singing; there's also the meaning of the words."
"It works because it's Charles's band," Williams continues. "First of all, you have to let the lyrics be heard. The better drummers, like Eric, know how to work with singers. Some drummers just bash away, because that's their thing. But I'm not going to scream over a drummer; I just won't. The lyrics are very important to me, but they're also important to Charles and Bill; they know how to wind around me, so the words are always heard."
"Lucinda touched me," Lloyd concludes, "and I responded at the same time. As a music maker, you have a lifetime of experience, and your whole preparation creates a response that comes through you. We have arrived at similar ideas though different life experiences. On her song 'Unsuffer Me,' for example, we weren't trying to make her fit into our universe or make ourselves fit into hers. As jazz musicians, we respond to the now. It's a wonderful place to live."