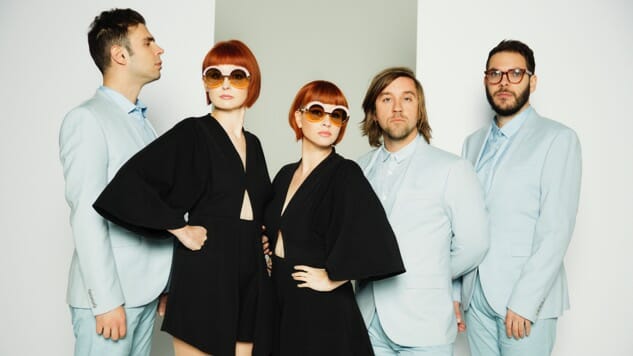 It's a Tuesday night on stage at the Rose Bar at the Gramercy Park Hotel in New York City, and Jess Wolfe and Holly Laessig are screaming.
"Go on call me the one who's gone insane, oh, I can be the one who's gone insane," Wolfe and Laessig are belting out these lyrics, their voices maniacally falling over one another. Then they're yelling them, crying them, and suddenly, they're both whimpering those words together, in perfect harmony. What was an unsettling musical explosion of discontent has ended with a sweet resolution. It's like they can't end a song out of sync if they tried.

Like their matching yellow-and-gold sparkling capes and dyed red faux-hawks, this outburst is all a part of their performance as the frontwomen of Lucius. Wolfe and Laessig, along with guitarists Andrew Burri and Peter Lalish and drummer Dan Molad, are here debuting songs off their new album, Good Grief, and the band's fierce and theatrical command of the stage has the audience entranced during the emotional climax of album centerpiece "Gone Insane."
An explosive, finger-pointing exploration of both the internal and external conflicts in a relationship, "Gone Insane" is the highlight of an album that sees the band plumbing new emotional and sonic depths. While Lucius' debut album Wildewoman introduced the world to Wolfe and Laessig's mod aesthetic, swelling girl-group harmonies and sunny choruses in 2013, spending the following two years on tour gave the band a wealth of experiences to draw upon for their follow-up. The simultaneous closeness to each other but profound isolation from family and friends back home made for a heady mix of emotions, all of which can be felt on Good Grief. In fact, the album's name is a reference to the highs, lows and conflicting emotions that came with spending life on the road.
"There were a lot of good moments and there were also hard times," Laessig says of the near-nonstop bouts of touring that have defined the band's past two years. "It was just a lot of everything for a long time…except for sleep." Consequently, finding alone time while on tour became an essential skill.
"You learn how to lock the bathroom door, turn on the water and take a bath for two hours," Wolfe says. "You get up earlier than you need to, go on a walk or write in your journal, or go find a cute coffee shop nearby. You learn how to escape."
Though the duo didn't start writing Good Grief until the Wildewoman tour finally came to a close, Wolfe says she and Laessig, who met while studying at the Berklee College of Music, were confident that the new songs they wrote would be an artistic evolution for the band.
"We've grown so much and seen so much over the past couple of years, we knew there was going to be growth," Wolfe says. "There was so much intake, we were constantly writing in our journals or leaving little voice memos for ourselves, collecting thoughts and collecting things, memories, along the way that by the time we actually sat down to write, there was so much to go back to."
Good Grief is bolder, more complex, and, yes, darker and more personal than Lucius' debut. Uncertainty and emotional turmoil loom over some of its best tracks, as Wolfe and Laessig's voices belt out some of their most powerful harmonies yet. The references to life on the road and fraught relationships are everywhere. "What We Have (to Change)" finds the narrator frankly expressing her darkest fears in her relationship: "Leaving you has crossed my mind / But I'm afraid another heart is hard to find," Wolfe and Laessig sing. On "Gone Insane," the "time we share is in our suffering / All alone in this togetherness." And on "My Heart Got Caught on Your Sleeve," Wolfe and Laessig cry out the crushing refrain, "I am lost in my own home."
There are images of a bride running through an airport in a wedding dress, of a chilling dream that begins with a gun pressed to somebody's temple, and of countless arguments and fights. But while the darker subject matter may be new ground for Lucius, the band's signature buoyant melodies remain—they just often carry a bit more emotional weight.
For Lucius' sophomore album, "we wanted to dance a lot more," Wolfe says, referencing the duality of emotions present in Good Grief's title. "Even though the subject matter is more dark, I think that the sonic experience is more alive and more dynamic."
If "Gone Insane" is the album's ultimate expression of grief, then lead single "Born Again Teen," which describes the electric feeling that comes with finding a new love, is the album's most fun and carefree track. Lucius' sheer joy and magnetic energy—not to mention their silly sense of humor—are on full display in the song's music video, in which the duo cruise through Los Angeles in an "Oober Pool," picking up some strange characters along the way.
The video culminates with Wolfe and Laessig joining their bandmates in a warehouse to perform the song's final chorus; they shimmy up to the microphone and sing it facing each other, animating their faces in theatrical expressions as they turn in sync to stare down the camera—all while their shlubby driver looks on, dancing. The clip is a perfect embodiment of Lucius' playful and performative spirit, which values making energetic music that connects with people just as much as it values Wolfe and Laessig's impressive vocal prowess.
[Check out Lucius performing "Born Again Teen" at the Paste Studio in New York in the player below.]
Being on stage and always dressed in their signature matching costumes, Wolfe says, helps to bring on a transformation. "When I was a little girl I was really drawn to the theater or artists who had a very strong visual presence because I was in awe of the fact that you could be transported," she says. "That you could go somewhere, you could pretend you're not who you are, you could pretend that the chaos around you is gone—you know whatever is happening in your life, you get to disappear for a moment. And we get to do that every night on stage together." Of course, singing about personal experiences in front of an audience can be painful, but it can also be cathartic. Sometimes, Wolfe says, it allows those songs to take on new meaning, too, as the band responds to the audience's reactions.
"We go into this fantastic world that we create, and I think people really enjoy being taken there," she adds. "Everybody is looking for an escape."

Months before Wolfe and Laessig took the stage at the Gramercy Park Hotel in New York, a rare fight between the two close friends threatened to derail a recording session for "Gone Insane." Laessig stormed out of the studio crying.
"We've gotten in maybe five fights in the 12 years we've worked together," Wolfe says. "It was almost more shocking that we were in a fight [at all] than that a fight happened in this particular moment." Apologies were made. Hugs were exchanged. The duo took a deep breath and decided to channel their energy into the recording.
In the last minute of that first take, the buildup of emotions—from the triumphs of performing on stages across the globe to the tragedies of missing loved ones and feeling unmoored—propelled Wolfe and Laessig to scream, their voices tumbling over each other. The impromptu hysterics turned out to be just what the track needed. "And it lined back up and everything," Laessig says. "We ended up just using that whole take."
In their grief, Lucius made something quite good.
Watch Lucius perform "Madness" at the Paste Studio in the player below.