Mahalia Jackson: Putting the Shout into Gospel and the Bible into the Blues
Photo courtesy of Mahalia Jackson courtesy of Sony Music
Music
Features
Mahalia Jackson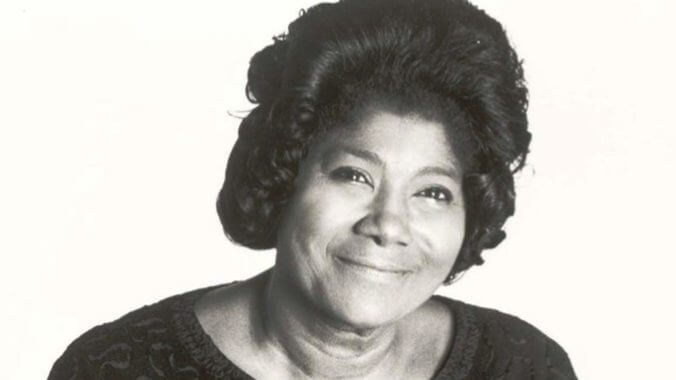 Mahalia Jackson is having a moment, half a century after her death in 1972. One of the year's best folk albums, Iris DeMent's Workin' on a World, contains the song "Mahalia," written about the legendary gospel singer. One of the year's best jazz albums, James Brandon Lewis's For Mahalia, with Love reworks some of Jackson's best songs into extended instrumental improvisations.
It all began, of course, with Ahmir "Questlove" Thompson's 2021 documentary, Summer of Soul, one of the best music films in recent memory. The movie had many great moments, but the picture's high point was the duet between Mahalia Jackson and Mavis Staples.
The movie skims the cream off the Harlem Cultural Festival, six weeks of concerts during the summer of 1969. That year Jackson was 58, a large woman in a pink dress and a wavy perm, nearing the end of a long career that had earned her the unofficial title of "The World's Greatest Gospel Singer." Staples was 30, a small woman in silver hoop earrings and a spherical afro on the brink of her 1971-1976 run of hits with the Staple Singers.
They came together to sing "Precious Lord, Take My Hand," a hymn composed in 1932 by Thomas A. Dorsey in response to his beloved wife's death. Dorsey, who as Georgia Tom had backed up Ma Rainey, led the movement to infuse black religious music with the blues, prompting a change in nickname from "spirituals" to "gospel." Late in his career, Jackson became one of Dorsey's proteges in this new music.
In Summer of Soul, Staples takes the first verse, singing with the quicksilver grace of her early recordings. Jackson takes the second verse with a bigger, more guttural sound, dredging up the ache of a hundred sorrows in her long life and reaching for a savior's hand. Staples recognizes the challenge and digs deeper too when she joins her hero for the third verse. Jackson, always a competitive performer, pushes to match Staples and top her. Back and forth they go, building to a thrilling climax. When an exhausted Jackson hands her mic to Staples, it's as if a torch is being passed.
But Jackson's influence has soaked into many more musicians than just Staples. Duke Ellington featured Jackson's voice on the milestone 1958 album, Black, Brown and Beige, and later wrote a tune called "Portrait of Mahalia Jackson." Aretha Franklin recorded several of the songs Jackson made famous and sang at her role model's funeral. Nearly every vocalist in the gospel or soul-gospel fields owes a debt to Jackson.
It's not the size of Jackson's enormous contralto that matters, for there are many big voices in the world. It's the way she applied that special instrument to create tension-and-release—going from quiet to loud and back, from on the beat to against the beat, from growl to croon, from tortured to joyful—to create terrific drama. It was always the same story: When this "Troubled World," as one song put it, afflicts us with loss, betrayal and despair, how can one overcome those obstacles and keep going?
In one of her best songs, "How I Got Over," Jackson sounds genuinely bewildered that she's made it this far. After all these years of stumbling and tumbling, she asks her god, "Tell me, Lord, how did I get over? You know, my soul looks back and wonders how I got over?"
Even in those versions where it's just her and a pianist, a rocking rhythm takes over, as if that syncopation were the secret to dislodging boulders from the path. When the stones roll away, that same pulse becomes a happy dance down the aisle of the church—or maybe down the golden carpet of heaven—as she sings, "I'm gonna wear a diamond garment in that New Jerusalem."
DeMent begins her song "Mahalia" with just her voice and piano too. But by the time she gets to the second verse, she celebrates her hillbilly Arkansas roots by bringing in a pedal steel guitar. "I hear you sing 'How I Got Over,'" DeMent sings, as if addressing Jackson, "and straight into my heart your voice lands. So I move in a little closer, 'cause you make me feel like I can." All of us—whether Baptist or Episcopalian, Jew or Muslim, agnostic or atheist—can get that same feeling from Jackson's singing.
On For Mahalia, with Love, James Brandon Lewis unleashes a sound on the tenor saxophone that resembles Jackson's voice. His horn emits a robust timbre that surrounds the melodic line with reverberating overtones. But as with Jackson, what Lewis does with that sound is what makes the music so gripping. When he opens "Swing Low, Sweet Chariot" with unaccompanied saxophone, he seems to be dueting with himself, playing the tune in a higher register and the swaggering beat in a lower register, jumping back and forth, rushing and braking to build tension.
When his terrific band, the Red Lily Quintet, joins him, the energy multiplies. Kirk Knuffke is the only other front-line musician, and the high-pitched, pinched sound of his cornet is the perfect foil for Lewis's wide-open, brawny tenor. But it's the rumbling rhythm section of bassist William Parker, cellist Chris Hoffman and drummer Chad Taylor that provides the album's propulsive momentum, never faltering during the familiar themes nor the dissonant detours.
The early pressings of the album come with a bonus disc called, These Are Soulful Days, Lewis's commissioned, chamber-music suite in four movements plus prologue and epilogue. Recorded live in Poland with the composer playing beside the Lutoslawski Quartet, the piece frames musical themes from the African-American tradition within the European string quartet format. "Movement III," for example, is an extended elaboration of Jackson's version of "Wade in the Water."
The muscular bottom end of the arrangements helps explain why Lewis built the Red Lily Quintet around the cello and double bass. The two string instruments vibrate with one another in mutually reinforcing ways.
Lewis, now 40, grew up in Buffalo on the stories his grandmother told about hearing Jackson in concert as a young girl. In the new album's liner notes, Lewis addresses Jackson in his mind, telling the late singer about his grandma's stories: "I could see in her eyes and hear from her voice that you had a deep impact on her life. Mahalia, you served as a model for folks like her on how one should live."
You can hear that personal connection in Lewis's playing on the album's final track, his arrangement of "Precious Lord, Take My Hand." It begins with the great yearning that Jackson brought to the song, as Lewis's sax and Knuffke's cornet stretch out notes as if reaching for a redeemer's hand. Before long, though, the rambunctious rhythm section infects the two horns, and soon the band is pushing with all its might against the stones in the pathway. Finally they "get over" into a calm oasis of peaceful satisfaction.
Jackson belonged to the Baptist Church all her life, but she admitted that she put her musical faith in the sanctified church down the street from her childhood home in New Orleans. In that holy-roller congregation, as the wild, push-and-pull music built to a climax, worshippers were apt to dance in the aisles, speak in tongues and fall out in ways that the middle-class Baptists didn't approve of. In her later career of concert halls and European tours, Jackson adopted the statuesque dignity of the Baptists on stage, but her voice always carried the voltage of the sanctified church.
Of course, New Orleans had its own Caribbean approach to rhythm that informed Jackson's habit of moving the beats to places her accompanists often couldn't anticipate. Born in 1911, Jackson grew up in the golden era of the blues empresses: Ma Rainey, Mamie Smith and especially Bessie Smith. By the time Jackson moved to Chicago as a teenager, she was singing with Bessie Smith's flatted fifths, slurred transitions and moaning asides. She could have easily followed in her hero's footsteps, but her religious faith wouldn't permit it.
So she entered the cutthroat competition of the gospel-music world instead with those blues inflections as her secret weapon. Dorsey's new sound was taking over in the '30s, and the composer's protegees such as Willie Mae Ford, Roberta Martin and Sallie Martin were the stars. In the early '40s, Jackson joined Dorsey's touring revue and traveled all over the country with him. By 1946, though, she was ready to go on her own and signed a contract with Apollo Records. By then, she had forged a partnership with pianist Mildred Falls, who had an uncanny knack for following Jackson's every improvisatory impulse and who became a crucial element in the singer's sound.
Jackson's work with Apollo from 1946 through 1954 represents the best studio recordings of her career. Her voice still had its youthful vibrancy and impish playfulness, and the New York label tailored the arrangements for Jackson's core audience: the urban congregations of America's Black churches. The results were thrilling, but they're not easy to find today. The label went out of business, and the recordings remain in legal limbo.
At the end of 1954, Jackson signed with Columbia Records, even then one of the world's biggest record labels. This move brought Jackson to a whole new audience and made her a rich woman. But the musical results weren't always successful, as Columbia encouraged her to record show tunes, semi-classical pieces and folk songs with orchestras and choirs. To be sure, there were sparkling moments, when her splendid instrument and savvy instincts clicked on a great hymn, but you had to hunt for the jewels amid the rhinestones.
On the other hand, her live performances with Mildred Falls were reliably great, and Columbia released terrific live albums from the 1958 Newport Folk Festival, from the 1961 European tour and from a 1967 concert at Lincoln Center. An even better Newport appearance, from 1957, is part of the rarities compilation, Moving on up a Little Highter. These are the best albums to start with.
And these recordings are well worth revisiting—or visiting for the first time. Questlove, DeMent and Lewis have reminded us that musicians may die, but their work doesn't. Mahalia Jackson's music has never gone away; it has merely been sleeping on old CDs and LPs, in modern music and video libraries, just waiting for us to wake it up. When it rises, it will have all its power and drama intact, able to reflect the worst of the world's troubles as well as the best of our overcoming.
Listen to our exclusive Mahalia Jackson performance at the Newport Jazz Festival in 1970: