Listen to Duke Ellington and Mahalia Jackson Unveil the First New Orleans Jazz Festival in 1970
Forty-eight years ago, George Wein established the long-running jazz fest with two legends in the twilights of their careers.
Photo: Getty Images
Music
Features
Duke Ellington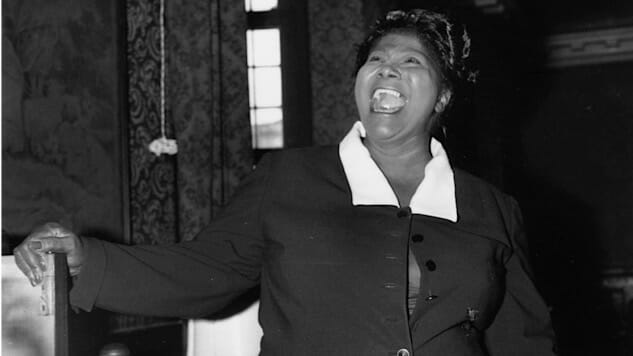 Did you know that Paste owns the world's largest collection of live music recordings? It's true! And what's even crazier, it's all free—hundreds of thousands of exclusive songs, concerts and videos that you can listen to and watch right here at Paste.com, from Lightnin' Hopkins to Cream to Eminem to Prince. Every day, we'll dig through the archive for the coolest recording we have from that date in history. Search and enjoy!
Get Free Access to the Vault With the Paste Music & Daytrotter Mobile App
In 1970, legendary jazz impresario and festival master George Wein helped produce the New Orleans Jazz Festival in conjunction with the New Orleans Jazz & Heritage Foundation. As the story goes (on the festival's official website), gospel legend Mahalia Jackson had returned to her hometown to appear at the festival, and while attending the Louisiana Heritage Fair in Congo Square (then known as Beauregard Square), she and Duke Ellington happened upon a brass band leading a parade of second-line revelers. Jackson sang along with the band and joined the march, creating the spirit of Jazz Fest. Nearly 50 years later, the New Orleans Jazz & Heritage Festival is still running strong, having expanded to 12 stages and widened its musical scope (Aerosmith, Rod Stewart and Jack White are among this year's headliners).
In 1970, Ellington, who was approaching the end of his life, was releasing collections of "suites" including The Far East Suite, New Orleans Suite and Latin American Suite. In this performance captured on April 25, 1970, the Ellington Orchestra swings through the Duke's prolific and eclectic catalog, playing some of his most famous tracks, including "C Jam Blues," Billy Strayhorn's "Take the A Train" and "Blues For New Orleans." For her part, Jackson performed a lengthier set of traditional gospel tunes, and spirituals. Like Ellington, Jackson was also in her final years, yet in this performance she maintains the deep and resonant voice that made her one of the greatest gospel singers. Listen to Jackson perform "How I Got Over" at the New Orleans Jazz Fest, a song that won her a posthumous Grammy award for Best Soul Gospel Performance in 1976 and that she performed before hundreds of thousands at Dr. Martin Luther King's March on Washington in 1963.
And here's Duke Ellington performing "Take the A Train," which he popularized with the Ellington Orchestra and included in his repertoire regularly.