Daytrotter Session - Jul 2, 2008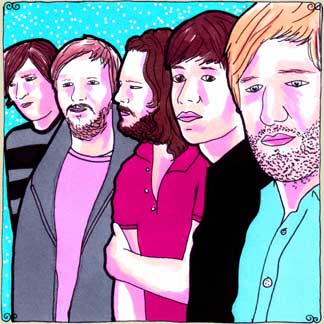 Welcome to Daytrotter
Knights
Ice Monster
Part 2
Throwin' Shapes
The part of coldness that's biting and not agreeable is the part that Seattle band Minus the Bear feels the most kinship with. It's a brotherhood pact that the group has formed with the bitter numbness of stiff Northern winds and whiteness that reduces most pious people into believers that there's no one out there looking out for any of us any more than they might be looking out for the slow-footed bunny rabbits and squirrels attempting to cross busy intersections. They take some of that nippy air in as if they were bringing some filtered tobacco smoke into their mouth and exhale it out with a calm release. The band just put out a new release entitled They Make Beer Commercials Like This and what that must mean is that there are supposed to be women and men tossing clever come-ons and pick-up lines to other men and women and there is supposed to be a general willingness by the majority of the male characters to lose all sensibility and tact to get their hands on the golden beers that they have so valiantly earned during a rough week and a hard day.
That would explain most beer commercials, but it doesn't have much bearing on the band's inner core. Here we are to offer a spoiler that Minus the Bear doesn't remind anyone of a beer commercial. They remind us of flowerbeds right around November and December, when they've already been mommies and sped forward to become empty nests in a short matter of months. They've felt the powerful surge of blooming birth and then had the pain of losing their children and themselves in that same piece of lifetime. Though if those flowers and plants are perennials, they're coming back and all of it is just the accepted nature of flora. It's a beautiful circle of life and yet, there those slightly dulled brown plots of fertile land sit, patiently waiting when they can get another chance to get green again and feel the dirty rain water soaking up through their root systems.
The acoustic versions of four songs from Planet of Ice that the band recorded here in Rock Island are slow burners that are as treated and ready to take a dip in as a wading pool sitting out on a July afternoon for five hours. They've somehow found a way to join the barrenness of cold weather and a sense of not just a thaw, but a complete meltdown that will still take a while to happen. It's like pulling up a lawn chair, having a little tailgate of little weenies, Tostitos and salsa and grape Fanta while watching those royal blue polar ice caps globally warm their ways into more ocean.
The sounds of the processions that the band makes are those of galloping sherbet meanderings and plush tones that go a long way in creating their mood, which is engaging in its usually unfamiliar wrapping paper. Jake Snider's vocals carry a scary ease to them that makes them stern and comforting as if they were written into a get well card, accompanying with some sleeping pills and an empathizing tonality. He helps make the landscape feel like a room that just seconds earlier was a bustling party scene – with streamers butterflying along the ceiling, the keg tap still warm from hands pressing on it and the coats still lying silently on the bed for the ride home. Seen now, it's just been left as if a bust had happened. Nothing's been cleaned up. It's just as is and a bedroom that once held two lovers is the same way, with a lump of still tepid covers lying on the mattress, but the people they were for are long gone, torn out of the scene.