Fried Eggs, Country Ham, Bullet Holes in the Mirrors and Neil Young's Somewhere Under the Rainbow
Photos by Gijsbert Hanekroot/Redferns
Music
Features
Neil Young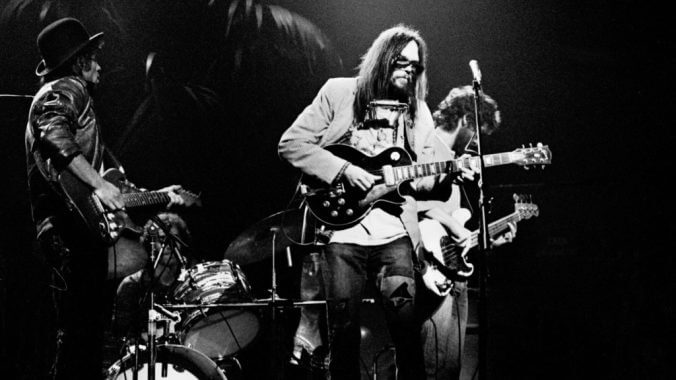 The first CD I ever bought with my own money was Neil Young's Greatest Hits, not Decade—the 1970s-spanning best-of—or Lucky Thirteen—the assembly of his David Geffen-era oddities. At 16 tracks, beginning with "Down by the River" and ending with "Harvest Moon," the disc chronicled all of the key commercial moments in Young's catalog. It was a good beginner's sampler; something to whet my young rock 'n' roll brain. After growing up on heavy doses of AC/DC and Aerosmith and Def Leppard and tinctures of Motown, disco and oldies, my curiosity spilled into obsession with singer/songwriter stuff: Bob Dylan, Joni Mitchell, Randy Newman, Warren Zevon and Young, a classic artillery of sharp tongues and thoughtful musings. When I got my driver's license in high school and began blowing all of my cash on jewel cases, that was when I finally became free, untethered from the chains of mainstream radio.
When I was a teenager and "Old Man" came on the radio in my father's car, he broke through the hard-hearted facade he often sported and said, "This song reminds me of your Papaw." He wasn't a big Neil Young fan, only, mildly, amiable to the classics. After my father lost his own father, our relationship—which was already on the rocks—stretched itself out too thin. We didn't talk about grief or loss. No, it was much more hostile or incompatible than that. But, for so long, Young's work was my gateway into healing. I could venture into one of his songs and find the answer I was looking for. But the surface-level stuff on that Greatest Hits compilation didn't get me far enough. Nowhere in sight is the tender, burdened "Thrasher" from Rust Never Sleeps, or the marauding grief ballad "Ambulance Blues" from On the Beach. Those cuts weren't deep or obscure, but they still required some digging.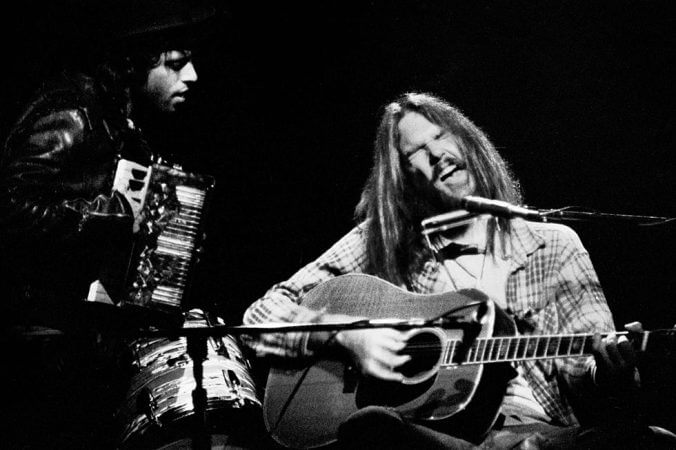 Of course, After the Gold Rush and Harvest are two of the greatest rock 'n' roll records ever crafted—and both have come to define the early-1970s in unparalleled ways—but Young's most-unsung-yet-triumphant offerings came in his "Ditch Trilogy": 1974's On the Beach and 1975's Tonight's the Night. They were recorded in the opposite order that they were released, and have come to define a low period in Young's life, where the intersecting catastrophe of death, grief and alienation became an unavoidable cache of songwriting.
I don't remember when I discovered Tonight's the Night, nor do I remember how listening to it for the first time made me feel. I'm sure I was put off by its deliberately jagged instrumentation and Young's heightened, piercing, nasally vocals. When I began to use his work as a vessel for my own closure with deaths that have lingered with me for years, I found "Tired Eyes" and "Mellow My Mind" and "Speakin' Out"—songs that had the space to hold all of the suffering I couldn't spare to carry anymore.
And after getting shelved for two years after it was written and recorded, Tonight's the Night was released in 1975 and was, immediately, unlike anything else Young had ever made up until that point. Fans understand it to be a record heavily influenced by the deaths of two men, Bruce Berry and Danny Whitten. Berry was a roadie for Crosby, Stills, Nash & Young, while Whitten was a founding member of Young's longtime backing band Crazy Horse, and both men died from drug overdoses within a year of each other in 1972 and 1973. The legend goes that most of the record was done live in one marathon night on August 26, 1973. On other nights, the band would show up to the rehearsal space at six in the evening, shoot some pool, drink tequila, smoke weed and vault their buzz into a big room full of couches and jam away with each other. Around the same time they were making Tonight's the Night, they took to the Corral Club in Topanga to play the songs at a gig where the Eagles and Joni Mitchell opened up for them.
Over the 60 years he's been making tunes, Young has performed with a number of backing bands under different names: The Bluenotes; The Stray Gators; Crazy Horse; The Shocking Pinks; Booker T. & the M.G.'s; Promise of the Real. In the last decade, Young's archival team has been putting out remastered live recordings and bootleg tapes featuring many of those players. Everything from Songs for Judy—solo performances from a brief 1976 tour—to Tuscaloosa—recordings from the Time Fades Away tour—to Noise & Flowers—a snapshot of Promise of the Real in Europe in 2019—have provided Young's most-devout followers with intimate looks at fleeting, once-lost moments in the singer/songwriter's career. For the recording of Tonight's the Night, he assembled a group of guys who played on After the Gold Rush and Harvest—Ben Keith, Nils Lofgren, Billy Talbot and Ralph Molina—and called them the Santa Monica Flyers. And, under the tutelage of Young's longtime producer David Briggs, the quintet began making a record in August 1973.
The latest bootleg tape from the Neil Young Archives, Somewhere Under the Rainbow, is only the second official full-length release from the Tonight's the Night tour (the first being Roxy: Tonight's the Night Live, which saw an official release in 2018 and saw the band christen the new Los Angeles club on its opening night). Recorded at the Rainbow Theatre in London on November 5, 1973, Somewhere Under the Rainbow is not a career-spanning album—songs from After the Gold Rush and Harvest were omitted—but a resurrection of odds and ends from the Young's first five years of solo work and tracks from an unreleased project no one had ever heard before. As a bonus, the record features "Human Highway," one of Young's most-beloved tunes, which he played live on-and-off for five years before it found a home on Comes a Time in 1978.
Somewhere Under the Rainbow begins just as Tonight's the Night does, with a rendition of the album's title track. After Young and the Flyers channel their harmonies together and sing about Berry, the crowd erupts into claps and hollers. The quintet—who all used to hang out at Young's house up in the California mountains and geeked out over Creedence Clearwater Revival together—were playing up their misery through a conceptual melodrama on-stage, in which no song would sound the same night-to-night and there was a shadow of gall in Young's back-and-forth with audiences. "Welcome to Miami Beach, ladies and gentleman," Young says to the Rainbow Theatre crowd, before blowing into his harmonica. Soon, the whole band, slowly, begins plucking away at "Mellow My Mind."
On a rainy Monday morning in March, I ring up Nils Lofgren—one of Young's oldest collaborators, whom Lofgren met when he was only 17 at the Cellar Door in Washington, D.C.—to talk about Somewhere Under the Rainbow. Immediately, he calls Tonight's the Night a "wake album for all our heroes and friends that started dying." On top of losing Berry and Whitten, the band wanted to honor Jimi Hendrix, Jim Morrison, Brian Jones and Janis Joplin in the only way they knew how: playing tunes together and taking them on the road. "It was a real shocking dive into the underworld after the '60s and love and peace," Lofgren says. "Human nature, there's always good and bad going on. But it was a real turn towards the darkness, and [Tonight's the Night] was a spectacular way, looking back, to cope with it through music. God bless Neil for coming up with the concept and idea. The way I saw it, he was doing it for himself and all of us. And it worked. It helped soothe the grief."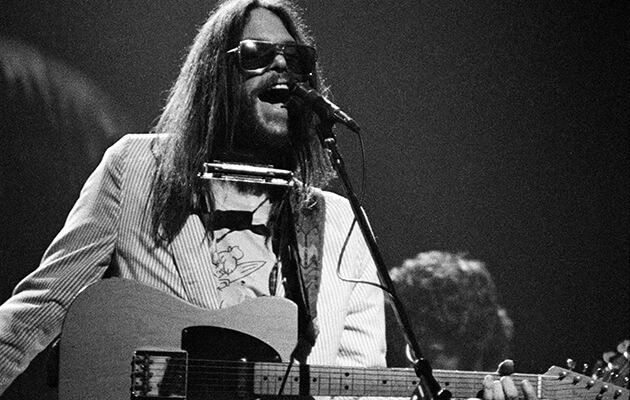 Young and the Flyers took to Studio Instrument Rentals in East Hollywood—a store owned by Ken Berry, Bruce's brother—to lay down some tracks after, as Lofgren put it, "knocking a hole in the wall to run all the cables." The layout of Tonight's the Night was extraordinary, because Young and Briggs wanted it to be an "anti-production record" where the focus became, in modern terms, an exercise in following vibes. "David said, 'We're going to do the songs live, but I don't even want you to learn the songs too well. And when Neil gets a vocal that he loves, we are not going to change the note. We're not going to fix anything, so stay down in it, because you never know when you're gonna get the take,'" Lofgren explains. For casual fans of Young's work, Tonight's the Night arrives much rawer and looser than anything else he'd made up until that point. And that was wholly the intention from the jump.
The Tonight's the Night tour was particularly rough around the edges, and not just because the songs that Young and the Flyers were road-testing were unworn and heavily improvised. The tour came barely a year after Harvest turned Young into one of the biggest rock stars in the world, and many folks in every audience came out to hear "Old Man," "Heart of Gold" and "Southern Man." But Young had a different vision, one that entailed the band playing the same songs every night in a dozen different ways. He encouraged his band to relentlessly follow wherever their instruments led them. "It was almost like jazz, we were improvising constantly," Lofgren adds. "But, with Neil's blessing, we surprised each other. We reacted to each other every moment, and I think that was the only way we could make music that distracted us and healed us." Fans were less than pleased, though, and you can hear that on Somewhere Under the Rainbow. Before they kick into "Tired Eyes," someone in the crowd yells "Rock 'n' Roll!" angrily at the band. But Young, ever the persistent showman who stuck to his guns, jabs back: "I'd love to go see some. Maybe later tonight."
Lofgren tells me a story about one of his favorite moments from the tour, when a "cantankerous crowd," as he calls it, really dug into Young about the setlist: "[They yelled]: 'Play ["Like a Hurricane"], play "Old Man," "Cinnamon Girl.' And, of course, the album started and ended with two different versions of 'Tonight's the Night.' So, Neil would come out, more than once, and say 'Okay, I'm gonna play something you've all heard before,' and the audience would go crazy, wondering what hit they were going to hear. And then we'd do a 15-minute version of 'Tonight's the Night,' because they'd heard it before: It was our opening number. I love the diabolical aspect of that."
But not every trick Young and the Flyers played on the crowds were copacetic. One night, an audience began throwing bottles at the band, which angered Young so much that he walked off-stage. "We were sitting there, playing, and then Briggs said, 'Hey, come on everybody.' We got off stage and Neil walked out, alone, with an acoustic guitar and started singing 'Helpless,'" Lofgren says. "The place went crazy and they were very happy to hear that." There's a famous photograph of the moment that came next, where Lofgren is playing his accordion while Young sings "Helpless," which came through a heat-of-the-moment idea from Briggs, who told Lofgren to get out there and play. "I had this tiny, funky accordion I started on in Chicago in the mid-1950s and hadn't touched the whole tour," he says. "David said, 'Put it on and walk out there and start playing.' I said, 'David, I can't do that. Neil's out there, everything's beautiful, you can hear a pin drop.'" After arguing with each other for a moment, Lofgren knew that, if he kept resisting, Briggs, who, like the band, was hopped up on tequila and weed, would only get angrier.
What came of that circumstance—of that cauldron of ire now boiled over—was a brilliant rendition of one of Young's most-beloved tunes, which he then used as a bartering chip with the crowd. "He said, 'All right, I'm glad you enjoyed that. Now, do you mind if I try to turn you on to what I was trying to play for you?'" Lofgren adds. "He challenged the audience, like, 'Hey, can you cut me a break and let me do what I want? I'm trying to play something I think you're gonna like.'" Over the course of Somewhere Under the Rainbow, you can hear folks yelling out songs. Before playing "Human Highway," a woman shouts for Young to play "Out On the Weekend," which he ignores by saying he's going to play "a new song that he wrote in Hawaii." After pausing for a moment to let some sparse claps ring in, he shouts: "Hey! Let's have a little sun on that palm!"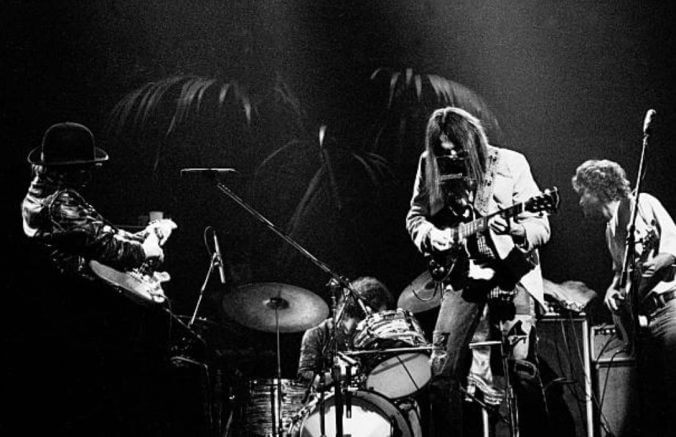 That palm—joined by 16-inch glitter boots nailed around the bell of Lofgren's piano—was on a riser and rigged up with a light bulb by the band's roadie, BJ. After playing through "World On a String," Young calls out: "Let's take a look at the palm tree. Come on, BJ, hit the light." You can't see him flick the switch, but you can hear the crowd react to it with a thunder of laughs. "Welcome to Miami Beach, ladies and gentleman. Everything is cheaper than it looks," Young says, before the band tumbles into "Speakin' Out." "It was a macabre way of dealing with a very depressing time and turn of events where you just try to find a mad humor in it," Lofgren adds. "It was like, 'Wow, life on life's terms. Let's really do something radical.' And then it was all radical, trying to turn an audience on to it, trying to go out with a record nobody ever heard when you got 100 songs they wanted to hear.'"
The "Welcome to Miami Beach" line has endured just as long as Tonight's the Night. It was a defining, recurring motif on the tour, as the band used theatricality and wit to combat the grief that came through their crossfaded nights on-stage. "I think it was a metaphor," Lofgren says. "'Here we are, these golden musicians in the heyday of music and a great scene in L.A. We feel like hot shit.' And, all of a sudden, we feel like dog shit, because everyone's dying around us." The band played every track off of Tonight's the Night, except for "Borrowed Tune," "Lookout Joe" and "Come on Baby Let's Go Downtown," the latter of which was a recording from Crazy Horse's legendary Fillmore East show in 1970. You can hear Whitten singing with Young on that track, so it makes sense that the Santa Monica Flyers opted out of recreating it three years later.
Somewhere Under the Rainbow is, in my opinion, one of the greatest artifacts that Young has ever released to the public. And how lucky we all are to have it now, forever. Lofgren specifically boasts about how the whole band "sang pretty damn good that show." After Young and the Flyers finish playing the Tonight's the Night tracks, they break out both the unsung and beloved gems. There's the Time Fades Away cut "Don't Be Denied," which the whole band fell in love with on the tour and Lofgren got to play the same upright piano he used on After the Gold Rush; there's the nine-minute, full-band avalanche of "Helpless"; the rendition of "Flying on the Ground is Wrong," a Buffalo Springfield track that Young penned in 1966 but Richie Furay originally sang lead on; the band striking up on the 12-minute finale of "Cowgirl in the Sand" to send everyone home.
The once-romantic lines, "But if crying and holding on / And flying on the ground is wrong / Then I'm sorry to let you down / But you're from my side of town / And I'll miss you," in "Flying on the Ground is Wrong" hit different in the context of Whitten's death, which came after he was booted from the Stray Gators right before Young's Harvest tour in November 1972 after struggling through rehearsals and never falling in-sync with the rest of the crew. Young gave him $50 and a ticket back home to Los Angeles from San Francisco. Whitten died less than 24 hours later from taking a combination of diazepam and alcohol. For years, Young blamed himself for his friend's death. Later on, he told Shakey author Jimmy McDonough that "Danny just wasn't happy. It just all came down on him. He was engulfed by this drug. That was too bad. Because Danny had a lot to give, boy. He was really good."
The songs of Tonight's the Night are the stars of Somewhere Under the Rainbow, however. Young calls "Albuquerque" a "very personal song," only to turn the track into a harmonica- and lap steel-heavy concerto. "Speakin' Out" is one of the show's strongest outings. In Young's bluesy, soul-inspired tune, he speaks of love for his then-partner Carrie Snodgress—who he'd separated from by the time Tonight's the Night hit shelves in 1975—and their newborn son Zeke. "I've been a searcher, I've been a fool / And I've been a long time comin' to you / I'm hopin' for your love to carry me through / You're holdin' my baby and I'm holdin' you / Yes, I am," he sings.
It's one thing to listen to Tonight's the Night and hear five men aching their way through an insurmountable heap of mortality and find it talismanic of your own headspace after losing a loved one; it is another thing to tune into Somewhere Under the Rainbow and find a portrait of those same men still ironing out their own misery. Perhaps that is why the songs can teach you how to make sense of deaths you cannot, or could not, prevent. As Lofgren put it, "it's life on life's time." Thus, if Tonight's the Night was the band's wake for Berry, Whitten and every other hero that left their orbit too soon, then Somewhere Under the Rainbow is the funeral they, sporadically, marched toward. And here we all are, half-a-century on and still returning to those songs in search of new ways to grieve.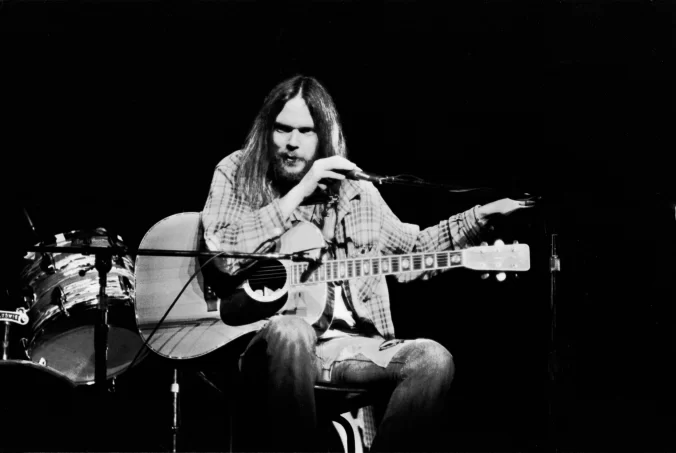 But, I think, what makes the Tonight's the Night tour so mythological 50 years later is due, in large part, to how few recordings there are of it. Young and the Flyers toured North America and Europe to close out 1973, but management notoriously didn't record any of those shows. We've gotten half-a-dozen different versions of Young playing acoustic sets after he released After the Gold Rush, but Somewhere Under the Rainbow and Roxy are all we have of this era, for now. All hope for more is not lost, however.
On TikTok in 2022, a video went viral from an account belonging to Flashbacks Hamilton, a record store in Ontario. The owner, Chad Silva, had come into possession of a rare bootleg recording of Young's "wet, cold and shivering" performance at McMaster University on October 28, 1973. The show was deemed a "practice concert" for Young and the Santa Monica Flyers before they jetted off to Europe and panned by the college's student newspaper's music critic Carol Ann Wilson. Lofgren's own band, Grin, served as the opening act that night. The previous owner of the tape, who remains anonymous, snuck a recorder into the concert and captured the whole set—which included the only renditions of "Journey Through the Past" and "Tell Me Why" to happen on that tour. By the time I reached out to Silva about listening to the tapes late last year, he'd already handed them over to Young's management. So, perhaps we will all get to hear those songs somewhere, one day.
Just like everyone has warmed up to Tonight's the Night and heralded it as a masterpiece in the near-50 years since its release, folks are also coming around to those once-doomed shows in 1973. Nowadays, when Lofgren returns to London to do acoustic shows at small theaters, he signs autographs and meets fans for an hour, or so, every night. And, without fail, at least one person comes up to him each time to make amends for what happened 50 years ago. "They'll say: 'Hey, Nils, I've always wanted to apologize, because I was one of the guys yelling for the hits on the Tonight's the Night tour. And, looking back now, it was one of the greatest shows I ever saw,'" Lofgren says.
Somewhere Under the Rainbow is not this great, revelatory unearthing of a performance that will change our opinions of Young as a songwriter or his ability to assemble a great backing band or what the Ditch Trilogy era was actually about. Young is notoriously hush-hush about all of that, electing to let the music say what's on his mind instead. But, in 1973, his feelings were never clearer. On the Somewhere Under the Rainbow version of "Tonight's the Night (Part II)," he spends the last four minutes delivering a drunken monologue about how CSNY once fired Berry for hawking one of David Crosby's guitars for drugs. As the song fades out, he's met with a deafening applause for the first time all night. "It was very therapeutic and healing to deal with the rage and the grief of people dying around us and not really having any tools at a young age to process that, and the tour became the tools to cope," Lofgren adds.
I think a lot about that day in my father's car, how "Old Man" reminded him of his own father, whom he had an imperfect, troubled relationship with—much like I do with him now. I wonder what he might think about Tonight's the Night and about how someone like Neil Young had the brass to get on the mic and work through a stroke of loss he couldn't outrun. Perhaps things would have been different for me and for him. I'd like to think the two of us—what we were meant to have together—could've been saved if he'd heard "Tired Eyes" like I had, at a time when we both needed it but only I found it. Then again, I'll never know. And, sometimes, I think that that is a fate worse than grief itself. "[We had] very revered musical heroes that you could count on being around forever, because, at that age, there were a million tomorrows ahead of us and it was fun to see where we'd all go. Nobody started thinking they're all gonna drop dead. [Tonight's the Night] was a project where, somehow, the music and the madness saved and healed us through the grief and the rage. And, looking back, it was 100 times better than going to a shrink for five hours a day," Lofgren says, quietly, with a faint chuckle.