10 New Albums to Stream Today
Photos by Rich Fury/Getty, Frazer Harrison/Getty, Theo Wargo/Getty
Music
Lists
New Albums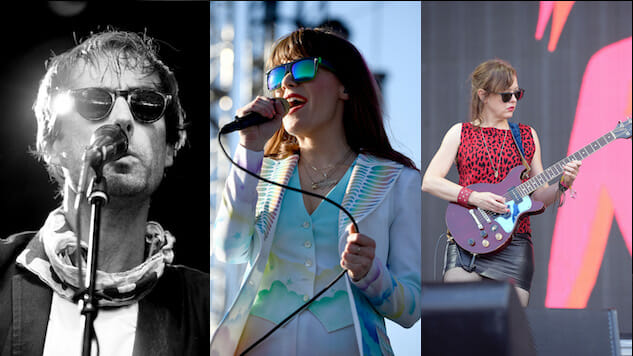 Here we are again, folks. Another week, another Friday overflowing with new releases. There's only so much time in the week to get through everything before the next crop of music lands on our plates, so we figured we'd save everyone the trouble and just toss the week's most exciting releases into a nice, convenient list for your listening pleasure. You know the drill. Here are 10 essential new albums to stream today.
---
1. American Football, American Football
The third self-titled record from American Football might not have the famous Urbana, Ill., house on the cover, but it's still got all the ingredients that make the post-rock quartet click. Spiraling guitars and math-rock-adjacent time signatures abound here to be sure, but there's also a new collaborative spirit to be found on the band's third record, with features from Elizabeth Powell, Rachel Goswell of Slowdive and Hayley Williams of Paramore.
2. Andrew Bird, My Finest Work Yet
Illinois songwriter and multi-instrumentalist Andrew Bird is back with his 12th solo album My Finest Work Yet, and it might actually live up to its name. These 10 new tracks find Bird doubling down on the heady folk storytelling that we've come to expect from him, but in a way that feels more immediate and of the moment than ever before. Check out our chat with Bird about the album here.
3. Avey Tare, Cows on Hourglass Pond
Animal Collective member Dave Portner's latest solo record as Avey Tare is perhaps his most lush and sonically ambitious release to date. However, the youthful experimentation on the surface of the album is in stark contrast to Portner's lyrical perspective here, which feels wiser, more experienced and at times more optimistic than his last few releases. The result is a fascinating and often perplexing series of musical vignettes that could only come from Avey Tare.
4. Duster, Capsule Losing Contact
The San Jose trio known for crafting droning lo-fi rock tunes with undeniable melodies are poised for a comeback this year after breaking up way back in 2000. It begins with Capsule Losing Contact, a 51-track monster that compiles the material from Duster's two full-length albums, 1998's Stratosphere and 2000's Contemporary Movement, as well as their three EPs and a handful of previously unreleased tracks, including "What You're Doing to Me" and "Faint."
Listen here or here.
5. Ex Hex, It's Real
Mary Timony and company have returned with the followup to 2014's Rips, It's Real. The five intervening years do not appear to have slowed the D.C. trio at all. Instead, they've returned brighter, faster, and all the more eager to dive into a wild guitar solo in the name of rock and good, clean fun.
6. Ibibio Sound Machine, Doko Mien
The third album from the London collective Ibibio Sound Machine is here, and it's incredible. The eight-piece band effortlessly blend the sounds of West African funk and disco with modern U.K. electro, and the resulting songs are infectious to the extreme. Doko Mien is no different and features some of the collective's most exhilarating work, like the lead singles "Basquiat" and "Tell Me (Doko Mien)."
7. Jenny Lewis, On The Line
Indie idol and former Rilo Kiley frontwoman Jenny Lewis has released her third solo album, titled On the Line. It's a masterful and sprawling record, sometimes devastating and other times soaring to great emotional heights. Lewis manages to convey a complete portrait of herself as an artist who has been through the gauntlet of rock stardom and made it to the other side vibrantly, loudly alive.
8. Nilüfer Yanya, Miss Universe
Fans have been anticipating the debut album from British songwriter Nilüfer Yanya since 2016, when she first made a splash with the idiosyncratic singles "Small Crimes" and "Keep on Calling." Miss Universe delivers on the promise made by those early releases, with 17 tracks of bright, soulful pop that's like nothing else you'll hear this year.
9. Orville Peck, Pony
The debut album from masked cowboy Orville Peck is a gauzy, pastoral journey through love and loss that blends shoegaze production with timeless country songwriting. It's hard not to imagine a tumbleweedor two rolling by as Peck moves from song to song, effortlessly capturing the sounds, landscapes and relationships of the American countryside from a fresh new perspective.
10. Strand of Oaks, Eraserland
Philly-based folk-rock songwriter Tim Showalter has released his seventh full-length album as Strand of Oaks, Eraserland. The new album finds Showalter grappling with the spiritual and emotional concerns of growing older, all with a backdrop of maximalist and often breathtaking rock production.