Best New Albums: This Week's Records to Stream
Featuring The National, yeule, Kylie Minogue & more
Music
Lists
New Albums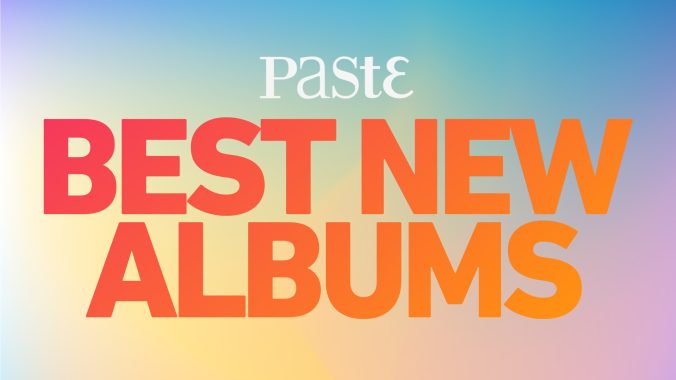 Paste is the place to kick off each and every New Music Friday. We follow our regular roundups of the best new songs by highlighting the most compelling new records you need to hear. Find the best albums of the week below, from priority picks to honorable mentions.
---
ALBUM OF THE WEEK | The National: Laugh Track
Laugh Track is a companion piece to the National's other 2023 album, First Two Pages of Frankenstein, sure, but it stands on its own. I think it's become rather difficult to put out two records in one year—and I have to wonder if the stigma around leftovers and B-sides is what's pushing most artists who aren't Taylor Swift or Big Thief to stray from the temptation of double-dipping. Thankfully, The National are immune to such a cultural deficiency; Laugh Track registers like a selection of tunes that, just maybe, should have been released first—that's how good they are.
Bryan Devendorf's percussion emphasizes the throughlines of anxiety and forlorn across Laugh Track, especially on songs like "Turn Off the House" and "Space Invader." His drum work on "Deep End (Paul's in Pieces)," in particular, sounds like the technique he was embellishing on "Don't Swallow the Cap" 10 years ago—which is a delight to become privy to as, in those moments, it's as if the hushed arrangements of I Am Easy to Find couldn't have been more of a one-off anomaly in the band's catalog. "Turn Off the House" merges a hybrid of High Violet and Sleep Well Beast acoustic and string instrumentation with the lyrical deftness of a contemporary, internal cruelty. "Full body gentle shutdown, so many people to let down," Matt Berninger hums. "Don't even think about me." It's a standout among standouts, a track that arrives like an admixture of "Green Gloves" and "Quiet Light"—a formula that I will, admittedly, always feel beholden to.
Laugh Track is a close-knit record, if only because the people hurt within it are never too far out of reach from everyone else. It's hard to channel that kind of withdrawal into a work of spitting, caustic, uproarious melody—though a song like "Smoke Detector" is a good reminder of where the band came from, and it might be a signal as to where they're heading next. But there's so much despair and lonesomeness and erosion articulated through various depictions of interpersonal and self-destruction on Laugh Track that an old line like "I'm put together, but beautifully" has never felt more apocryphal. —Matt Mitchell [Read our full review]
Al Menne: Freak Accident
It may be easy—and a bit obvious—but I can't really start anywhere but the beginning when delving into Freak Accident. "Kill Me Now," the first album's first single and opening track, is the kind of song that's difficult to write about without sounding effusive to the point of fanaticism. For a burgeoning songwriter like Menne to write such an affecting, tightly-wound, and captivating song is a feat difficult to overstate. That isn't to say this is coming completely out of nowhere; it's true Menne was not the primary songwriter force behind Great Grandpa, but their lyricism and incredible sense of melody are all over Four Of Arrows.
In particular, "Bloom" remains one of the best songs the band ever wrote—and Menne's way with words is a primary reason why. "I get anxious on the weekend when it feels like I'm wasting time, then I think about Tom Petty who wrote his best songs when he was 39," is a lyric I think about a lot when stuck in a spiral of self-loathing and misplaced anxiety. "Kill Me" is a similarly astute look at the throes of helpless attraction, taking the question "Do you remember sayin' it scared you to death to know how much I love you?" and thinly spreading it over months of pain and confusion. They sing a lot about the desire to be understood and accepted on Freak Accident (that name itself arriving as a play on the isolation they felt growing up as a trans person), and does so with such a disarming grace that invokes an incredible amount of pathos. "And I wonder if she knows those little parts of me?" Menne asks on "Beth," during a scene that's almost unbearably intimate. "There's joy in the pain of bein' alone, when nobody knows you the way that you need them to," goes "Kill Me." —Sean Fennell [Read our full review]
Another Michael: Wishes to Fulfill
The first of two albums that will be released within six months of each other, Wishes to Fulfill is Another Michael at their very best. What they accomplished on their debut, New Music and Big Pop, two years ago gets hammed up even more so here, as Michael Doherty and Nick Sebastiano continue to prove that they are one of the most charming and talented and graceful duos in all of indie rock. Between Doherty's stirring falsetto and Sebastiano's pristine production choices, Wishes to Fulfill is an amalgam worth untangling over and over. Songs like "Baseball Player" and "Angel" are definitive earworms, while other standouts like "Piano Lessons" and "Candle" continue to establish the duo's sound with endearing, bright and rich storytelling merged with fluttering, buoyant instrumentation. Suffice to say, we can't wait for Pick Me Up, Turn Me Upside Down next year. —MM
CHAI: CHAI
The eponymous fourth album from the Tokyo pink-punk and pop quartet, CHAI is hypnotizing and raked in catchiness. Between MANA's vocals and key-playing, KANA's slick guitar work and the rhythm and percussion duo of YUUKI and YUNA on bass and drums, CHAI are at the height of their powers here—delivering anthems on empowerment and rebelling against the oppressive restrictions of Neo Kawaii. Songs like "PARA PARA" AND "We The Female!" are massive tracks, while the even more sublime, held-back chapters like "I Can't Organizeeee" and "KARAOKE" are just as rewarding and vibrant. With employment of everything from boogie to city pop to disco to J-pop to funk, CHAI is a daring pastiche of everything CHAI does best. It's a living moodboard, packed to the brim with hits that solidify the foursome as one of the best—if not the very best—Japanese pop bands working right now. —MM
Devendra Banhart: Flying Wig
Devendra Banhart's 11th studio album—and Mexican Summer debut—is no short of a masterwork. It's the Venezuelan-American singer/songwriter's most intricate and beautiful collection yet, which I imagine has much to do with Cate Le Bon's production work. You can hear tastes of her 2022 masterpiece Pompeii on tracks like "Fireflies" and "Sirens," as there's a strong post-modern synthesizer influence being pulled out of every crack of this record. Songs like "Twin" and "Nun" are brooding yet glamorous, as Banahrt's soulful croons pair nicely with the spacious, crystalline melodies and shimmering arrangements. How a record that is so patient and economical can sound this dense is a feat I'll never quite understand—but I'm happy, and eager, to continue living within it and absorbing these tracks. The vibes are relentless, and Banhart is the taste-maker on Flying Wig. —MM
Kylie Minogue: Tension
"Padam Padam" is Tension's glimmering thesis statement—a bouncy cut under three minutes that recounts a sultry dance floor encounter and the possibilities it presents. For Kylie, the act of pursuing her pleasure is a source of pleasure itself: What's better than the unique high of slyly detecting that the subject of your lust mirrors that desire? She follows up the hit with "Hold On To Now," which reveals the other pillar of her argument: Live in the now. The album's title track, which sounds like a second cousin to Dom Dolla and Nelly Furtado's recent hit "Eat Your Man,", is a far more naked display of sexual pleasure: "Oh, my God, touch me right there / Almost there, touch me right there / Don't be shy, I don't bite / You know where, touch me right.." "One More Time" has a similar disco-leaning approach, with intricate layers, including more house keys that threaten to overpower her voice but ultimately let her maintain the limelight.
"Green Light" begins at a gentle allegro, promising her counterpart that she can facilitate euphoria once she gets the signal. The jazzy production and occasional croons from the saxophone let the song rest in tasteful territory, presenting a cute—if not tame—saxophone solo in the middle. Tension's closer, "Story," is a fast-paced highlight, showcasing Kylie's uppermost vocal range—a toe-tapper that fades gently but swiftly like a lead actor's bow. Tension delivers what she does best: a campaign speech on behalf of pleasure and its pursuit, with an electro-pop shine that delivers dopamine hit after dopamine hit. Now 35 years and 16 albums into a music career, she does not need to reinvent the wheel; if anything, she already did that herself with Impossible Princess and Fever. It's clear that Tension has renewed global interest in Kylie's work across generations, with veteran fans and TikTok teens alike singing along and rediscovering her offerings. There is plenty of material for the club to cycle through, and one can expect that the album cuts will gain a new vitality on the dance floor, too. Kylie Minogue has found her pleasure, and she's ready for her listeners to find it, too. —Devon Chodzin [Read our full review]
Laurel Halo: Atlas
The sixth studio album from LA songwriter Laurel Halo is my favorite ambient record of the year so far. In terms of pastiches, Atlas transcends that—it's a suite of brilliant vibes and small, alluring details. Halo composed all of the music and played a bevy of instruments—including piano, vibraphone and violin—and her work is a subconscious dreamscape of unmatched primitivity. Many of these songs, especially "Belleville" and "Earthbound," are soothing and impressionable, arriving like a soundtrack score that has no interest in blending with the background. The brashness of a track like "Abandon" or "Reading the Air" circumvent all splendidness in favor of brooding undertows of dense instrumentation. The work on Atlas is heavy and immersive, solidifying Halo as one of our key electronic practitioners. —MM
Lydia Loveless: Nothing's Gonna Stand in My Way Again
Loveless has learned a few things since Indestructible Machine, many of which inform the singer's latest album. Nothing's Gonna Stand in My Way Again shows how they have become more thoughtful as a songwriter. She could always write a hook—see "Learn to Say No," among plenty of other earlier tunes—but Loveless now is a smarter, subtler lyricist who hasn't lost any of the candor that made her so compelling in the first place. On the new album, their fifth full-length, they apply those skills to 10 songs featuring searing self-assessments, but also a measure of compassion that wasn't always there in the past. These songs stem from the isolation Loveless felt during the pandemic, the anguish caused by a breakup in the middle of all that and a return to Columbus after a stretch living in North Carolina. Accordingly, Nothing's Gonna Stand in My Way Again reflects a sense of starting over, combined with the resilience and determination of a performer who's been forging a path basically since the start (or at least since Loveless created some distance between themselves and their overly slick 2010 album, The Only Man, which came out when they were 19).
It's not just what Loveless sings on these tracks, but how they sing it. The musical palette here is more expansive than the flame-thrower alt-country of Loveless' earlier work, and they use their voice in a way that complements the song rather than dominating it. "Poor Boy" has a surging alt-pop sound thanks to clanging piano, layers of wordless vocal harmonies and a gritty guitar break, while Loveless' vocals ride atop waves of guitar on the catchy rocker "Sex and Money." They still bring the heat when they let their voice ring on the chorus of "Toothache," but there's an element of restraint in the singer's downhearted murmurs on "Runaway." Album closer "Summerlong" pares all the way down to melancholy piano, and the power of her voice here comes from the way she pulls it back from the brink, even as her heart falls over the edge. If it's true that Lydia Loveless' jets are starting to cool, Nothing's Gonna Stand in My Way Again shows that their music still throws off plenty of heat. —Eric R. Danton [Read our full review and our full feature]
Slaughter Beach, Dog: Crying, Laughing, Waving, Smiling
On Crying, Laughing, Waving, Smiling, Slaughter Beach, Dog start on the outside of something and doesn't really try to get inside—instead, they meander around out there, seeing what they can find and, from time to time, peering in through the glass. The first single—and the album's second track—"Strange Weather," sets up this seeking early. "How am I still unsure?" Ewald questions, across an upbeat arrangement laced with rounds of percussion and scratchy, quietly moody guitar instrumentation reminiscent of Abbey Road-era Beatles. There's a sense of drifting across the album, a soft indie-rock escapade through city streets, small towns and diners. The songs are full of Americana imagery and richly detailed scenes vivid enough to take in—and taking them in feels incredibly easy when the music has such a gliding, soaring quality. "Engine" is one of the clearest examples—an easygoing but troubled odyssey through the desert, the woods, bars and a family reunion—as it boasts such an even-keeled rhythm of soft taps and drum beats, so much so that you might not even notice that it's nearly nine minutes long. A confession, "The truth is I live to roll over," tips the second half of the song into a long, brooding instrumental—mirroring the first four minutes in affect but with more friction seeping into prolonged electric guitar riffs.
For an album with such a relaxed, shade-dappled feel, the lyrics make up something almost surprisingly restless. On "Strange Weather," it's "I don't wanna think about you anymore"; on "Summer Windows," it's "I wish that I could tell you what I'm thinking about." But, by "Easter," this searching resolves into something that does indeed feel like death—or, at the very least, a dream. Guided along by steady guitar strums and lullaby-gentle vocals, the divine finds its way into Americana here, in a trombone, in an offering of potluck casserole, on a black sand beach. There's no attempt to communicate through words on Crying, Laughing, Waving, Smiling, so nothing can fall short. Across these songs, love is something felt through someone's presence next to you: reading a sign, their hand on a drink next to your own. That's what these lovers and characters are maybe feeling, and that's the wordlessness these songs offer: a quick spotlight of how simple it looks, watching them watching the big wheel. —Laura Dzubay [Read our full review]
yeule: Softscars
Big and bold and vibrant and inhuman are good descriptors for Singaporean glitch pop singer/songwriter yeule's newest record, Softscars. At 12 tracks that never meander or stall, the project builds upon the masterwork of their 2022 album Glitch Princess. It's impossible to understate how good Softscars is—as songs like "sulky baby" and the title track are absolutely bonkers, beautiful and hypnotic. And a song like "dazies" proves yeule even has some interests that dip into shoegaze and alt-rock, too. There's a tangible reclamation of grief and trauma across the record, as yeule slides across octaves and pitches, combing through autotune and glitch melodies with palpable and generous grace. The work here is evidence that yeule is one of our next great rock stars—surpassing the work of their predecessors, like Grimes, with ease. There's no real other way of saying it: yeule is the past, present and future all rolled into one barrier-obliterating voice. —MM
Other Notable Albums Out This Week: Arkells, Laundry Pile; Duffy x Uhlmann, Doubles; Flat Worms, Witness Marks; Jenny Owens Young, Avalanche; Kevin Drew, Aging; Loraine James, Gentle Confrontation; Patio, Collection; Petey, USA; Stephen Sanchez, Angel Face; Teenage Fanclub, Nothing Lasts Forever; Will Butler + Sister Squares, Will Butler + Sister Squares