Nick Cave's Ghosteen Is a Devastating Meditation on Loss and Survival
The goth legend returns with his first album written in full in the aftermath of his son's death in 2015
Music
Reviews
Nick Cave & The Bad Seeds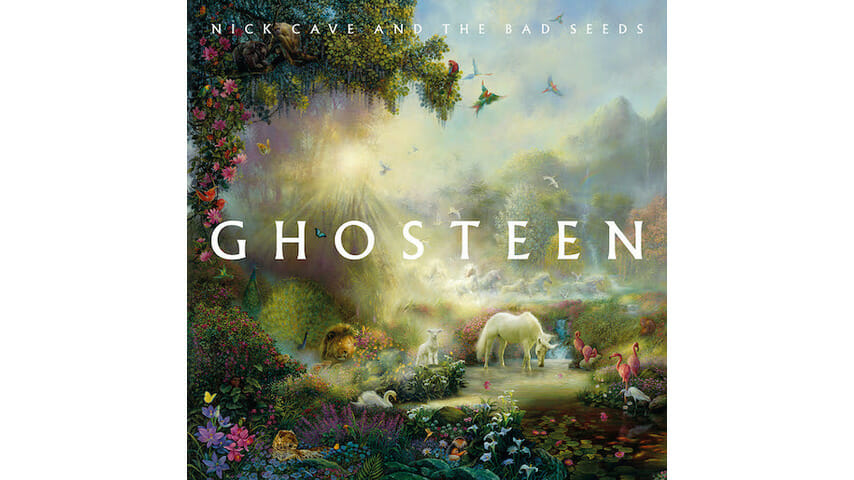 Grief transforms you. It rearranges molecules, builds them anew. Its power is such that it "occupies the core of our being and extends through our fingers to the limits of the universe," as Nick Cave wrote in a 2018 edition of his email newsletter. "Within that whirling gyre all manner of madnesses exist: ghosts and spirits and dream visitations, and everything else that we, in our anguish, will into existence."
It has undoubtedly transformed Cave. In 2014, the musician's legacy seemed fairly settled: A godfather-of-goth lifetime badge, his mid-career pivot into romantic balladry, the late-career rebirth as mustachioed preacher of Grinderman sleaze, his legendary prickliness around critics and fans. Cave's best songs often seemed to occupy distinct characters or guises—the death-row inmate ("The Mercy Seat"), the sinister raconteur ("Red Right Hand"), the blues-slinging incel buffoon ("No Pussy Blues")—yet since the devastating loss of his 15-year-old son, Arthur, in 2015, Cave himself has been stripped bare. He has, to quote a phrase from "Jubilee Street," been transformed. In his music—and his increasing desire to communicate directly with fans, both through the newsletter and his unmoderated Q&A events—the artist conveys the enormity of his grief with surrealist wisdom and brutal candor. Ghosteen, Cave's devastating new double album, is the culmination of that transformation.
Across two discs and several marathon-length pieces, Ghosteen is a wrenching dispatch from that grief-borne state where "all manner of madnesses" exist, set to analog synthesizers and heavenly choirs of voices. At times, Cave seems driven mad with longing: During the ambient hymn of "The Spinning Song," he repeats the words "Peace will come / Peace will come" while slipping into a near-unrecognizable falsetto. Elsewhere, he regales us with visions of ships, galloping creatures ("Bright Horses") and a "spiral of children" ascending upward towards the sun (the central imagery of the unbearably lovely "Sun Forest")—all images that evoke a sense of freedom and release. (In introducing the album, Cave described it as "a migrating spirit").
Often, listening to Ghosteen feels like attending a surreal, freewheeling wake. The singer alludes to the specifics of his loss more plainly (and with more room for hope) than on 2016's Skeleton Tree, which was released in the confounding aftermath of the trauma but had been largely written beforehand. On the astonishing "Night Raid," he eulogizes his departed child with wry and gravelly humor ("You were a runaway flake of snow / You were skinny and white as a wafer, yeah I know") over Gamelan synths that ring out like funeral bells.
Such material might turn mawkish in the hands of a lesser writer, or a more traditional arrangement. Fortunately, not a note of Ghosteen can be described as traditional. Cave's 1997 masterpiece, The Boatman's Call, set a template for the singer's spare, confessional mode. On both Ghosteen and Skeleton Tree, Cave rips up that piano-ballad template in favor of drifting, ambient blankets of sound created in close collaboration with Bad Seed colleague Warren Ellis. Ghosteen draws on Cave and Ellis's extensive film-scoring work more clearly than any other album in the Bad Seeds' canon. (Though credited to Cave & The Bad Seeds, it feels like a full-band effort in name only.)
Many passages sound like incidental music for a science-fiction film, which is appropriate, given that so much of the album feels like it inhabits what Joan Didion has described as the grief-inspired mindset of "magical thinking." Little details, such as the rising and falling vocal swells of "Ghosteen Speaks" and the brief, hymn-like coda of "Sun Forest," have an immense effect within this heightened emotional state.
Ghosteen is packaged as a double LP, though at 68 minutes, it's not much longer than No More Shall We Part. The second disc contains just three tracks, two of them surging well past the 10-minute mark. "Ghosteen" is a delirious, dream-state epic encompassing vast, cinematic synths and a fable about bears before arriving at its sad, learned wisdom: "There's nothing wrong with loving things / That cannot even stand." The 14-minute finale, "Hollywood," is longer and a bit dodgier, as Cave conjoins a brooding series of verses about his family's post-trauma escape to Los Angeles with a retelling of a Buddhist legend involving a woman who went mad with sorrow following the loss of her child. These two parts may have been better served as two distinct songs.
In the legend—and song—the woman finds some measure of comfort in the revelation that every house in her village has also experienced loss. Cave's decision to deliver this story in a falsetto-laced voice far above his register is somewhat bewildering, but his ultimate conclusion—that "everybody's losing somebody"—is deeply sound. It echoes an interview he gave to MOJO in 2017, in which he exclaimed that there are "a lot of grievers out there." Cave's radical openness has brought him into conversation and solidarity with this global community of people who have lost and who continue to live. For such people, Ghosteen is a sweeping and remarkable gift.