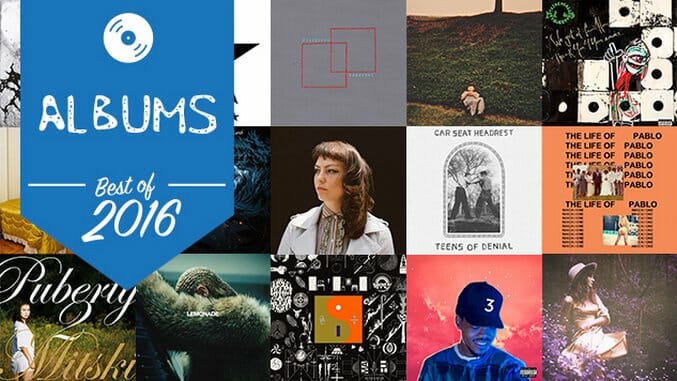 In addition to its dreadful international crises and politics, 2016 has been harsh for musicians. Some of music's greatest icons—including Prince, David Bowie, Leon Russell and Leonard Cohen—departed this earthly plane in 2016, but not before leaving us with legendary last words. Still, throughout a tumultuous year, musicians served as commentators and activists, while also providing respite and escapism through their works. Paste staffers, writers and interns voted on the best, most meaningful, and relevant albums of 2016, yielding nominations for more than 100 LPs. And you can win 25 of these albums on vinyl when you sign up for the free Paste email newsletter.
Here are our top 50 albums of the year, and we hope you'll share your favorites in the comments below.
50. Courtney Marie Andrews, Honest Life
Plenty of vocalists can sing with power, and some can sing with convincing subtlety. There aren't very many who can do both in the same breath. Courtney Marie Andrews is one of those rare artists. Though Honest Life is technically Andrews' sixth album, she has withdrawn the first three, so these 10 new songs are likely to serve as an introduction. They make a hell of a first impression, too. Andrews sings with the knowing air of someone who has seen a lot of life, and the quiet optimism of someone who knows there's so much more yet to see. It's a powerful blend on songs about itinerant lives, fragile hearts and the steady determination of people searching for something they themselves would likely be hard-pressed to name. Alongside her quietly picked acoustic guitar, the songs on Honest Life comprise an album at once elegant and deeply moving. —Eric R. Danton
49. Fruit Bats, Absolute Loser
Though it sounds perfectly natural in the line of succession of Fruit Bats albums, it's the five-year hiatus preceding Absolute Loser that makes all the difference. That album, as cohesive and strong top to bottom as anything frontman Eric D. Johnson has made, gathers its sense of purpose from the sort of self-reflection and search for meaning that caused Johnson to put Fruit Bats on the shelf after 2011's Tripper. But Absolute Loser unfolds as a rock-solid example of what Johnson has done best for more than 15 years. Although the album stacks more of its mellower songs toward the end—trading some of the enthusiastic spirit Johnson brings to Fruit Bats' return for a finale that sounds thoroughly peaceful—in the end, anyone who's tapped feet or nodded along to Fruit Bats in the past will find plenty to embrace with this new batch of familiar, comfortable tunes. —Eric Swedlund

48. Drive-by Truckers, American Band
American Band is not a bashful album. As a collection of songs, it's not quite as effective as Southern Rock Opera or The Dirty South. But as a political statement, it's easily the Drive-by Truckers' most emphatic work. "What It Means" takes a subdued approach to the subject of African-Americans killed at the hands of police (or, in the case of Martin, a vigilante cop-wannabe). "Darkened Flags on the Cusp of Dawn" is the brawny flipside, full of the growling, intertwined guitars that have become something of a Truckers signature over the years. Singer Patterson Hood mostly handles the downhearted tunes, singing from the perspective of a military veteran wounded as a civilian by an act of domestic terrorism on the moody "Guns of Umpqua," sighing in the gloom over a gentle piano phrase on "When the Sun Don't Shine" and parsing his own struggles with depression on "Baggage," written after Robin Williams committed suicide. Although the songs on American Band are arguably not the band's catchiest, it's a body of work that is starting to feel increasingly essential as the American political landscape gets more and more surreal. —Eric R. Danton
47. St. Paul & The Broken Bones, Sea Of Noise
While Sea Of Noise—the follow-up to their widely hailed debut, 2014 's Half The City—doesn't shirk from offering commentary on society's failings, it doesn't revel in them either. To the contrary, it attempts to rally its listeners to a higher calling where intelligence and inspiration take precedence over name-calling and accusations. Singer and frontman Paul Janeway exhorts his listeners to find that higher purpose that great music strives to attain. Like another of soul music's revered roots, the rousing gospel sounds that gave congregations reason to look heavenward, St. Paul & The Broken Bones use their effusive, ecstatic revelry to rouse their audiences and encourage them to get caught up in a kind of aural delirium. —Lee Zimmerman
46. Hamilton Leithauser + Rostam, I Had A Dream That You Were Mine
Hamilton Leithauser, former frontman for The Walkmen, and his new musical partner Rostam Batmanglij (ex-Vampire Weekend) have achieved something increasingly rare in the indie rock landscape on their first fully collaborative album. The 10 tracks on I Had A Dream That You Were Mine use small signposts that point to music of the past without fully devolving into pure pastiche. Although both men had day jobs playing various strains of post-punk, together their baseline is the much broader idea of pop music, plain and simple. At least how pop music was created in the '60s and '70s. It allows them to gild the edges of these songs with the "sha-dooby" backing vocals of doo-wop, some Dylanesque harmonica ramblin', finger-picked acoustic guitar a la Leonard Cohen's early work, and some U.K.-style folk rock. Again, those elements are only signifiers, a way for fellow music obsessives to latch on to a song before Leithauser and Rostam take you on a much different journey. —Robert Ham
45. Hiss Golden Messenger, Heart Like a Levee
M.C. Taylor's sixth album as Hiss Golden Messenger is arguably his best. While 2013's Haw served as the band's initial breakthrough and 2014's Lateness of Dancers brought about late night revelry (featuring Sylvan Esso's Amelia Meath and Reggie Pace from No BS! Brass Band) on Letterman, Heart Like A Levee serves as a deeper incarnation of those predecessors. The album is steeped in the duality of leaving one of his greatest loves in life—his family—only to venture off into the world to embrace his other love—music—and exemplified in the gutting title track and "Cracked Windshield." Yet, Heart Like A Levee reconciles with a singular musicality. Multi-instrumentalists and brothers Phil and Brad Cook have finally perfected the Hiss Golden Messenger sound by balancing the meandering guitar noodling and reverberating Wurlitzers worthy of a jam band breakdown with Taylor's acoustic Americana foundation. —Hilary Saunders
44. The Coathangers, Nosebleed Weekend
The Coathangers' transition from raw to razor-sharp was essentially complete by 2014's Suck My Shirt, but Nosebleed Weekend displays an even greater capacity for churning out maniacally captivating tunes. On this fifth album, The Coathangers haven't compromised a bit of the defiant edge that made the band such subversively charming rookies. Only now, 10 years in, The Coathangers have everything nailed down tight enough to withstand a hurricane.
The Coathangers have always been barbed with stay-out-of-my-way put-downs, but they also open up the lyrical themes on Nosebleed Weekend. The self-reliant streak shows up stronger than ever, aided by experience and The Coathangers' continued dedication to making music their own way. And musically the record is more also complex. The Coathangers know how to employ these more dynamic song structures to maximum effect. And though they're just as snarling as ever, The Coathangers find balance by ceding a bit more emphasis to the melodic side. Overall, Nosebleed Weekend The Coathangers' strongest top-to-bottom album and one that proves the band can maintain its essence as it evolves. —Eric Swedlund
43. Charles Bradley, Changes
Charles Bradley is a soul survivor who came up the hard way, scratching out every break he ever got through a combination of working his tail off and perseverance. You can hear it in his voice, a magnificent, gravelly shriek that retains traces of the James Brown impersonation he used to do under the name Black Velvet. By now, at age 67, that electrifying voice has definitely become its own thing, and he inhabits the songs on his new album as if he lived them. And on Changes, his third album, Bradley draws on recent experiences traveling around the world to perform, as well as more standard soul tropes of love and heartache. He sounds humble and grateful on "Good to Be Back Home," bemusedly lovelorn on "Crazy for Your Love" and vexed on "Ain't It a Sin," a bone-rattling boogie tune propelled by choogling guitar, blaring horns and rapid handclaps. But the improbable centerpiece of the album, though, is the title track, a reworking of a mawkish Black Sabbath piano ballad from the group's 1972 album Vol. 4. Bradley turns the tune into a deeply soulful tribute to his late mother, with tremolo guitar taking over the piano part and accompaniment from low horns, the gentle burble of a Hammond organ and a solid, subtle rhythm. —Eric R. Danton
42. Jenny Hval, Blood Bitch
Jenny Hval has never shied away from the taboo. That much was clear on the opening track to 2013's Innocence Is Kinky, where the Norwegian avant-pop artist utters "That night, I watched people fucking on my computer," placing special emphasis on the verb. She has likewise asked "What is soft dick rock?" before moving on to define it on 2015's Apocalypse, girl. Hval keeps intellectualizing the body on the still atmospheric but considerably poppier Blood Bitch, which throbs with references to menstrual blood, vampires and '70s horror films, subjects that repeatedly get woven together in a dreamy stream of consciousness. On the spare, scrawling "Untamed Region," Hval actually touches her menses and feels surprised "to find I still have it in me." The haunted, organ-laced "The Plague" absurdly instructs, "keep that birth under control!" after Hval washes the Pill down with a gulp of rosé. And album single "Female Vampire" breathlessly captures two women's flows synching up ("When I'm near you become someone else… Here it comes"). Set against noise producer Lasse Marhaug and Hval's pensive yet buoyant soundscape, Blood Bitch succeeds in taking its singer's free, er, flowing ideas to new, grander heights. —Rachel Brodsky
41. Margaret Glaspy, Emotions and Math
Emotions and Math is the moody, indie rock debut from guitarist-vocalist-songwriter Margaret Glaspy. Known previously for her roots-folk stylings, Glaspy shows a different side on Emotions and Math—more like Elliott Smith with a splash of vintage Billie Holiday. Gritty and vulnerable, Emotions and Math explores lesser-narrated personas with disarming honesty. "You and I," examines the perspective of a disinterested lover who just wants to keep things casual, while "Somebody to Anybody" validates a character—presumably a woman—who just doesn't want or need a significant other. These songs are still sung with the tenderness of a tradition love song, but expand the scope of folk songwriter themes in the way that Joni Mitchell did. The bulk of Emotions and Math features just Glaspy's rasping voice and melody-driven guitar playing at the forefront—an apt instrumentation for these intimate songs from an artist who'll, undoubtedly, be on more lists like these in the future. —Alexa Peters
40. Dawn Richard, Redemption
On her final album in the Goldenheart/Blackheart/Redemption trilogy, the onetime P. Diddy protégé proves her staying power as not just a solo artist, but as one with an untouchable perspective. It's a point of view that has been shaped by her time as a possible Top 40 contender in pop-R&B outfit Danity Kane, and later as simply DAWN—an independent performer who refuses to mold herself into whatever shape the mainstream music industry asks. This conundrum is a major theme on Redemption. "I don't mean to talk about my personal business, but I'mma have to put it out there," she sings on the undulating "Vines," concluding that "you been putting me in boxes and I don't really feel comfortable for you to talk like this; I feel stifled and I feel like a seed that can't grow." And music-industry battles make up only a fraction of Redemption—Richard likewise addresses Black Lives Matter on the soaring "Black Crimes" and the journey toward acceptance on the tittering "Lazarus" ("I didn't change I became… My ascension is a spirit being"). Running in tandem with its multifaceted subject matter is Richard's ability to draw from a bottomless well of genres. Together with producer Machinedrum, she showcases dance culture on "Love Under Lights," whining guitar licks on "LA" and distorted horn- and clarinet-work on "Voices." This is all to say that Redemption is not just a triumph in musical transcendentalism (no boxes in sight for Richard here)—it's an unapologetic celebration of the self. —Rachel Brodsky
39. Paul Simon, Stranger To Stranger
Folk rock legend Paul Simon's latest album Stranger To Stranger is, as expected, a master course in songwriting. However, this LP is even more notable for its sound design and production techniques. Simon's son, an avid music producer, introduced him to Italian underground electronic producer Clap! Clap! who collaborated with the legendary songwriter on a few tracks. This unique pairing of a folk icon and an underground electronic musician works so well that these collaborations with Clap! Clap! are the pinnacle of Stranger To Stranger. Ultimately, the album is a testament to an artist who refuses to be ordinary and pigeonholed. With this LP, Paul Simon has created his best work in many years. —Ben Rosner
38. ANOHNI, HOPELESSNESS
ANOHNI's debut album is bruising and beautiful, made indelible by its dissonance—the glittering lust with which its creator flings herself towards an apocalypse. Perfectly summed up in its announcement as "an electronic record with some sharp teeth," HOPELESSNESS is a passionate protest record as dazzling as it is devastating—co-producers Oneohtrix Point Never and Hudson Mohawke create gorgeous, glitchy soundscapes, but its ANOHNI's ethereal vocals that animate them. Toni Morrison said all good art is political—even by that measure alone, this album is fucking great. ANOHNI begs to be a target on undeniable opener "Drone Bomb Me" and prays for catastrophic climate change in stellar second track "Four Degrees," yearning for doom as if in an attempt to convince herself it's what she wants, since it's so clearly what she—what all of us—are going to get. HOPELESSNESS will convince you it's what we deserve, but despite its fearless eye towards the world's horrors, this album is anything but an admission of defeat—it's a rallying cry. "Let's be brave and tell the truth as much as we can," ANOHNI urged upon its release. Yes, let's. —Scott Russell
37. Whitney, Light Upon The Lake
Max Kakacek and Julien Ehrlich, Whitney's songwriting duo, have been preparing to release this debut album since shortly after their last band, the Smith Westerns, split in 2014. When writing songs together, Kakacek and Ehrlich developed a persona: Whitney is a lonely guy who drinks too much and lives alone. It was probably a pretty easy idea to embody. Both Max and Julien are quick to admit that the songs for Light Upon the Lake were written in the midst of consecutive breakups. They felt a little bit like Whitney, so they built this as a bit of a concept album.
But, the weird thing about labeling this record as a breakup album is that it's both accurate and—paradoxically—widely off base. It's not angsty, or hastily prepared in a few drunken nights off of some fit of red-eyed nostalgia. Sure, literally speaking all of the songs off of Light Upon the Lake conjure up failure to maintain a relationship with a loved one, but how can you relate a new band's debut record—and one that's so so fully realized to the point of even having a mission statement in the Whitney, as a man, as a writing prompt and concept—with a break up? If anything, it's the start of something new. —Nikki Volpicelli
36. Kendrick Lamar, untitled unmastered.
Kendrick Lamar is a pretty varied guy, as horny as he is existentialist. His harrowed and ongoing metamorphosis into a butterfly is the narrative he's chosen and is the story he'll likely stick with for the foreseeable future, but untitled unmastered. shows that the holes in his willed chrysalis might be more interesting than the beauty promised by the cocoon. Featuring many of the same collaborators, themes and sonic templates as To Pimp A Butterfly, untitled unmastered. necessarily lives in that album's shadow. Each song is time-stamped and untitled, stillborn inside the To Pimp a Butterfly session in which it was conceived. But that's precisely this album's beauty: instead of shying away from the long shadow of To Pimp a Butterfly, untitled unmastered. happily embraces that shared DNA, reveling in the subtleties that set it apart. This isn't just a collection of b-sides: this is Kendrick's What If version of his own mythology, flaws as alternate histories, unrealized retcons. —Stephen F. Kearse
35. Lake Street Dive, Side Pony
Ten years in, and a fully realized Lake Street Dive had finally arrived and announced itself as a force to be reckoned with. Their new Nonesuch follow-up, Side Pony, provides both an encore and procedural evolution of the songs that were presented on 2014's Bad Self Portraits. The earlier tracks on the new record find the band adeptly grooving in the particular, difficult to categorize niche of neo-soul and jazzy pop that they've made their signature, and one initially fears if perhaps there's been little additional growth. The revelation of Side Pony, however, is in the album's final third. —Jim Vorel
34. Sam Beam and Jesca Hoop, Love Letter for Fire
Despite their disparate backgrounds, Sam Beam and Jesca Hoop have managed to make an album that's both hushed and harmonious, one that finds this, their first dual effort, blurring the lines between the sedate and the seductive. Beam's no stranger to this approach; his efforts with Iron & Wine generally find him dwelling in more cerebral realms. Hoop, on the other hand, has yet to establish an identity with any such distinction; four albums on, she still resides well below the radar.
Happily then, Hoop's recognition factor is likely to climb significantly. Beam may be the marquee name here, but it's Hoop's supple harmonies that give this effort its sense of purpose. Most of these songs rarely rise above a whisper, their dreamy designs and precious approach suggesting a nocturnal feel that's consistent with a nu-folk noir. Songs like "The Lamb You Lost," "We Two Are A Moon," "Every Songbird Says" and "Bright Lights and Goodbyes" keep that consistency intact. Likewise, Hoop's focused take on "Soft Place To Land" and Beam's immediate follow-up, "Sailor to Siren," suggest each of these artists might qualify as dimly-lit folkies if that was indeed their desire. It's not exactly Gram and Emmylou, but at times the symmetry does come close. —Lee Zimmerman
33. Hinds, Leave Me Alone
If frolicking on a warm beach in golden light with your best friends had a musical equivalent, it would have to be the debut album from Hinds. Though the Spanish quartet is said to be at the forefront of a growing indie scene in Madrid—a city much better known for many other things—Hinds could have just as easily grown up in a garage a few blocks from the ocean somewhere in southern California.
Co-fronted by Ana Perrote and Carlotta Cosials—who started the band as a duo called Deers before recruiting Ade Martin and Amber Grimbergen and, for legal reasons, changing their name—Hinds play shaggy rock 'n' roll with a casual, shambling feel. Perrote and Cosials trade lead vocals, and they often give the impression they're singing through broad smiles of amazement at how much fun they're having. Their enthusiasm carries over to Martin and Grimbergen, and the quartet plays with a sense of joy that feels genuine and anything but cynical. Although the group sometimes wanders or gets sloppy, precision isn't the point. Leave Me Alone manages to be a nostalgic album that nevertheless lives in the moment. It's a moment worth celebrating. —Eric R. Danton
32. Case/Lang/Veirs, case/lang/veirs
Neko Case, k.d. lang and Laura Veirs, whose unexpected partnership has yielded a stunner of a debut. The 14 songs on case/lang/veirs come with three distinct moods that reflect each musician's considerable strengths as singers and as writers. Case is the restless one, always on the move through songs at once evocative and mysterious. Lang is the torch singer, wrapping her sensuous voice alternately around tableaus of seduction and heartache. Veirs is the fantasist, conjuring scenarios worthy of Walter Mitty ("From the oriental rug you meet my gaze/ And all my desperation retreats into the haze," she sings on "Greens of June").
Though each singer takes the lead on songs that fit her individual style, no one brought tunes to the sessions. The musicians are said to have written the songs on case/lang/veirs for each other, from scratch—all the more impressive, given that they didn't really know each other before lang emailed the other two a few years ago to suggest they make an album. During their respective well-established careers, Case, lang and Veirs had traveled in fairly different circles, which made the initial news of their collaboration a surprise—one that lasted just long enough to realize how well matched they really are. —Eric R. Danton
31. Japanese Breakfast, Psychopomp
Psychopomp is the perfect moniker for this devastatingly dreamy noise-pop album from Japanese Breakfast, the first solo project from Michelle Zauner (of Philly punk fame). Named for the deities whose responsibility it is to escort newly deceased souls to the afterlife, Psychopomp was created as a cathartic personal exploration after Zauner watched her mother suffer through illness before passing away. The artist doesn't waste any time asking listeners a question she was surely struggling with herself while writing and recording. "Do you believe in heaven?" she sings on the opening track, setting the tone for a catchy, yet complex body of work that explores lo-fi loss, loneliness and love. Like denial turns into grief, lighter crystalline melodies early on eventually give way to a heavier experimental rock sound. The title track is a short, swirly instrumental piece. Ending on the motherly words, "It's okay sweetheart. Don't cry," "Psychopomp" leads into the darkest, most dynamic song on the album. Stylish production makes it easy to overlook Zauner's incredible range, that is until she confronts you with the assailing vocal performance on "Jane Cum." Definitely makes a believer out of me. —Emily Ray
30. Thao and the Get Down Stay Down, A Man Alive
Gone are the John Congleton-produced horn arrangements and blues piano of Thao & The Get Down Stay Down's excellent previous release, We The Common. In their place is tUnE-yArDs' Merrill Garbus' electronic organica, which elevates the most deeply introspective, experimental and well-formed release from Thao yet. A Man Alive is a dissection of Thao's relationship with the father who left her and her family when she was young. And when the mish-mash of Garbus and Thao's sounds come together, it can break you to pieces in the most powerful ways possible. —Adrian Spinelli
29. Frankie Cosmos, Next Thing
Next Thing, Greta Kline's sophomore release as Frankie Cosmos, gives 15 short-but-sweet vignettes of self-doubt, fear and uncertainty that come from life in your early-20s. Kline's lo-fi delivery is instantly empathetic and warm, as each song plays out like a quick burst of poetry, content to get her point across and get out. While Kline's soft voice might present a sound of innocence, her lyrics often cut to harsh truths, worthy of being read alone, without the gorgeously simple instrumentations underneath. In "What If," she sings, "When you're young / You're too young / When you're old / You're too old / Too few ideas, or too many," a relatable sentiment that shows Kline reaching a new level of maturity with Next Thing, just the beginning of a great artist wise beyond her years. —Ross Bonaime
28. Tegan and Sara, Love You to Death
After a bold shift to synth-pop with 2013's Heartthrob, Tegan and Sara have reunited with producer Greg Kurstin and perfected their new sound with Love You to Death. Clocking in at barely over a half-hour, their eighth album is packed with 10 addictive-as-hell songs that feature some of the duo's finest writing. Love You to Death feels like the Quin sisters' most personal album, as they embrace gender pronouns and their own sexuality, with "B/W/U" and "Boyfriend" fleshing out their own experience, rather than just general ideas. But Love You to Death is also simply a brilliant pop album, one that shows how even the tiniest elements can craft a masterpiece. Love You to Death's penultimate track "U-Turn" layers sound upon sound, building the most basic synth sounds into one of the most rousing and catchiest songs of 2016. But throughout, Tegan and Sara interweave their newfound openness into track-after-track of the year's best pop music highlights—a positive album full of power, complexity and straight-up fun. —Ross Bonaime
27. Tacocat, Lost Time
The follow-up to NVM, Tacocat's Lost Time is just the sort of '90s-nostalgic pop punk the doctor ordered. Combining sci-fi and vaporwave vibes with the social-political concerns of the information age, Lost Time is mine filled with gem singles. Whether it's "Dana Katherine Scully," the ode to The X-Files heroine, or "I Hate the Weekend" written in dedication to the tech bros taking over the band's home-city, Tacocat's Lost Time scratches that topical pop punk itch. Produced by new wave-shoegazer Erik Blood, Lost Time is also the most meticulously recorded of Tacocat's three releases. Extra attention to detail is evident in the expanse of creative, catchy guitar hooks, pithy, well-crafted lyrics, and in their elaboration on anti-patriarchal themes from NVM and their debut, Shame Spiral. No matter if it's catcalling, birth control, internet trolls, or riding the dreaded crimson wave, Tacocat has something snarky to say about it on Lost Time. —Alexa Peters
26. Wilco, Schmilco
Wilco's 10th LP Schmilco is an acoustic record but not a slow one—thank God—which proves the right vehicle for the band's loosest, most unadorned set of songs since its debut. There's electricity here, if not much electric guitar: "Locator" heaves back and forth with reckless abandon, and like many of the songs on Schmilco, it's over in two minutes and some change. Several other highlights take an uptempo tact: "Someone to Lose" is a slippery, infectious groove rooted in romantic anxiety, while "We Aren't the World (Safety Girl)" goofs on the cornball charity anthem "We Are the World" over cartoonish keyboard glimmers.
But while the album's goofball title is a nod to Harry Nilsson's great, if experimental Nilsson Schmilsson, it's a curious reference point. Wilco has already passed through its wilderness period, and unlike Nilsson—who sank into alcohol abuse and seriously damaged his vocal cords by the mid-'70s—this band has emerged on the other side settled and healthy. As a result, Schmilco feels like aging gracefully. —Zach Schonfeld
25. The Avalanches, Wildflower
The Avalanches did it. They actually pulled it off: a kaleidoscopic sophomore effort that's worthy (though rarely a pale clone) of 2000's singular Since I Left You. Why now? The material's been in progress since at least 2005, when the group described it as "ambient world music," so why the decade-plus delay—and when exactly did Wildflower morph into the crate-diggers' equivalent of Chinese Democracy? But answers will come later. For now, bask in heady acid-pop concoctions like "The Wozard of Iz" and the honey-sweet "Sunshine."
Where Since I Left You turned lost AM radio hooks into sample manna, Wildflower nicks samples from groups like The Pharcyde and The Bar-Kays (by way of Will Smith's "Gettin' Jiggy Wit It"), elements fleetingly recognizable like snatches of last night's dream. The result is a more vocal-driven result. Collaborators stalk around the album's outer edges, some inspired (David Berman's surrealist ramble on "Saturday Night Inside Out"), others a stretch (Jonathan Donahue's too-saccharine vocals on "Colours"). Impressively, at 21 tracks, the album's latter half just barely sags. —Zach Schonfeld
24. Andrew Bird, Are You Serious
Andrew Bird has fashioned songs out of formaldehyde and "Darkmatter," "Plasticities" and "Anonanimal"s. But he's rarely expressed himself with plainspoken vulnerability. Are You Serious, his 13th LP, isn't a course-corrected confessional—he's too fond of artful abstraction to write, as he recently told Paste, an "Andrew Bird Grows Up" album. But the singer-songwriter/violinist/whistling aficionado has subtly dropped his guard, using simpler language to explore complex themes.
Musically, Are You Serious offers no major tweaks. But his primary cast of collaborators—producer Tony Berg, guitarist Blake Mills, bassist Alan Hampton, and drummer Ted Poor— emphasizes groove and atmosphere, targeting the hips as much as the head. But because it so directly explores matters of the heart, Are You Serious will likely end up as the "Andrew Bird Grows Up" album, even if it annoys him. But there's beauty in the honesty of that evolution. "If she sees you it changes you, rearranges your molecules," Bird sings on "Roma Fade." Same molecules, just rearranged. —Ryan Reed
23. Nick Cave and the Bad Seeds, Skeleton Tree
Like Beyoncé and Frank Ocean before him this year, Australian auteur and reigning prince of darkness Nick Cave also opted for a visual aspect accompanying the release of his 16th studio album with his band the Bad Seeds, Skeleton Tree. The album's Friday release was coupled with a series of global screenings the night before, of a 3D black-and-white film, One More Time With Feeling.
The film is hardly a behind-the-scenes peek to satiate Cave die-hards still begging for a possible Birthday Party reunion. Nor is it a visual play-by-play of Skeleton Tree. Instead, it's an act of survival. In 2015, Cave's 15-year-old son Arthur died following a fall from a cliff in Brighton, United Kingdom. The magnitude of this tragedy casts a long shadow over Skeleton Tree, serving as a wrenching reminder that grief is a shifty, many-tentacled being. It has the capability of coming on fast, then slow, then fast again at the most unsuspecting times. Still, Cave also uses this record to show that grief isn't something that can be easily eradicated, but rather, eventually, it can be wrangled down in a way that makes it possible to keep living. —Paula Mejia
22. Lucius, Good Grief
Lucius spent most of 2014 on the road. Yet, all that time on tour following the 2013 release of Wildewoman, their first full-band album, has honed the five-some into a tight musical machine. It's also steered them in a more pop-centric direction, which they say reflects the way the band has evolved as a unit onstage. But on Good Grief, Lucius skips a couple decades of influences since Wildewoman's '60s pop. For all its '80s touchstones, Good Grief is very much a forward-looking record. Wolfe and Laessig have grown as songwriters, and their deepening confidence—and already enviable vocal ability—makes them willing to push in new directions and play with different sounds and styles, in conjunction with bandmates Dan Molad, Andrew Burri and Peter Lalish. Ballad or banger, the result is song after song with earworm potential, finishing with a masterful four-song stroke that culminates in "Dusty Trails." Wolfe and Laessig's voices dominate the understated song, which is at once a post-tour catharsis and a succinct summary of the band's progress so far. "I know I'm no doctor/ But if I was guessing I'd say it was just growing pains," they sing. "And painful as growing is/ We can't forget/ it's our ticket to taking the reins." Just to further mix the metaphor, let's say Lucius is now firmly in the driver's seat. It will be a pleasure to see where they're planning to go. —Eric R. Danton
21. Danny Brown, Atrocity Exhibition
Danny Brown's music is the among the best currently coming out of Detroit. Gnarled and stubborn and wracked with too many ideas, it is Detroit, and Brown's fourth album may be the closest he's come to synthesizing his skill and his experience into one coherent, blaring vision of the Utopian Apocalypse the Motor City represents. Or, at least that's how it sounds. Atrocity Exhibition is the kind of fantasy hip-hop LP anyone who's been listening to Danny Brown since The Hybrid (2010, and before) has hoped that Danny Brown would someday get to make. A bizarre barrage of haranguing horns ("Ain't It Funny"), something that sounds straight out of Brian Eno and David Byrne's My Life in the Bush of Ghosts ("Dance In The Water," which doubles as a plea for consequence-free hedonism), and a near-flawless, old-fashioned weed jam ("Get Hi," with, of course, B Real) round out a hip-hop album indebted equally to Joy Division and African Head Charge, to Outkast and This Heat. It also features one of the best group cuts of the year in "Really Doe," which—if you listen to Q-Tip on this last Tribe album—co-stars two of our current "gatekeepers of flow," Kendrick Lamar and Earl Sweashirt. Produced almost wholly by Paul White, with some help from Brown's old friend Black Milk and Kanye-approved Evian Christ, Atrocity Exhibition details Danny Brown expressing precisely who, what and where he is, from the disorienting vortex of his "Downward Spiral" ever further deeper into the opaque darkness of "Hell For It." That the album's last lines are both a warning and charity—"Until it's heaven on Earth / I'ma give 'em hell for it"—confirms there's no better person to tell his hometown's story in 2016. Danny Brown's music is Detroit; in all of its success, failure and contradiction, Detroit feels as American as this year is going to get.— Dom Sinacola
20. Parquet Courts, Human Performance
So far, Parquet Courts has shown little interest in straight lines. Rather, having released four stylistically diverse full-length albums and two EPs between 2011-15, the Brooklyn band veers all over the place, as if they're in a hurry to capture all of today's ideas before a fresh burst of inspiration sends them scurrying off in a new direction tomorrow.
As such, Parquet Courts folds disparate impulses into 14 new songs (including one digital-only track) on Human Performance, an album that is impressively well balanced among hooks, smarts and sharp edges. There's some of each on opener "Dust," a hypnotic tune piling catchy unison guitars and droning keyboards over a propulsive rhythm that feels like it need never stop. "Outside" is as simple a song as they've written musically, yet singer Andrew Savage crams a lifetime's worth of existential uncertainty into a minute and 46 seconds, and makes you want to hear it again. But for all their obvious musical ability, the band's real skill here is blending so many unexpected elements into a coherent whole that is at once adventurous and accessible, even if—or maybe because—you have to hustle a little to keep up. —Eric R. Danton
19. Sturgill Simpson, A Sailor's Guide to Earth
Following his 2014 breakthrough, Metamodern Sounds in Country Music, Sturgill Simpson's A Sailor's Guide to Earth is more ambitious by an order of magnitude than anything the Kentucky-born singer has done before. It's a country album at its core, but there's a whole lot more happening here besides. Simpson dips into the sound of vintage soul with horns courtesy of the Dap-Kings. He often evokes the countrypolitan flipside to the outlaw movement with lush string charts and full-throated vocals that suggest there's a "Rhinestone Cowboy" for every generation. And he indulges his moody inner teen with a cover of Nirvana's "In Bloom" that swells from spare and brooding to full on rhapsodic by the end. But as an album of songs that he mostly wrote for his son, Simpson captures the passion, joy, anguish and exhaustion that are part of first-time parenthood. It makes the album a powerful tribute to his son, while establishing Simpson as an artist who, despite his country heart, simply won't be confined by notions of genre or, for that matter, anyone else's expectations. —Eric R. Danton
18. Blood Orange, Freetown Sound
It would be easy to paint Dev Hynes' third album under the Blood Orange moniker as a reactionary response to the shifting political landscape, Black Lives Matter, or even the police violence against minorities that has marked the last few years. But while all these ideas get play ("Hands Up" in particular features a heartbreaking nod to Trayvon Martin) at the heart of Freetown Sound is a string of personal meditations. Strung between a glossy blend of funk, R&B, electro, pop, jazz, spoken word samples, Hynes doesn't hesitate in asking the difficult questions as he attempts to make peace with his own sense of race, masculinity, and sexuality in a world that's bent on judging him as both too much and not enough. It's far from a dower affair. "Best of You" leans towards a tropical beat, and "Desirée" plays like a sun-drenched soul single. Meanwhile "Thank You" unspools with the grace of a Michael Jackson ballad (appropriate since with both hooks and stage presence Hynes might be the only musician working today positioned to take the "King of Pop" title). Throw in assists from Nelly Furtado and Deborah Harry and the result is a surprisingly smooth lullaby for uneasy times. —Laura Studarus
17. Leonard Cohen, You Want It Darker
The nine new songs that make up You Want It Darker explore very similar territory as 1992's The Future, but Leonard Cohen's perspective appears to have shifted slightly since then. On that album, he predicted a future far worse than anything we could imagine, and sadly, events of the past two decades have shown him to be very prescient.
The suggestion running through all of the songs on the album is that everybody should be getting ready for whatever fate is waiting for them. In that respect, You Want It Darker could be viewed as a summing up or an accounting of how an individual has lived his life. However, another theme involves making peace with the world and oneself, as expressed in tracks like "Treaty," "Leaving The Table," "On The Level" and "Traveling Light" that each examine the duties and pitfalls of mortal life.
Leonard Cohen's fans have been spoiled with a wealth of very good new material in the last decade, so it's become easy to take his continued ability to produce a seemingly endless stream of songs for granted. For, as understated as they were, his last two albums, Old Ideas and Popular Problems, were very solid additions to his discography. Whatever they lacked in the way of musical innovation, they were still as good as many of Cohen's recordings from the past. You Want It Darker is better than either of those records, and may contain the best music he has created since Various Positions came out in 1984. —Douglas Heselgrave
16. Anderson .Paak, Malibu
All thanks and praise to Anderson .Paak for releasing this warm, boozy album right at the start of a chilling year in both temperature and social climate. Malibu is a wonderfully generous cocktail of rap, R&B and soul. It's intoxicating music, the kind of stuff that gets you up and moving without realizing it. Paak is more than just good vibes though; he's conscious of the issues regarding his mixed race, and uses his pro-sex slow jams like "Room in Here" and "Without You" to encourage the world to toke up and leave the problems at the foot of the bed. Whether it's the brass blasting funkdown of "Come Down," the champagne-soaked "Heart Don't Stand A Chance," or joyous victory lap of "The Dreamer" .Paak is more than happy to welcome all for a good time "whatever the occasion/fuck your reservation." —Reed Strength
15. Chance the Rapper, Coloring Book
Coloring Book, Chance the Rapper's third mixtape and his second project distributed via Apple, is deafeningly religious, brimming with testimonies, exaltations and blessings that are loud enough to rock a megachurch and its town-sized parking lot. Purged of the drug-addled skepticism of Acid Rap and pulsing with the free-wheeling spirit and zeal that bolstered Surf, Coloring Book is a breezy listen: direct and purposeful.
Forgoing a narrative of redemption, repentance or struggle, Chance spends the bulk of the album insisting that he's already found salvation. But while the volume of Chance's piety may feel like evangelism, Coloring Book is far from gospel rap. Chance The Rapper feels that he has been blessed with family, friends, talent and opportunity, and few things give him more joy than extolling those blessings. This isn't the music of someone who's been born again. It's the music of someone who is constantly thrilled to still be living. —Stephen F. Kearse
14. Pinegrove, Cardinal
We're always told to remember where we came from, but sometimes, we don't really want to. Montclair, N.J. is pretty unremarkable to anyone who didn't grow up there or go to high school with Stephen Colbert's kids. The suburban town means a lot to Pinegrove though, and its eight-track album, Cardinal, is all about the geographical fetters that never leave us. Evan Stephens Hall is part of the quarter-life intelligentsia who sneak words like "solipsistic" and "labyrinthian" into a song, but he's probably the only one who's doing it well. It's hard to imagine anything besides his rubbery falsetto so effectively conveying the little fuck-ups along the scaffold of near-adulthood. After all, it's the little things that kill you the most in retrospect, like forgetting to tell your friends that you love them or seeing your ex-girlfriend's new fling at the Port Authority. Pinegrove are the cartographers of our innermost anxieties and heartbreak—forcing us to orient ourselves with the latitude and longitude of our early lives in those moments when we feel completely lost. —Mady Thuyein
13. Solange, A Seat At The Table
While sister Beyoncé seems to get all the credit for depicting black womanhood in 2016, the younger Knowles sister offers her own stunning portrayal on A Seat At The Table. Solange's third LP is rooted in R&B, funk, and electronica. In particular, singles "Cranes in the Sky" and "Don't Touch My Hair" are all about subtlety—whispery vocal runs, slowly drifting synthesizers and stable drum patterns. —Monica Hunter-Hart
12. Margo Price, Midwest Farmer's Daughter
Back in September of 2015, Third Man Records gave a teaser of the forthcoming Margo Price project. A few months later with the release of Midwest Farmer's Daughter, there are songs that tug at your heartstrings, and there are songs that encompass the emotions that run the gamut of the human experience from love, loss, confusion, anger, resilience and fear. Price's voice is equally as engaging as her writing, going from mournful to exclamatory, oftentimes in the same song. There have been comparisons to Loretta Lynn, which must be flattering to the up-and-coming singer. To write, sing and relate to your listeners as she does is a rare trio of traits. While Price has faced a number of setbacks to get where she is today, her talent beams golden bright on this album. —Eric Luecking
11. Kanye West, The Life of Pablo
"Name one genius that ain't crazy," Kanye West requests on "Feedback," a hypnotic, erratic highlight from his seventh LP (eighth if you count his Watch the Throne collaboration with Jay Z), The Life of Pablo. The line reads like a throwaway for a lyricist of Kanye's caliber, but it resonates in the album's real-life context, as the rapper-producer's bizarre Twitter rants and obsessive tracklist fiddling have prompted some spectators (including former collaborator Rhymefest) to question his mental stability. "I been out of my mind a long time," Kanye raps over droning synth tones. "I been saying how I feel at the wrong time."
Where previous Kanye albums were rolled out with red-carpet hype, Pablo felt like a purposeful clusterfuck. Not only did he unveil the tracklist on a piece of fucking notebook paper, he scrapped it multiple times. The album's various title shifts—damn, I really miss Swish—dominated headlines for months. He hadn't even arrived at a definitive product after unveiling the songs at a high-dollar Madison Square Garden fashion event. The final album drop, hyped on an uneven SNL performance, was protracted and filled with technical glitches. (Adrift in Pablo's turbulent waters, you get the sense the songs still aren't finished. And they might not be: Kanye recently tweeted he was going to "fix 'Wolves,'" failing to explain what that might entail.)
One thing's clear: Kanye is searching for answers. Weeks before its release, he defined Pablo as "a Gospel album"—the equivalent of constructing a steeple on a Walmart and calling it a church. This isn't a gospel album, despite its occasional, vivid bursts of feel-the-spirit belting (that's Kirk Franklin on opener "Ultralight Beam") and Christian references. In fact, Kanye's never focused so hard on carnal pleasures, often aggressively so.
The Life of Pablo is a fucking mess—the scattered, contradictory work of an icon straining to keep up with his own brilliant pace. "But I'mma have the last laugh in the end," Kanye promises. Pablo is just powerful enough to keep the faith. —Ryan Reed
10. Frank Ocean, Blonde
Ocean has mostly existed in suspended animation in the interim between channel ORANGE and Blonde, leaving his fortress of solitude for the occasional feature or broadcasting his thoughts from within its dungeons via oblique tumblr dispatches. His absence from public life has been so absolute that it has spawned memes, conspiracy theories and fan fiction about him being seen IRL. Blonde is just as evasive—Ocean obscures his face on the album cover—but it's his most resonant work yet, constantly pushing past profound alienation to connect, however fleetingly, to something, someone.
Throughout the album, Ocean flits in and out of memories and relationships, replacing the set pieces of channel ORANGE with slipstream vignettes. Genre is also a blur. channel ORANGE may have been eclectic, but it was clearly an R&B record. Blonde is thoroughly radioactive, always unstable. Surf rock transforms into new wave that morphs into electrosoul that evaporates into vaporwave. The only thing stabilizing this chaos is a folk sensibility: a persistent emphasis on the power of the voice. —Stephen F. Kearse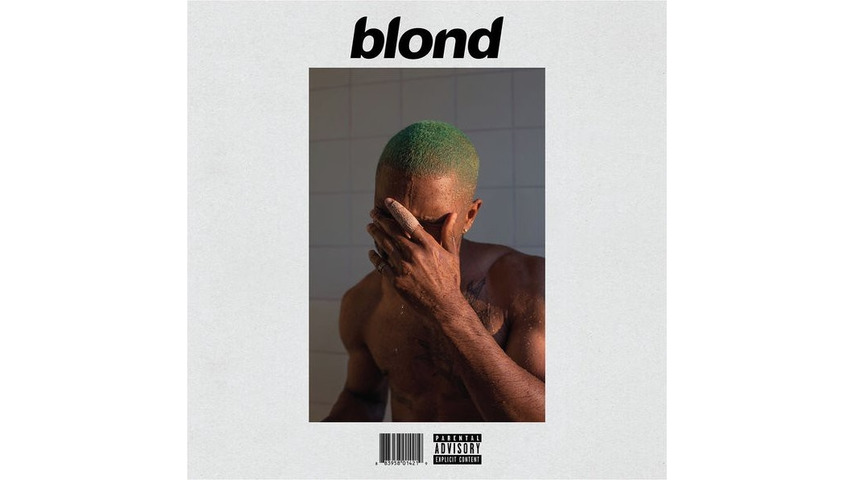 9. Bon Iver, 22, A Million
After a few years of introspection (along with producing albums for other artists and starting the Eaux Claires Music Festival), Justin Vernon has come back to Bon Iver. If he's not exactly refreshed, it's clear on 22, A Million that he feels a renewed urgency to create. There's certainly a sense of urgency here, and also sublime moments on songs that overlay beauty with turbulence in a way that suggests an anguished soul reaching for solace amid turmoil. The beauty comes in layers of ethereal vocals, an echo of Bon Iver's earlier work. But 22, A Million is neither the spare whisper-folk of For Emma, Forever Ago, nor the gauzy soft-rock of Bon Iver, Bon Iver. These 10 tunes have sharper edges, with touches of abrasion that extend to the song titles: each contains a number, and many replace letters with symbols that sometimes look as though Vernon found them scrolling through Wingdings. As a whole, it sounds as though Vernon is rediscovering—or maybe recreating—his own identity in the context of what Bon Iver has become, sifting through the dysfunction, demands and general weirdness of a public life in search of what is real and tangible, at least to himself. —Eric R. Danton
8. Lucy Dacus, No Burden
Virginia singer-songwriter Lucy Dacus's No Burden is astounding for two reasons. First off, this is the young artist's debut album, but it is surprisingly genuine and mature. Second, she reimagines the indie folk and rock scene because she does not fall victim to the one-dimensional melancholic trope and rather opts for a frank and beautiful style.
With her warm, dreamy voice, Dacus has an artful swagger and constructs wry and acute observations about her experiences. Accompanied by her mesmerizing guitar, Dacus bravely traverses and articulates the inner workings of her self in songs like "I Don't Wanna Be Funny Anymore" and "Map on a Wall." A self-described restless soul, Dacus is on a quest of endurance, "how to survive the bendin' and breakin'." With a breezy attitude, Dacus' drops the "g's" from "-ing" verbs in a charming manner, but she still maintains a modern elegance. All the while, No Burden has a tinge of optimism and hope, making it a gorgeous and insightful work. —Taylor Ysteboe
7. Angel Olsen, My Woman
After 2014's stunning Burn Your Fire for No Witness dramatically raised her profile, Olsen perhaps felt pressure to make a big statement the next time out. My Woman finds her up to the challenge, maintaining a harrowing intensity in full-band rockers and solitary confessionals. Olsen is a brilliant songwriter and an even better vocalist, who can go from stern to tender to deranged, and back again, in a single verse. In the beginning of My Woman, Olsen mostly pursues love with wild-eyed fervor, whereas the closing songs disconsolately consider its ruins. Yet, the relentless heat of My Woman can be exhausting over the course of 10 searing tracks—the addition of a throwaway would give a weary listener time to regroup. But Angel Olsen's fearless and eloquent embrace of raw emotions in all their messy splendor ultimately feels oddly uplifting, the way it always does when you witness a gifted artist at her best. —Jon Young
6. Radiohead, A Moon Shaped Pool
Radiohead has seemingly run out of reinventions, but that could be for the best. A Moon Shaped Pool, the quintet's ninth LP, is more summary than new chapter. Thom Yorke's oceanic piano loops, half-mumbled falsettos and reversed vocal wails recall the insular Kid A–Amnesiac era, while Greenwood's dense string orchestrations echo the warmest stretches of The King of Limbs and its more organic predecessor, In Rainbows. Slow-burn synth-rock epic "Identikit" climaxes with their wildest guitar solo—arguably their only real guitar solo—since OK Computer. Collectively, A Moon Shaped Pool proves that Radiohead has resumed its greatest winning streak in modern popular music. Not by flaunting any new tricks—just by delivering their normal quota of catharsis.—Ryan Reed
5. Mitski, Puberty 2
Mitksi is a bonafide rock star, as proven on her 2016 standout album, Puberty 2. Her fourth studio album is an exceptional exploration of universal truths for a certain sect—unrequited love, financial instability and hungry ambition. Despite these coming of age tales, Puberty 2 is anything but ordinary. Mitski's telling offers a refreshing and emotionally raw account of life in a way that avoids being precious. Each track offers a unique approach in terms of sound but is woven together and amplified through brilliant songwriting. With "Happy," the album opens combining pulsing drumbeats and horns, gradually progressing to the distorted, power-chord driven rock anthem, "Your Best American Girl." In "A Burning Hill," the album's final track, Puberty 2 comes full circle. The less-than-two-minute closer completes the grieving process, which Mitski embraces by singing, "I'll go to work and I'll go to sleep / and I'll love the littler things." The lyrics may be simple but they highlight the wisdom possessed by the 26-year-old, making this one of the year's best albums. —Jaimie Cranford
4. A Tribe Called Quest, We got it from Here… Thank You 4 Your service
The Low End Theory and Midnight Marauders are great Tribe albums. But We got it from Here… Thank You 4 Your service is a great Tribe album that has André 3000 and Kendrick Lamar. That's just math making a strong case that this LP is the best thing this group's ever done. With absolute certainty, "The Space Program" and "We the People…" are the greatest one-two opening punch in their catalog, and fairly strong arguments that a band would make a better President than our current elect.
On the latter, these everymen know what unites America ("The ramen noodle"), and they know the bigotry that rips it apart ("Muslims and gays / Boy we hate your ways"). And in one career-best verse on the former, Q-Tip rightfully salutes Confederate flag-capturer Brittany Newsome, the murdered Eric Garner and a doomsday premonition from his own "Excursions." Inverting a storied history of legendary African-American musicians from Sun Ra to George Clinton to Lil Wayne, Tribe cement their rep as the most earthbound crew of all time: "There ain't a space program for niggas / You stuck here nigga." Call it "Incursions."
Yet, We got it from Here… proceeds from one crucial innovation since Tribe last made a record in 1998: the jazz-rap album you cannot relax to. Kendrick himself pioneered this with last year's unanimously received masterpiece To Pimp a Butterfly, and Tribe's most political album by miles is almost as fraught. All sorts of arresting, arrhythmic junk clutters their chewiest grooves while Q-Tip, Jarobi and the one-of-a-kind Busta Rhymes one-up their own high-anxiety flows in these secretly recorded tracks like the Navy playing war games. Just listen to Q-Tip's hiccuping breathlessness on "The Donald" or Busta's exorcisms on "Dis Generation." These guys never rapped like this before, and they never will again, at least not in this configuration. —Dan Weiss
3. Car Seat Headrest, Teens of Denial
Will Toledo is the creative force behind this Bandcamp success story. The new album is out after his Matador debut, Teens of Style, which culled from his self-released records for songs he wanted to give a more official treatment too. Now though, he's coming through clearer than ever. His voice isn't shrouded by reverb and distortion, and his songwriting is crisp as can be. This style of indie rock can benefit from the lo-fi treatment, and it did for most of his career, but the clarity here puts on display that his talent really carries through as well if not better with a cleaner production style.
With Teens of Denial, Toledo has practically guaranteed himself a viable career for years to come. The fact he did it while still in his early 20s after laying a foundation of solid self-released records proves even further that his most creative days are probably still ahead of him. This is an album that makes you really fucking glad to be alive. For that matter, the very fact albums like this are coming out is enough reason alone to hope you get to stick around on this planet for a long, long time. —Mack Hayden
2. Beyoncé, Lemonade
The album Lemonade tells the story of a woman experiencing the high highs and low lows that come from loving, from believing, from existing. She's confident ("6 Inch"), she's scorned ("Hold Up"), and she's vengeful ("Don't Hurt Yourself"). She's painfully aware ("Pray You Catch Me"), blinded, then restored by love and lies. She's open, she's hopeful ("Sandcastles"), and she's incomprehensibly fierce ("Sorry"). She is everywoman—in love and in pain ("All Night"), defined as much by her romantic life as she is by her parents ("Daddy Lessons"), and the cultures and worlds that birthed her ("Formation").
But the film Lemonade tells a story that takes all of this and socializes and politicizes it—as it should be. Songs about heartbreak no longer merely signify love lost, but must be understood alongside certain losses unique to women in the black community. Anthems about reclamation of power in the aftermath of an unfaithful lover take new meaning, when you see images of black women gathered. I stress the word because of all the different ways Lemonade the album and Lemonade the film embrace the notion of black women gathering. Useless lovers who have failed to appreciate a certain magic in their midst must be gathered—as in almost violently collected, if only to be torn apart; a community of women bound together by a history that stretches from the continent of Africa, to the Caribbean Islands, to the French Quarters must gather to share collective tales and to pull on each other's individual talents for strength. And of course, the reaction to Lemonade reflects such gathering. Since the album was released, black women have been gathering to speak, write and reflect on the impact of the album, to share syllabi—required reading to understand the layers Beyoncé veils and unveils—and to simply exist in a certain glory that we only feel in the presence of those who know us well—Toni Morrison, Ntozake Shange, Julie Dash, Kara Walker, Mara Brock Akil—those women whose work we have been gathering around for years. Now of course, Lemonade is to be enjoyed by every gender and every race the world over. And it has been. But if anyone feels the need to ask why Lemonade exists, and how Lemonade came to be and what it means that the album arrived at this time in American history, well, I believe Bey made herself quite clear. Everyone else (the others) gets to look on and listen in, as she sings her own interpretation of a deceptively simple hymn that's been passed down through generations of black women, to the black women of this moment: Gather, heal, slay, repeat. —Shannon Houston
1. David Bowie, Blackstar
The death of David Bowie in early 2016 somehow seemed to set the tone of the rest of the year. His many fans and supporters thrilled at the release of his latest album Blackstar, a masterpiece that found him threading modern jazz into his already multi-colored tapestry of sound, and talked excitedly about what looked like the start of a bold new chapter in his storied career. Two days later, all that hope and promise was yanked away when the news came of Bowie's death due to liver cancer.
Quickly, the discussion about Blackstar turned from celebratory to eulogistic as many of us pored over the lyrics and the two videos he made for the album for clues and signposts. Bowie did not disappoint on that front, as the LP is suffused with references to the inevitable and to looking back at his own legacy as one of 20th century's most innovative pop stars.
With his clear-eyed view of his divine status, Blackstar becomes, then, a worship album about Bowie. His chosen cadre of musicians certainly treat it as such. Though the hard grooves that the members of Donny McCaslin's quartet aren't too far afield from what they presented on their 2015 album Fast Future, it's still obvious that they're pulling their punches a bit, all the better to let their new bandleader run as wild as he pleases.
That approach still leaves the door wide open for some remarkable sounds. The skittering 4/4 beat of "Girl Loves Me" should be the envy of every hip-hop producer worth his/her weight in vintage vinyl, and drummer Mark Guiliana's work on the re-recording of "Sue, Or In A Season of Crime" brings back the spirit of Bowie's '90s dalliances in drum 'n' bass to exalting effect.
Things get even more interesting when the members of the group dare to take the spotlight away from Bowie. McCaslin lets loose in spare moments throughout, as on the pealing solo that rounds out the driving "'Tis Pity She Was A Whore," and both he and guitarist Ben Monder provide the tender, almost mournful heart of album closer "I Can't Give Everything Away."
True to the tone of the record, Bowie is almost a spectre throughout. His vocals are often doubled in tight harmonies, or given an alien-like echo that might as well be broadcasts from the beyond. He never sounds less than marvelous, through. After 45+ years of work, his voice has lost a little of its high end, but is possibly stronger. It's definitely capable of reaching more sinister aims on songs like "Whore" and "Girl Loves Me," and with a smattering of vibrato, he can unearth some still-rich wells of emotion.
Bowie circles back to himself on Blackstar as well. During the breakdown of the title track, his backing vocal insists that he's not a rock star or a film star, even though he's played both roles. "Girl Loves Me," on the other hand, returns to his fascination with the made up language of A Clockwork Orange and uses, at times, a similar rhythm that recalls "Chant Of The Ever-Circling Skeletal Family" from Diamond Dogs.
Bowie's biggest reveal comes at the end of Blackstar, pulling back the curtain long enough to let us know that for as much of himself as he has offered up to the music lovers of the world, as the title goes, he can't give everything away. He had to hold something back, be it his soul or his body or his always nimble mind, to be able to weather his final moments on this planet. But what Bowie did gladly and willingly offer up is a grand closing statement that will, like every other bit of art he created during his life, resound through the ages and shine glimmers of hope and humanity upon generations of boogie-ing children.—Robert Ham
Be sure to enter to win 25 of these albums on vinyl.