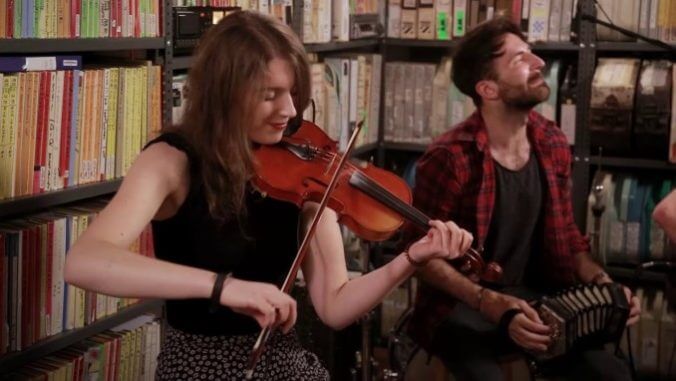 In 2006, Paste Magazine began capturing video performances of some of our favorite bands and Daytrotter began doing the same with audio. We joined forces five years later, and have since combined to capture 11,545 performances (and counting)— at the Paste Studios in Atlanta and New York; at the Daytrotter Studios in Davenport, Iowa, and Rock Island, Ill.; and at venues across the country and even internationally. We pride ourselves on the quality of these sessions and still can't believe the range of amazing artists we've been able to work with. Every weekday we'll highlight a favorite session from this deep and ever-growing catalog. Enjoy today's Paste Session of the Day below!
One of the best aspects of Paste's long history of recorded sessions is the sheer variety of bands that have stepped in front of our cameras and microphones over the years—not just indie rockers or Americana whiz kids, but everything from tight R&B combos, to experimental jazz virtuosos or classical pianists. Also well represented are traditional folk groups, both of the well-traveled variety and the dazzling up-and-comers, of which Scottish band Talisk was certainly one when they stopped by Paste's New York office for a session in 2019. Ahead of their first ever NYC public performance, the dazzling Scottish folk trio laid down a blistering set of original instrumental tunes, demonstrating why they've become one of the hottest folk acts in the U.K. today.
Talisk was formed in its original incarnation in 2014, and has morphed in its membership several times in the subsequent years, but the band's ability to win plaudits and major awards has been markedly consistent. They rose to prominence after winning the BBC Radio 2 Young Folk Award, and have won numerous subsequent awards, including Scotland's largest musical prize, the Belhaven Bursary for Innovation in Scottish Music. Along the way, they've likewise dropped three LPs: 2016's Abyss, 2018's Beyond and 2022's Dawn.
In the Paste Studio session below, it's jaw dropping to watch Talisk rip into tracks like "Echo" in particular, with the blindingly nimble concertina playing of Mohsen Amini dueling against the rugged sawing of Hayley Keenan's fiddle. The stomping to the beat of Amini and guitarist Graeme Armstrong is oddly satisfying as well, turning the trio into something like a locomotive with a full head of steam, determined to push through whatever obstacles lay in their way. It's just about as thrilling as modern instrumental folk music gets, which is why we're pleased to share it with you today.
Talisk
Session Date: Sept. 27, 2019
Location: Paste Studio, NYC
Songs: "Crooked Water Valley" | "Echo" | "Abyss"