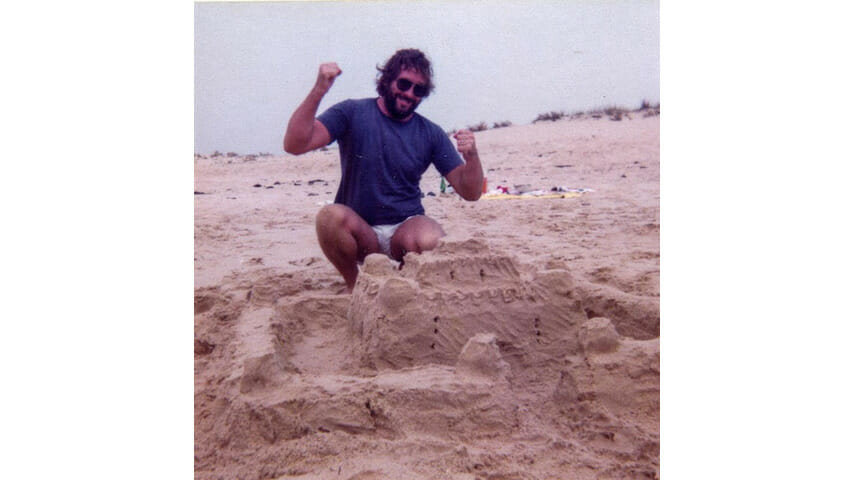 Brother-sister songwriting duo Jack and Lily Wolter spent six years apart when the former left home to attend university. The break appears to have had a profound impact on them; absence pushed them both to develop their respective musical talents on their own, before reuniting in Brighton, leading to the birth of their indie rock collaboration Penelope Isles. Time gave them a chance to grow up and become the people they are today. As an added bonus, it gave them a ton of material for compositional inspiration.
Their change in scenery probably helps, too. The Wolters grew up on the Isle of Man, a remote island between England and Northern Ireland; sizewise, it's about as big as a small neighborhood in New York City. Until the Tide Creeps In argues that Brighton made fertile ground for Jack and Lily to develop an aesthetic and carve out an identity as musicians alongside their bandmates, Becky Redford and Jack Sowton. Logistically, Until the Tide Creeps In probably wouldn't have happened without the locale shift, but it definitely wouldn't have happened without the time they spent away from each other.
Penelope Isles' style ranges from psych pop to art rock, ringing with influences like Radiohead, The Hives, Grizzly Bear, Tame Impala, and maybe a pinch of the Flaming Lips. "Underwater Record Store," the album's fourth track, does sound like the kind of title Wayne Coyne would come up with for one of his own songs, after all; the image is evocatively bizarre, classic Lips, except it's personal to the Wolter's experience—it's the only song on the record to make mention of their father. It isn't the first time the record references him, though: The cover boasts a picture of their dad building a sandcastle, taken when he met Jack and Lily's mother, which reinforces the familial bonds woven throughout Until the Tide Creeps In.
"Underwater Record Store" is the Wolters' sweet, ethereal ode to dad, Lily's account of a childhood incident on a beach or perhaps, simply a dream. Given the plaintive and astral quality of the music, maybe it's a bit of both, a yarn about the time she built a sandcastle and sat helplessly to witness the iniquity of passerby trampling her work. "My Dad took me to a real castle / To make me see that nobody's got me down," she sings in reflective appreciation of the lesson, of Dad, of the memory. Like so much of Until the Tide Creeps In, "Underwater Record Store" is space the Wolters have created to examine together their individual and joint pasts. It's music to reminisce to.
In keeping with the familial element, the Wolters present "Gnarbone": a seven minute, uptempo track that, to the ear, reads like a journey through the gap in time and in age that divided them leading up to Penelope Isles' formation. Taking turns on verse and chorus ("Did I see you fall apart / Left in dust and made of dirt / Did I see you fall in love / Kept in dust and made of dirt"), Jack and Lily invoke recollections of newborn days ("You never learnt to crawl / You didn't have to") and flash forward all the way up to their Brighton days ("And in the city where things are pretty / You find a new game / What a crying shame"). The music tinkles to start before giving way to fuzzier, distorted tones halfway through, ultimately looping back to the sound of Jack and Lily's twinkling ruminations to finish. Like their lives together, the song is a cycle.
"Through the Garden," Until the Tide Creeps In's parting shot, closes out the record's overriding focal point while putting a bow on its secondary motif: It's a tribute to Mama Wolter by way of a separation. "Mother I love you but we must go," Lily sings in exhortation to mom before repeating the chorus to close the track: "I walked home through the garden / Throw myself in the pillows / Could stay but I already know / My head would fall into a hole." The raw heartache feels like it's straight out of a break-up record, but Until the Tide Creeps In isn't that; nor is it a mawkish trip down memory lane. Instead, it's an album of reconciliation, an opportunity for Jack and Lily to make sense of their youth spanning into their adulthood.
Boston-based culture writer Andy Crump has been writing about film and television online since 2009 (and music since 2018). You can follow him on Twitter and find his collected writing at his personal blog. He is composed of roughly 65% craft beer.